The Orioles added an upside play to their bullpen, acquiring Shintaro Fujinami from the A's. Minor league reliever Easton Lucas is going back to Oakland in a one-for-one swap. Baltimore designated infielder Josh Lester for assignment to clear a 40-man roster spot.
Fujinami signed a one-year, $3.25MM free agent contract over the winter. The A's took a flier on his upside despite an inconsistent decade-long run in Japan. The 6'6″ righty brought high-octane stuff but a spotty performance track record and wobbly control to the big leagues.
A cursory glance at Fujinami's season line would suggest the experiment didn't pay off. He concluded his A's tenure with an 8.57 ERA through 49 1/3 innings. No other pitcher with 40+ frames has allowed more than eight earned runs per nine.
That ghastly season line is skewed by an incredibly poor first couple months. Initially penciled into the starting rotation, Fujinami was tagged for a 14.26 ERA across seven starts. The A's understandably kicked him mostly to relief work by late April.
Fujinami's 5.40 ERA over 31 2/3 relief innings isn't eye-catching itself. That's also skewed by some growing pains early on. The 29-year-old has worked scoreless outings in 15 of his last 20 appearances. Since May 27 — an admittedly arbitrary endpoint — Fujinami owns a 3.32 ERA in 21 2/3 frames. He's striking hitters out at a quality 25.6% clip against a modest 7% walk rate in that time.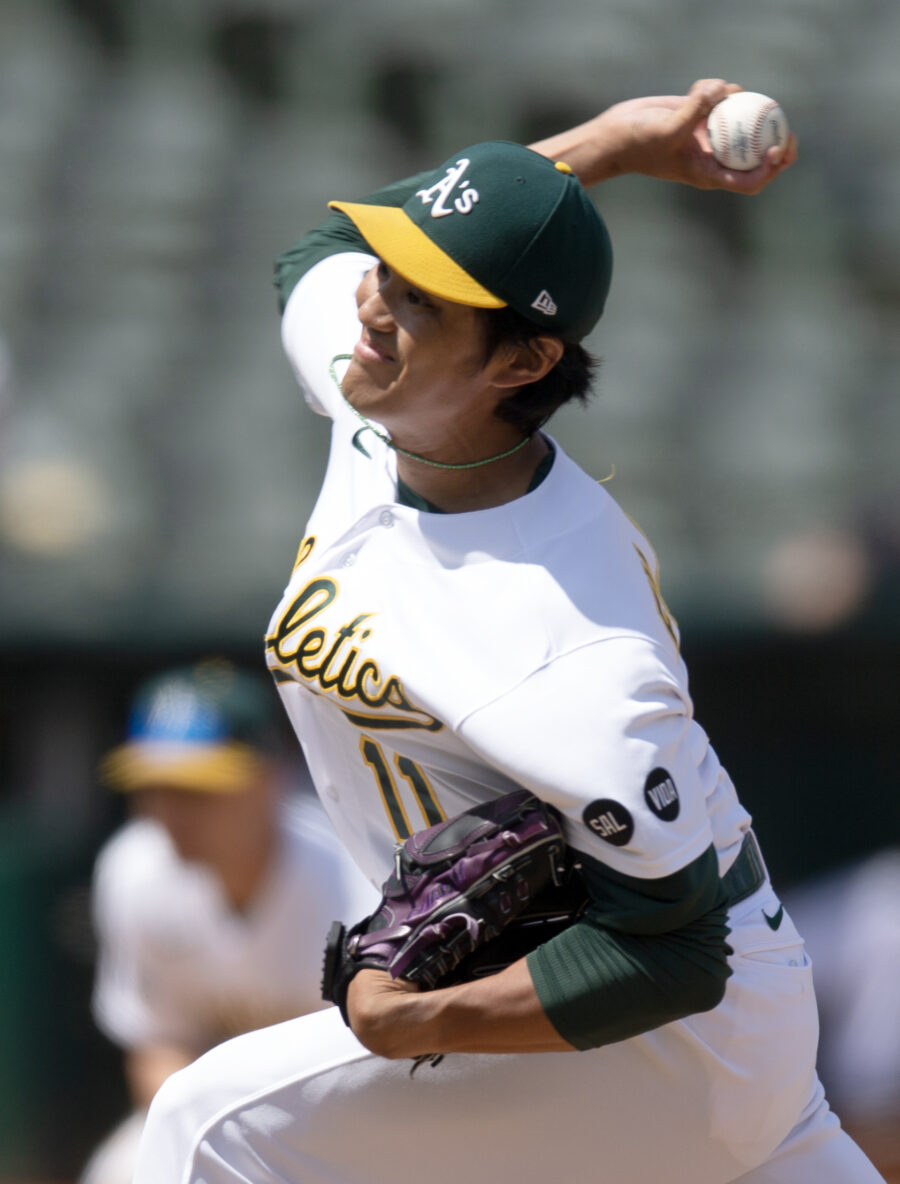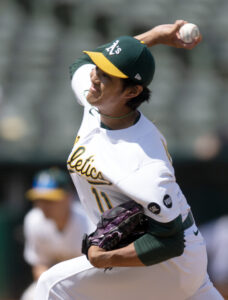 There's risk in placing too much emphasis on a player's recent trajectory compared to their overall body of work, of course. It's perhaps easier to buy into Fujinami's stronger results of late given the quality of his arsenal. Working in shorter stints has pushed the average velocity on his four-seam fastball from an already strong 97 MPH to the 99-100 MPH range. He's also leaned more heavily on a 93-94 MPH split while scaling back on his mid-80s cutter.
Baltimore will hope the simplified pitch mix and continued experience against big league hitters allows Fujinami to maintain his form of the past six weeks. He'll add a power arm to the middle innings of an already excellent relief corps. Baltimore's bullpen entered play Wednesday ranked eighth in the majors with a 3.79 ERA. They're fourth with a 26.1% strikeout percentage.
It's a little more top-heavy than the typical bullpen, though. Félix Bautista and Yennier Cano have been fantastic at the back end, while veteran Danny Coulombe has excelled as the top southpaw. Bryan Baker and Mike Baumann have been generally effective, but both have issued a few too many walks. Fujinami is far from a control artist himself, but he provides skipper Brandon Hyde with another option to bridge the gap to Cano and Bautista.
The addition is solely about 2023. Fujinami will be a free agent again at season's end. Even though he'll only have one year of major league service, players signing out of Asian professional leagues are almost always granted the ability to return to the open market once their MLB contract plays out. Baltimore will take on the approximate $1.3MM in salary still owed to the righty through the end of the season.
Oakland offloads a small amount of cash and brings in an upper level relief option. Lucas is a 6'4″ southpaw who was selected by the Marlins in the 14th round of the 2019 draft. Miami traded him to Baltimore over the 2019-20 offseason for veteran infielder Jonathan Villar.
The 26-year-old is amidst a strong season in the upper minors. He's split his time almost evenly between Double-A Bowie and Triple-A Norfolk. Over 29 2/3 combined frames, he owns a 2.73 ERA with an excellent 31.9% strikeout percentage and tolerable 9.5% walk rate. He's holding left-handed hitters to a .200/.265/.378 batting line.
Lucas will be eligible for the Rule 5 draft if he's not added to the 40-man roster at the end of the season. Considering his upper minors success and Oakland's MLB-worst 5.72 bullpen ERA, he'll probably get a big league look at some point in the coming weeks.
It's the first of what is likely to be multiple moves for both clubs. The A's have already stripped the roster most of the way down, but players like Paul Blackburn, Tony Kemp and Seth Brown could still find themselves on the move. Baltimore has pulled ahead of the Rays (on a percentage point basis) in the AL East and figures to look for rotation upgrades over the next two weeks.
Jon Heyman of the New York Post first reported Fujinami was being dealt to the Orioles and that Lucas was the return. John Shea of the San Francisco Chronicle and Martín Gallegos of MLB.com had previously observed that Fujinami was saying goodbye to his Oakland teammates.
Image courtesy of USA Today Sports.