Not a lot has gone right for the Cardinals this year. They came into the season with a talented roster and hopes of contention but have repeatedly struggled to get into a groove. Their record sits at 38-52, placing them 11.5 games back in the National League Central and 11 games back in the Wild Card race. They don't often find themselves as clear deadline sellers, having only once finished below .500 this century, which was way back in 2007. But barring a massive turnaround in the next three weeks, they will likely be selling this year, something that president of baseball operations John Mozeliak essentially admitted earlier today.
Thankfully, there are some factors that could make this a particularly fruitful sell-off for the Cards. For one thing, the expanded playoffs and some wide-open divisional races are seemingly making this year a seller's market. The Cards have a number of controllable position players they could move without significantly hurting their chances of returning to contention next year. They also have some impending free agents of note, such as Jordan Montgomery and Jack Flaherty.
Another impending free agent who should be garnering plenty of interest is reliever Jordan Hicks. The fireballer has been in the club's bullpen since 2018, though Tommy John surgery in June 2019 prevented him from appearing in the latter half of that campaign or at any point in 2020.
His performance in his career has been unusual in that he has elite velocity, averaging over 100 mph on his fastball in his career. But somehow, that hasn't translated into the huge strikeout numbers one would expect. By the end of the 2022 season, he had tossed 177 2/3 innings over 147 outings, striking out 23% of batters faced. That strikeout rate is right around league average, whereas other gas-spewing pitchers like Aroldis Chapman, Edwin Díaz or Félix Bautista often run their rates into the 40s or even the 50s.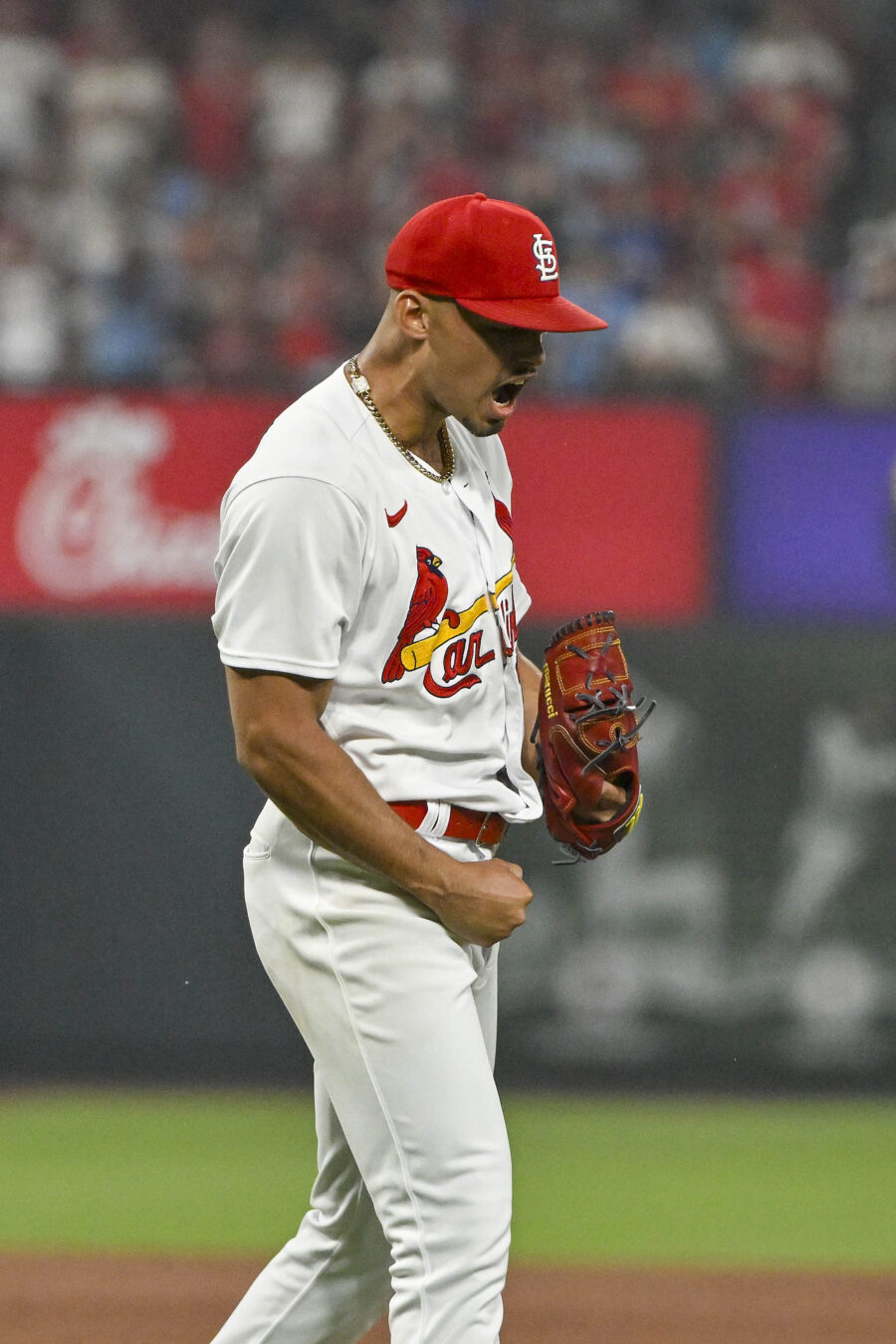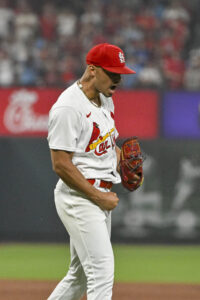 Here in 2023, Hicks seems to have finally unlocked a new level in that department. He's thrown 36 2/3 innings over 36 outings, punching out 32.9% of batters faced. His 13.8% walk rate is still on the high side but that's right in line with his previous work and not too dissimilar from other late-inning arms. Chapman has walked 12.4% of batters faced in his career. Josh Hader is at 10.2% in his career and 11.3% since the start of 2020. Hicks is getting fewer ground balls than in previous seasons but his 53.5% rate this year is still well above league average.
The new strikeout rate has helped to lower his ERA to 3.93, compared to 4.84 last year and 5.40 the year before. He likely deserves even better, as his .357 batting average on balls in play is above league average and above his marks in previous seasons. His 3.47 SIERA and 3.12 FIP suggest he could get even better results if that BABIP normalizes going forward. He's also produced these results while ascending into the closer's role with Ryan Helsley on the injured list, with Hicks racking up seven saves in the past four weeks.
One thing that might be fuelling this breakout is a change in his pitch mix. He has primarily been a sinker-slider guy in his career, with 90% of his offerings being one of those two pitches, while also occasionally mixing in changeups, cutters and four-seam fastballs. According to Statcast, Hicks had thrown only 20 four-seamers prior to his surgery and then just nine over the past two seasons. He has thrown 73 of them this year. He's also added a sweeper, throwing 150 of those this year, with opponents batting just .107 and slugging just .250 in plate appearances ending with that offering. The sweeper seems to pair well with his sinker/two-seamer, as shown in this tweet from Rob Friedman, aka the Pitching Ninja.
This is still just a few months of results we're talking about, but the change in repertoire seems to point to a legitimate progression as opposed to just small sample noise. The Cardinals would surely have preferred to be in contention right now, using this new and improved version of Hicks to bolster their chances in a postseason race. But they will at least have the opportunity to squeeze some extra future value out of it via trade prior to the upcoming deadline. If he had discovered this new level of performance next year instead, they may not have benefited from it at all.
The timing is also potentially significant for Hicks personally, allowing him to go into the open market with a strong platform season if he can maintain it for the next few months. He cracked the Cardinals' Opening Day roster in 2018 when he was just 21 years old and has never been optioned, putting him on pace to finish this season with exactly six seasons of service time and thus qualify for free agency just after he turns 27 years old in September. Relief pitchers don't usually secure very long deals in free agency. No one has ever topped five years and contracts of that length are quite rare.
Some clubs may be skeptical given that he has a longer track record of being just okay and will have a much smaller span of time with the improvements. But we have seen clubs take significant gambles on pitchers based on limited samples before. Drew Pomeranz was a starter for much of his career but transitioned into more of a relief role in 2018 and 2019 before getting a four-year, $34MM deal from the Padres. It was a similar story for Liam Hendriks, who had been closing for two years, one of which was the shortened 2020 season, before landing a $54MM guarantee over three years from the White Sox. Robert Suarez spent most of his career in Japan before parlaying one strong MLB season into $46MM over five years.
That's not to say that Hicks is a lock to secure a contract similar to those, especially since few of those deals have worked out well for the signing clubs, which may lead to more hesitancy in the relief market this offseason. But clubs have shown they are willing to bet on a small sample of improved results when they have reason to believe it could be carried forward. Those three pitchers were all in their early 30s when they secured their deals, whereas Hicks will be significantly younger.
Hicks has always had the velocity and now seems to be figuring out how it deploy it in a more effective way than he ever has before. With his quick rise through the minor leagues and time missed due to his surgery, he'll be hitting the open market at an usually young age for a relief pitcher and with very few total innings on his arm. For now, he should be able to help the Cardinals recoup some extra value at the deadline before helping himself cash in this winter.
Image courtesy of USA Today Sports.