The Orioles announced a series of roster moves today, selecting the contract of outfielder Heston Kjerstad and recalling right-hander Bryan Baker from Triple-A Norfolk. To open active roster spots for those two, outfielder Ryan McKenna and left-hander Nick Vespi were optioned to Norfolk. To open a spot for Kjerstad on the 40-man, infielder/outfielder Terrin Vavra was recalled from Norfolk and placed on the 60-day injured list with a strained right shoulder.
Of all the moves, the most significant is the promotion of Kjerstad, as it's yet another instance of the O's promoting a highly-touted prospect to their major league club. The past six years have seen the club endure a significant rebuild, finishing last in the American League East four times, losing 108 games or more in three of those. That's allowed them to build a pipeline of young talent that has started to feed into for the big league team. Youngsters like Adley Rutschman, Gunnar Henderson, Grayson Rodriguez and others have helped the club jump to a record of 91-54, the best such mark in the American League this year.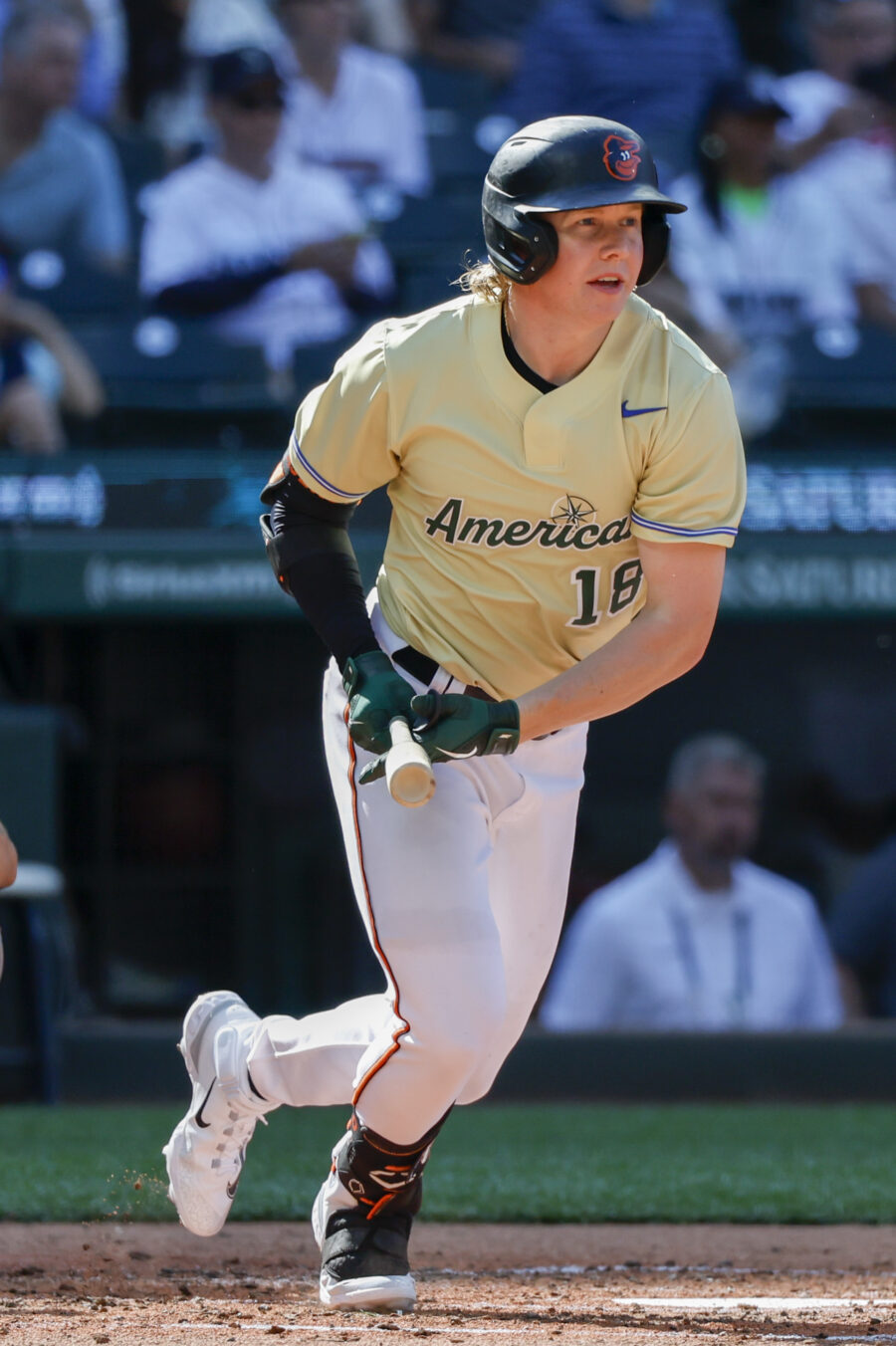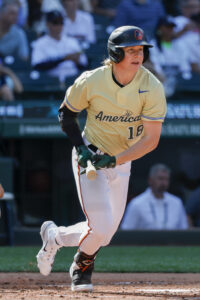 Kjerstad, 24, was taken with the second overall pick in 2020. His professional debut was delayed by myocarditis, which prevented him from taking part in any official game action in 2021. He split last year between Single-A and High-A, hitting a combined .309/.394/.457 between those two levels. This year, he's gone through Double-A and Triple-A with a combined slash of .303/.376/.528, which translates to a wRC+ of 132.
The outfielder is currently considered the #44 prospect in the league by Baseball America, #24 by MLB Pipeline, #49 by ESPN and #56 by Keith Law of The Athletic. FanGraphs doesn't currently provide specific rankings beyond the 50 Future Value guys on the 20-80 scouting scale, but Kjerstad is one of many unnumbered 45+ guys that are lumped together around the back half of the top 100. He's considered a bat-first prospect, with his power his standout tool, but it's expected he can be a fine corner outfielder from a defensive standpoint.
It was reported last night that a promotion of Kjerstad was possible, in conjunction with Ryan Mountcastle battling a shoulder injury. Mountcastle hasn't landed on the injured list as of yet, but it seems Kjerstad will push into the mix regardless. Mountcastle has been the regular option at first base, but perhaps his injury means Ryan O'Hearn takes over that spot and spends less time in the outfield corners. That would perhaps leave Kjerstad, Anthony Santander, Aaron Hicks and Austin Hays splitting the duties of left field, right field and designated hitter. Kjerstad also played some first base in the minors and could be a factor there.
The O's are about to begin what may be their most important series of the regular season. The Rays are just two games back in the East division and the two clubs are set to face off in a four-game series that starts tonight in Baltimore. Both teams are sure to make the postseason but the division winner will secure a bye through the first round, making the distinction significant. Kjerstad isn't in the starting lineup tonight but should make his debut at some point in the next few weeks and might even secure himself a spot on the postseason roster.
With so little time left in the season, Kjerstad won't be able to exhaust his rookie status and will therefore still be on prospect lists in the upcoming offseason. That means he will still be eligible for the "prospect promotion incentives" that are present in the current collective bargaining agreement. That could allow the O's to recoup a bonus draft pick in the future, depending on how Kjerstad fares in awards voting going forward.
As for Vavra, he was with the big league club earlier this year but has been on optional assignment since early June. While in the minors, he missed over two months from mid-June to late August, when he began a rehab assignment. The club informed reporters last week, including Roch Kubatko of MASNsports.com, that Vavra's rehab was being shut down for further testing. There's not much detail on his injury or timeline but it seems his season is over, based on today's transfer.
Image courtesy of USA Today Sports.