The Indians are next in our Offseason In Review series.
Major League/International Signings
Notable Minor League Signings
Trades and Claims
Notable Losses
Summary
Chris Antonetti's first offseason as Indians GM marked the second year in a row the team spent about three million bucks on free agents.  As opposed to the Pirates and Orioles, the Indians were not willing to spend money on free agent placeholders.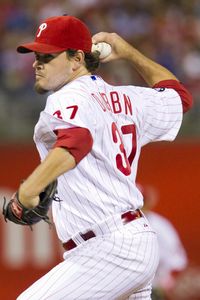 The Indians flipped Kearns for Yankees prospect Zach McAllister last summer, and that might be the plan if any of the veteran signings are having decent years at the trade deadline and the team is struggling.  Durbin (pictured) is a solid reliever, and getting him for $800K is good value.  I liked the minor league deals for Johnson and Buck, as both have upside and opportunity if they can get healthy.
Can the Indians become the surprise contender of 2011?  The offense will ideally be elevated by full seasons from Grady Sizemore, Asdrubal Cabrera, and Carlos Santana.  Position player reinforcements could arrive in the form of top prospects Lonnie Chisenhall, Jason Kipnis, Nick Weglarz, and Cord Phelps. But even if we optimistically grant the Indians an above-average offense, to contend they'd need breakout performances from pitchers such as Justin Masterson and Carlos Carrasco, a strong debut from Alex White, and improvements from several of the relievers behind Chris Perez.  It's a lot to ask. 
The Tribe's farm system ranks seventh in baseball, according to Baseball America, which praised the club for having best 2010 draft of any team.  They're stocked at both the lower and upper levels of the minors.  This is a club that will get better in a hurry, even if 2011 is not the year.
Photo courtesy of Icon SMI.