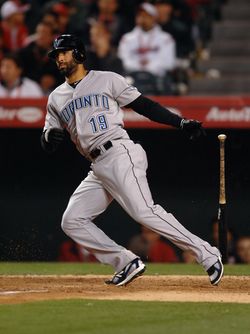 Perhaps no player has exploded from relative obscurity into superstardom like Jose Bautista has over the past year. It's been just under three months since the Blue Jays took a bold step by locking up last year's home run champ for five years and $65MM, but it certainly looks like it's going to pay off.
At the time, MLBTR readers agreed decisively that the contract was too great a risk: 72.42% of the 12,535 polled said they wouldn't have offered Bautista a deal of that magnitude.
Yet here we are three months later, and Bautista has hit his 14th, 15th, and 16th home runs of the season in just his 32nd game played. Entering play today, Fangraphs rated Bautista's value at a whopping 3.5 wins above replacement, primarily thanks to his video game-esque line of .358/.517/.798 (and that's prior to belting three more homers today). Over his past 192 games, he's hit .276/.402/.646., good enough for Dave Cameron of Fangraphs to question whether or not Bautista is the American League's best hitter.
Had Bautista reached free agency following this season, as he was projected to, he could have conceivably tried to exceed the seven-year contracts signed by Jayson Werth ($126MM) and Carl Crawford ($142MM) this past offseason. After all, he and agent Bean Stringfellow could point out that Werth only had three strong seasons prior to inking his deal. Bautista also doesn't have Werth's injury history, and offers the versatility of appearing at third base or in the outfield. And, assuming a 50 HR campaign for Bautista this year, they could argue that he hit as many homers from 2010-11 as Crawford had in his whole career when he signed his contract. At the bare minimum, he'd have commanded $20MM or more per season for five years or more.
Bautista's annual salary of $14MM from 2012 on is less than that of fellow outfielders Torii Hunter, Vernon Wells, Jason Bay, and Alfonso Soriano (to name a few). The total value of his deal exceeds Aaron Rowand's contract by just $4MM over the same number of guaranteed years.
Hindsight is always 20/20, but to this point, it looks like credit has to be given to Toronto GM Alex Anthopoulos and his staff for not only assessing that Bautista's 2010 was real and locking him up at a tremendous discount, but also moving Vernon Wells and his contract in order to free up payroll and make such an extension more feasible. Whether or not he's already the AL's best hitter, owning Bautista at such a discount will be a huge factor in the coming years as Toronto continues its quest to take their first AL East title since 1993.
Photo courtesy of Icon SMI.