When John Hart says high draft picks are generally the ones who become stars, he's speaking from experience. The longtime Indians and Rangers GM saw first rounders like Manny Ramirez and C.C. Sabathia develop into some of the best players in the game. Now a senior Rangers advisor and MLB Network analyst, Hart says truly successful drafts will also feature late-round gems.
"You have to have success after the first day of the draft," he said, pointing out that he and the Rangers staff selected Ian Kinsler in the 17th round of the 2003 draft. "When everyone's reconnects [after day one] you say 'hey boys, there's a lot of big leaguers out there. Let's go get big leaguers.'"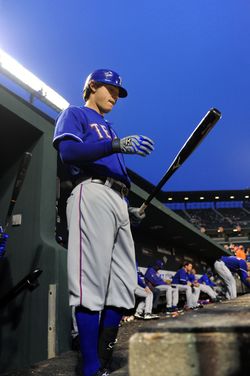 Players like Richie Sexson (24th round, 1993), John McDonald (12th round, 1996) and David Riske (56th round, 1996) became 'finishing touches' for the Indians under Hart. Those drafted earlier on attracted more attention, but Hart soon learned that you can't just survive on your first and second rounders.
Most general managers don't have the time to see hundreds upon hundreds of players, as an amateur scouting director would, so a GM is most heavily involved early on in the draft. Hart, who would typically see six to ten amateurs in anticipation of each draft, would step back after a few rounds, make notes and 'scout his scouts.'  It helped fill the time between picks, which can be particularly excruciating if a team is hoping a specific player falls to them.
"If you've got one guy that's clearly your front guy and you've got three picks to get there. It is a long time waiting to get that guy," Hart told MLBTR this week. "And when that club calls the name [of another player], there's a lot of excitement in the room – guys are very happy." 
The Rangers had a college right-hander in mind when they held the 12th overall pick five years ago, Hart's first season in his current role. It appeared that they would get their man when, with the tenth overall pick, Tim Lincecum became property of the San Francisco Giants. 
"We were fired up and ready to go and your heart gets broken," Hart said, reflecting on the Rangers' near miss in 2006. "It really does. There's just an empty feeling in the room when you lose your guy." 
Especially since the player Texas selected instead, left-hander Kasey Kiker, has yet to throw a Major League pitch and currently has a 6.75 ERA in Class A. One way for GMs to make sure that they don't telegraph their intentions is to stay away from the ballpark when a top target is playing. 
"Once a GM comes into a ballpark, that word starts spreading and the next thing you know, you can run guys up a board," Hart said.
GMs generally stand out more than scouting directors, especially at a high school or college game. Though it's the scouting directors, cross-checkers and area scouts who do most of the legwork, general managers are forever linked to the players their front office selects. 
"It's funny," Hart said, "I was talking to [current Rays executive and longtime Astros GM] Gerry Hunsicker today and we were both kind of laughing that a lot of times you get credit for players that your scouting director picked and sometimes you get trashed because of guys that your scouting director picked. But ultimately it does come down to you." 
Photo of Kinsler courtesy Icon SMI. John Hart will be part of MLB Network's coverage of the 2011 MLB first-year player draft on Monday, June 6th at 6pm CDT.