The Pirates may be headed for a 19th consecutive losing season in 2011, but if their assessment of Gerrit Cole is accurate, they're a little closer to becoming a winner again. They have officially selected the UCLA right-hander with the first pick of the amateur draft.
Cole stands 6'4" and doesn't turn 21 until the fall. He throws a slider and change-up, plus a fastball that regularly reaches the mid 90s. His stuff didn't translate into the statistical success you'd expect for a first overall pick (teammate Trevor Bauer posted more impressive numbers). Cole finished the season with a 3.31 ERA, 119 strikeouts and 24 walks in 114 1/3 innings – impressive numbers, but certainly not Strasburg-esque.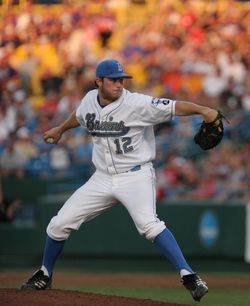 Cole has experience as a first rounder. The Yankees selected him out of high school in 2008. He declined to sign, even though he's a Yankees fan who counts Roger Clemens and Mariano Rivera among his role models.
The Pirates have had the first overall pick three other times in their history. They selected Jeff King in 1986, Kris Benson in 1996 and Bryan Bullington in 2002. Scouting director Greg Smith and GM Neal Huntington also considered Rice third baseman Anthony Rendon, Virginia left-hander Danny Hultzen and others with the top pick.
I talked to Cole about his season and the draft in March and MLBTR's Tim Dierkes introduced us to Cole and a number of other college right-handers last week.
The Pirates have until August 15th of this year to sign Cole, who is represented by Scott Boras. The commissioner's office recommended a $4MM signing bonus for last year's top pick, which turned out to be Bryce Harper.
Photo courtesy UCLA athletics.