At 7.5 games back in the NL West, the Dodgers might start pondering trading a few impending free agents.  In infielder Jamey Carroll, they've got someone who would be useful to many teams.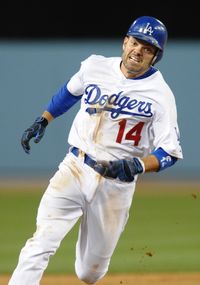 Carroll, 37, stepped in as the Dodgers' regular shortstop when Rafael Furcal broke his thumb in April.  With Dee Gordon now in the mix at short, Carroll is contributing more at second base lately.  He has also logged time at third base and the outfielder corners.
Carroll is a top of the order type, with a .357 career OBP and a .376 mark this year.  He's earning $1.8MM plus incentives, so his contract won't be an issue for any team.  Dodgers GM Ned Colletti hasn't been committed to acquiring draft picks through free agent compensation, but Carroll appears to have a shot at Type B status.
The Rays, Reds, Brewers, Pirates, and Giants are contenders who could use a hand a shortstop, though the Dodgers may not want to deal with a division rival.  The Tigers and Cardinals could desire a second baseman, while the Indians, Tigers, White Sox, Mariners, and Rockies might like a third base addition.  While the Dodgers probably won't extract a top 100 prospect for Carroll, there's potential for a half-dozen suitors or more.  Assuming the infielder ascends to Type B status, the Dodgers should at least be able to acquire a prospect who is on par with a supplemental round draft pick.
Photo courtesy of Icon SMI.