It's common for teams to time the debut of a top prospect carefully in order to delay his free agency or prevent him from going to arbitration an extra time. But such precise timing isn't always possible, especially for short-handed teams in the middle of a pennant race.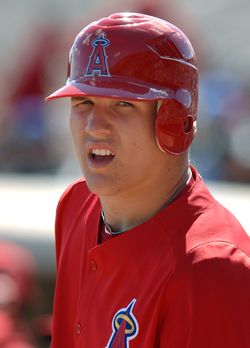 The Angels, who trail the Rangers by one game in the American League West, lost no time in calling up top prospect Mike Trout to replace injured center fielder Peter Bourjos and the move doesn't appear to have anything to do with service time.
Trout, 19, entered the season as baseball's second-best prospect (behind only Bryce Harper), according to Baseball America. So far this year, the 2009 first round pick has solidified his place as one of the game's elite prospects. He has a .324/.415/.534 line with nine homers and 28 stolen bases in his first season at Double-A.
There's definitely a chance that Trout returns to the minors this season (he could be demoted when Bourjos' hamstring heals), or later on in his pro career, like so many other prospects. But let's take a look at what lies ahead for the 19-year-old if he never returns to the minors. It's admittedly a lot to ask of a player who was in high school a couple years ago, but Trout is no ordinary prospect.
He can pick up as many as 83 days of service time this year, which would put him on track for arbitration eligibility after the 2014 season and free agency after the 2017 season (it's the same timetable that he would have been on if the Angels had called him up this September or added him to their Opening Day roster in 2012). In other words, there's a chance Trout will hit free agency just a few months after his 26th birthday.
Photo courtesy Icon SMI.