Left fielder Josh Willingham has established career-highs in home runs and RBIs this year, with 28 and 94 respectively and three games remain on the schedule.  On the other hand, a slipping batting average and walk rate have his OBP at a career-worst .335, and his defense doesn't come highly regarded.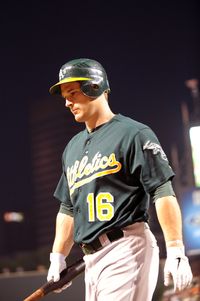 Many teams seeking power this offseason will start with home runs, and among free agents only Albert Pujols, Prince Fielder, and David Ortiz have more than Willingham, with Carlos Pena even at 28.  Aramis Ramirez and Carlos Beltran are at 25 and 22 respectively, and Michael Cuddyer would be at the bottom end of that range had he not missed time due to injuries.  Pujols and Fielder come with price tags only a handful of teams can consider, while Ortiz requires a DH job.
Ramirez, Beltran, Cuddyer, Pena, and Willingham form the next tier of free agent hitters.  The first three are probably looking at three-year deals paying $10MM or more per year.  Pena and Willingham may have to settle for two-year deals.  Willingham, in particular, probably will receive less than $10MM per year.  I'm thinking something in the two-year, $16MM range.
Pena comes with the wrinkle of a perenially ugly batting average.  With Willingham, the warts are his defense, durability, potential Type A status, and this year's OBP drop.  Maybe next year his walk rate comes back up a bit, and you're comfortable penciling him in for 130 games instead of 155.  The Type A issue could go away too if the A's don't offer arbitration.  Or perhaps Willingham will never hit the market, if the team offers and he accepts.  As we learned yesterday from Susan Slusser, the Athletics' spending decisions are on hold until they hear about their stadium situation.  Agent Matt Sosnick said, "Josh and I both made it clear he'd like to stay, but at this point, I'm pretty sure he'll test the free-agent market."    
Losing a draft pick for Willingham would sting, depending on what team signs him.  A team like the Indians, with the first unprotected pick at #16, probably wouldn't want to make the sacrifice.  The Dodgers and Giants also project to pick in the top 20.  Willingham should still have a range of suitors, with the White Sox, Twins, and Reds also among the teams with potential left field openings.
Photo courtesy of Icon SMI.