The Diamondbacks have signed outfielder Jason Kubel, tweets Tom Krasovic.  Ken Rosenthal of FOX Sports, who confirmed the agreement earlier today, now tweets that it's official and that Kubel has passed his physical.  Jon Heyman of CBS Sports says the deal is worth $15MM.  The Wasserman Media Group client obtained a two-year deal with a mutual option for 2014.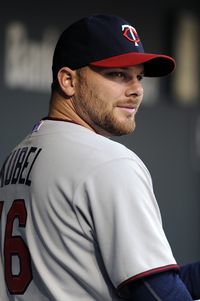 Kubel, 29, will play left field for the Diamondbacks according to Rosenthal.  The surprising acquisition likely pushes Gerardo Parra to a fourth outfielder role, meaning Arizona is sacrificing defense and hoping for more offense.  Perhaps Parra, a 2011 Gold Glove winner, will become a trade target for other clubs.  Kubel hit .273/.332/.434 in 401 plate appearances for the Twins this year, missing nearly two months with a left foot sprain.
Kubel spent his entire career with the Twins after being drafted in the 12th round in 2000.  His best season came in 2009, when he hit .300/.369/.539 with 28 home runs.  The Twins signed him to a two-year, $7.2MM extension in January of '09 and later exercised a $5.25MM option for 2011.  The Twins had interest in re-signing him, especially after Michael Cuddyer inked a deal with Colorado.  The Indians and Phillies also inquired on Kubel this offseason.  The Twins will receive a supplemental draft pick for their loss.
Diamondbacks GM Kevin Towers has committed $36.75MM this offseason to free agents Kubel, Aaron Hill, Willie Bloomquist, John McDonald, Takashi Saito, Henry Blanco, and Lyle Overbay, as our free agent tracker shows.  He also acquired Trevor Cahill and Craig Breslow in a trade with the Athletics.
Photo courtesy of Icon SMI.