The Tigers and Max Scherzer agreed to a 2012 salary of $3.75MM yesterday, but the negotiations won't necessarily end there, since extension season is just beginning. Last year, for example, 24 players signed extensions between the date arbitration numbers were exchanged and the end of April. Just one of those players was a client of the Boras Corporation — Scherzer's agency — but the possibility of an extension exists for the 27-year-old right-hander nevertheless.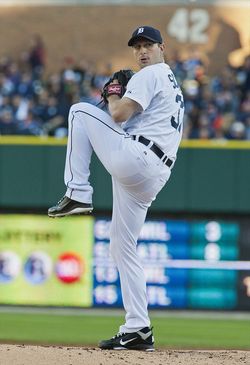 Gio Gonzalez and Justin Masterson are two of the first-time arbitration eligible pitchers who most closely resemble Scherzer. Gonzalez (38-32, 3.93 ERA in 535 1/3 innings) Masterson (28-38, 3.92 ERA in 613 2/3 innings) and Scherzer (36-35, 3.92 ERA in 617 innings) all have similar numbers from a career standpoint. However, Scherzer's platform season ERA of 4.43 exceeded the 2011 marks Gonzalez and Masterson posted by more than a run. Gonzalez recently signed a five-year, $42MM extension and Masterson is another candidate for a long-term deal.
Gonzalez and Masterson aren't the only pitchers who resemble Scherzer. The Tigers right-hander has numbers that resemble the ones John Danks, Chad Billingsley, Matt Garza and Johnny Cueto had when they became arbitration eligible for the first time. The various contracts those pitchers signed offer insight into Scherzer's future earning power.
A four-year deal worth slightly more than $30MM could work for both sides, I believe. Recent deals for the pitchers above suggest a deal between Scherzer and the Tigers might look like this: $3.5MM in 2012, $6MM in 2013, $8MM in 2014, $12MM in 2014 and a modest buyout for one or two additional club option seasons. A guaranteed four-year total in the $30MM range would eclipse Cueto's $27MM deal and while it wouldn't reach Gonzalez's $42MM mark, that may not be realistic for a pitcher with Scherzer's 2011 ERA. 
The Tigers would extend their control of Scherzer and cap his earnings by buying out his arbitration seasons and at least one year of free agency. Tigers starters Justin Verlander, Rick Porcello, Doug Fister and Jacob Turner are all under team control through 2014 or later and extending Scherzer would keep the group in place for even longer. While there are risks associated with every pitcher extension, the 2006 first rounder has made 30-plus starts in both of the past two seasons. Meanwhile, Scherzer would obtain multiyear security and extend his stay with the 2011 AL Central champs.  
Advanced metrics such as xFIP (3.70), FIP (4.14) and SIERA (3.63) suggest Scherzer's 2011 ERA of 4.43 was higher than expected for someone with his peripheral stats. If the statistically-minded hurler is willing to gamble on similar health and improved luck in 2012, his extension prospects might look considerably better a year from now. But if Scherzer is willing to sign before the season and the Tigers are looking to lock him up, a four-year deal in the $30MM range seems fair.
Photo courtesy Icon SMI.