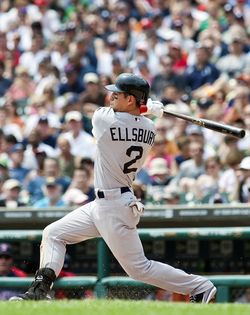 There was some talk out of Boston about the Red Sox exploring a multiyear deal with Jacoby Ellsbury this offseason, though it's perhaps no surprise the club decided to handle its front-office shakeup and more immediate player concerns before trying to lock up a player who is still under team control through 2013.  There is likely also a sense of wanting to see exactly they really have in Ellsbury before committing to a major contract.
Last season, Ellsbury didn't only bounce back from an injury-riddled 2010, he dramatically raised his own performance ceiling.  Ellsbury finished second in AL MVP voting after slugging 32 homers and hitting .321/.376/.552 in a league-best 732 plate appearances, just to erase any doubts about his durability.  All three totals in his slash line were career highs but the power was particularly surprising — Ellsbury had hit just 30 homers in his entire major and minor league career (2705 plate appearances) before 2011.  To top it off, Elsbury also provided excellent center field defense (a 15.7 UZR/150 and a Gold Glove) and stole 39 bases.
The Red Sox avoided arbitration with Ellsbury by agreeing to an $8.05MM deal for 2012, a significant bump up from his $2.4MM 2011 salary.  If Ellsbury comes even close to repeating his performance from last season, he'll earn another big raise for his last arbitration year; MLBTR's Ben Nicholson-Smith projected as much as a $13MM salary for Ellsbury in 2013.
For our long-term price range, let's look at the contracts received by Matt Kemp and Ellsbury's teammate Carl Crawford over the last two offseasons.  Kemp was also heading into his last arbitration year when he signed an eight-year, $160MM extension with the Dodgers in November.  Crawford, meanwhile, was 29 (Ellsbury hits that age in September) when he signed his seven-year, $142MM free agent deal with the Red Sox on the open market.
Hard as it would've been to believe 12 months ago, power is the key statistic in determining the size of Ellsbury's extension.  If he puts up another 30-homer season, agent Scott Boras will argue that Ellsbury is now a proven five-tool threat and deserves a Kemp-like contract.  If Ellsbury's homer total drops even to around 20 dingers, the Red Sox will have an argument for a slightly lesser but still-sizeable contract akin to Crawford's deal. 
Of the five 2012 projections used by Fangraphs, all have Ellsbury's OPS dropping significantly next season, with three of five forecasting a drop of more than 100 OPS points.  It's worth noting that Ellsbury's center field defense is also not quite a proven commodity.  He posted a -10.0 UZR/150 playing the position in 2009, leading to the Red Sox signing Mike Cameron that offseason to take over in center.
Presuming Ellsbury, like most players, doesn't want to talk contract once the season begins, Boston has a month to work out an extension while they still have some leverage over the length of the deal.  Right now, the Red Sox could aim for a six-year extension that covers Ellsbury's last arbitration year and his first five free agent seasons.  This would cover Ellsbury through his age-34 season, sparing the club at least one year of paying $20MM to a player in his mid-thirties (though the Sox could add a club option).  Of course, as noted earlier, if Ellsbury's power surge continues into the start of the 2012 campaign, the leverage swings back in his direction and Boras will look for a minimum of seven years in any new contract.  
Boras usually advises his clients to test the free agent market, so it wouldn't be a surprise to see the 2012-13 offseason also pass without a multiyear deal between Ellsbury and the Red Sox.  Two high-profile Boras clients have recently signed extensions prior to free agency — Carlos Gonzalez's seven-year, $80MM deal with the Rockies and Jered Weaver's five-year, $85MM deal with the Angels — but neither of those contracts matches Ellsbury's situation.  Gonzalez was still four years away from free agency and Weaver specifically wanted to stay in Anaheim, even at the cost of leaving millions on the table in free agency.
Though Boston has been conscious of exceeding the luxury tax limit on payroll this winter, the team obviously has the money to pay Ellsbury fair value if they want to make him part of their long-term future.  A lot depends on what Ellsbury does at the plate in 2012, but a seven-year, $133MM deal ($13MM in 2013 to match his arbitration number and then an average of $20MM in each of the following six years) is definitely within reach.  Ellsbury would join Crawford and Adrian Gonzalez as Red Sox players locked up through at least 2017.  With Jon Lester, Dustin Pedroia and Clay Buchholz all on reasonable contracts that include equally reasonable team options, Boston's long-term payroll is relatively flexible for such a big-market franchise. 
Photo courtesy of Tony Ding/Icon SMI