A generation of fans, players, and front office personnel have only known one commissioner. Bud Selig has been in office for two decades, longer than anyone since the sport's first commissioner, Kenesaw Mountain Landis. 
But at some point, MLB will name a successor to Selig, the car salesman turned team owner turned baseball boss. His contract expires following the 2014 season, and while he could sign yet another extension, someone will have to succeed him eventually. So who will it be? Before we attempt to answer that question, let's establish some background: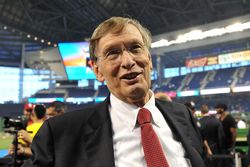 The Commissioner's Role
The commissioner represents the interests of baseball's 30 owners and should create fan interest, grow the sport worldwide, and manage everything from labor relations to multimedia ventures. Perhaps most importantly, the commissioner should generate revenue and boost franchise values for owners. 
Selig's MLB.com bio points out that revenues "have increased more than five-fold, from $1.2 billion in 1992 [when Selig started] to the $7.0 billion mark in both 2010 and 2011." Based on these figures alone, it's no surprise MLB owners are happy with Selig's work. 
Fans tend to view the commissioner as someone with unrivaled power, and it's a view former commissioner Bowie Kuhn encouraged. "The commissioner exists to tell the owners what to do and not the other way around," he wrote in his autobiography Hardball.
But Marvin Miller, the longtime executive director of the MLB Players Association, saw things differently. In Miller's 1991 autobiography, A Whole Different Ball Game: The Inside Story of the Baseball Revolution, he explained his interpretation of the power structure within baseball.
"It would probably shock some of the most avid baseball fans to learn that commissioners are hired by the owners, that no one else has a voice in the process, that owners determine his duties and responsibilities, and that they decide his compensation and pay every penny of it," Miller wrote. "The owners decide whether the commissioner is representing their interests, and their interests alone, in a satisfactory manner."

Yet Miller wrote his book before Selig's 20-year reign began and the dynamic seems different today. Selig, the former owner of the Brewers, hardly seems to be at the mercy of the sport's current owners, though they're technically his employers.
Selig's greatest strength is his ability to build consensus for ownership, a task that sounds easier than it is considering the assortment of individual owners and corporations whose reputations and finances are at stake. By all accounts baseball's owners get along far better than they did two decades ago, and it'll be a bonus for owners if Selig's successor shares his knack for creating unity.
Don't Bother Applying
MLB owners can be expected to favor candidates with experience in labor relations. But don't expect management to hire someone from 'the other side' as Selig's successor. For a time, Jeff Moorad was on track to become the Padres' next owner, but the former agent seemed to have trouble winning the trust of others in management and he has since dropped his application to become the team's controlling partner. If MLB owners are uncomfortable admitting a former agent into their exclusive club, you can bet they aren't going to choose someone with too many ties to the players as their most powerful public advocate. Agents, MLBPA execs and others who seem to side with labor need not apply.
Some Names To Consider
Rob Manfred, MLB's executive VP Labor Relations, manages the relationship between teams and players for baseball's owners. The Harvard Law graduate knows the economics of the game as well as anyone — after all, he has helped shape them through collective bargaining with the MLBPA.
Andy MacPhail, a longtime executive with the Twins, Cubs and Orioles, also worked toward the 2006 CBA. His family has a long history of representing teams, which could earn him points with some tradition-bound owners. His father, Hall of Famer Lee MacPhail, worked for the Yankees and Orioles before becoming the president of the American League. His grandfather, Hall of Famer Larry MacPhail, was the general manager for the Reds and Brooklyn Dodgers and president and part owner of the Yankees.
Derrick Hall's name comes up when those at the highest levels of MLB discuss successors to Selig, Yahoo's Steve Henson reported this year. Selig and those close to him like what the Diamondbacks' president offers. "Derrick is clearly one of the best young executives we have in baseball," White Sox owner Jerry Reinsdorf told Henson. "He's one of the ones we expect to lead as time goes by." Hall's accessible and personable, someone who might relate well with the sport's younger fans. 
Others, such as Red Sox president Larry Lucchino, Blue Jays president Paul Beeston, Indians president Mark Shapiro, Tigers president and GM Dave Dombrowski, Mariners president Chuck Armstrong, Cubs president Theo Epstein, Dodgers CEO Stan Kasten, Braves president John Schuerholz, Phillies president David Montgomery, Mets GM Sandy Alderson, Cardinals chairman & CEO Bill DeWitt, Rockies GM Dan O'Dowd, and Pirates president Frank Coonelly could also have support around the league.
Baseball's owners could push for an outsider. They hired Peter Ueberroth, the organizer of the 1984 Olympics, as the sport's sixth commissioner in the 1980s. A similar hire remains possible if a compelling enough candidate emerges. NHL commissioner Gary Bettman worked for the NBA early in his career, so there's some precedent for top executives switching leagues.
But trying to predict the next commissioner while two-plus years remain on Selig's contract is a little like anticipating the winner of a political election years in advance. In baseball, as in politics, there's often a name of the moment, someone who gains momentum at precisely the right time and wins, maybe unexpectedly. Until then, fans, players and even the owners themselves are left to speculate.
Photo courtesy of US Presswire.