The Reds announced that they signed free agent outfielder Ryan Ludwick to a two-year deal with a mutual option for 2015 (Twitter link). The BHSC client obtains a $15MM guarantee following his best offensive season since he was a member of the Cardinals.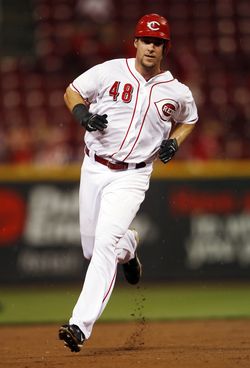 The Reds made the free agent outfielder a two-year two-year offer earlier in the week, but John Fay of the Cincinnati Enquirer reported that at least one other club was being more aggressive on Ludwick. The 34-year-old posted a .275/.346/.531 batting line with 26 home runs in 472 plate appearances for the Reds this past season, a marked improvement from 2010-11 when he didn't hit more than 17 home runs or post an OPS above .750.
Ludwick ranked 26th on MLBTR's list of top 50 free agents with MLBTR's Tim Dierkes correctly predicting that he would re-sign with the Reds.
Jon Heyman of CBSSports.com first reported the agreement and the dollar amount. Fay first reported the option year and that the Reds were making progress toward a deal. Photo courtesy of US Presswire.