After years of trade talk, the Justin Upton rumors finally amounted to a deal. The Braves and Diamondbacks have officially agreed to a seven-player trade that will send Upton to Atlanta. The Braves obtain Upton and third baseman Chris Johnson for third baseman Martin Prado, right-hander Randall Delgado, shortstop prospect Nick Ahmed, right-handed pitching prospect Zeke Spruill and minor league first baseman Brandon Drury.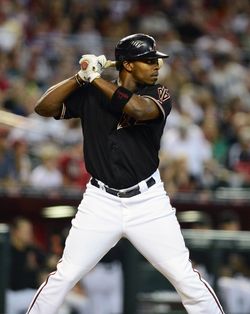 The Braves now have a new-look outfield that will also feature B.J. Upton and Jason Heyward. Justin's older brother signed with Atlanta as a free agent earlier in the offseason, agreeing to a five-year, $75.2MM contract. GM Frank Wren added balance to what had previously been a lefty-heavy lineup by acquiring the right-handed hitting Upton brothers.
Upton, the first overall selection of the 2005 draft, followed up a breakout 2011 season with a solid but unspectacular 2012 campaign. The 25-year-old hit 17 home runs and posted a .280/.355/.430 batting line in 628 plate appearances last year, his sixth season at the MLB level.
There are now three years and $38.5MM remaining on Upton's contract, including a $9.75MM salary in 2013. The contract includes a no-trade list which allows him to block trades to the Red Sox, Cubs, Blue Jays and Mariners. He exercised his no-trade rights earlier in the winter, blocking a proposed trade that would have sent him to Seattle.
Prado has provided the Braves with versatility on defense and steady offensive production in recent years. He posted a .301/.359/.438 batting line in 690 plate appearances in 2012 while playing five positions. Though Prado was Atlanta's primary left fielder, he played at least ten games at second base, shortstop and third base.
The 29-year-old is arbitration eligible for the third time this winter. He asked for $7.05MM with the Braves, a file and trial team, offering $6.65MM, as MLBTR's Arbitration Tracker shows. The Braves were willing to trade Prado once they learned that his asking price on a multiyear deal was $11-12MM, David O'Brien of the Atlanta Journal-Constitution reports (on Twitter). Prado, a client of The Legacy Agency, remains on track to hit free agency following the 2013 season.
Johnson hit a career-best 15 home runs last year while playing for the Astros and Diamondbacks. The 28-year-old posted a .281/.326/.451 batting line in 528 plate appearances in 2012. He'll earn $2.875MM in 2013 and will remain under team control as an arbitration eligible player through 2016.
As a consequence of the trade, Johnson and Juan Francisco project as Atlanta's primary third basemen. The Braves plan to use the pair in a platoon at third, O'Brien reports (on Twitter). The trade will also take Atlanta out of the running for center fielder Michael Bourn and other free agent outfielders.
Meanwhile, the Diamondbacks still have considerable outfield depth. Cody Ross, Jason Kubel, Gerardo Parra and Adam Eaton provide Arizona manager Kirk Gibson with various options, even without Upton, who had been the team's primary right fielder since 2008. Prado figures to play at third base in Arizona given the team's crowded outfield and the departure of Johnson.
Teams such as the Orioles that had interest in trading for Kubel will now have to look elsewhere for offense. Though Arizona GM Kevin Towers was willing to listen to offers on Upton and Kubel, there's no indication he'd actually trade both players.
Upton drew interest from multiple MLB teams this offseason, as the Diamondbacks were evidently listening to trade offers. The Rangers, one of Upton's many suitors, offered Mike Olt in a trade, but did not include right-hander Cody Buckel in their proposal, Yahoo's Jeff Passan reports (on Twitter).
Delgado started 17 games for the Braves in 2012 after entering the season as the 46th ranked prospect in MLB, according to Baseball America. The 22-year-old posted a 4.37 ERA with 7.4 K/9 and 4.1 BB/9 in 92 2/3 innings.
Ahmed, 22, played at Class A this past season in his second year as a professional. The 2011 second rounder posted a .269/.337/.391 batting line in 571 plate appearances. Baseball America named him the best defensive infielder in Atlanta's minor league system.
Spruill ranked ninth on BA's list of top Braves prospects this winter. The 23-year-old spent the 2012 season at Double-A Mississippi, posting a 3.67 ERA with 5.9 K/9 and 2.6 BB/9 in 161 2/3 innings.
Drury played at Class A in 2012. The 20-year-old posted a .229/.270/.333 batting line in 480 plate appearances in his third professional season.
Photo courtesy of USA Today Sports Images. Ken Rosenthal of FOX Sports first reported the teams were nearing an agreement, Jon Heyman of CBSSports.com first reported the teams had agreed to a trade (on Twitter) and Mark Bowman of MLB.com first reported the specifics of the deal.