It didn't take long for Alex Anthopoulos to convince R.A. Dickey to sign a long-term deal with the Blue Jays. In fact, the defending National League Cy Young Award winner admits he decided to sign in Toronto as soon as he heard the general manager explain his plans for 2013 and beyond.
"I'll tell it now that the negotiating is over, but I was all in right then," Dickey said at an introductory press conference at Rogers Centre today. "I think this can be a special few years."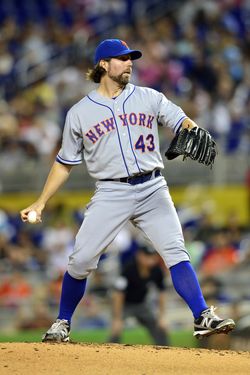 So do the Blue Jays. Otherwise they wouldn't have traded top prospects Travis d'Arnaud and Noah Syndergaard, among others, to obtain the 38-year-old knuckleballer. Consider the additional cost of Dickey's $30MM extension and the Blue Jays gave up a lot. But their GM says that's to be expected for a player of Dickey's caliber.
"He's a Cy Young Award winner, you don't get those guys for free," Anthopoulos said. "Ultimately for the organization these guys don't come around very often, and they don't get traded very often, they don't become free agents very often."
Anthopoulos compared Dickey's unexpected emergence to that of Jose Bautista, the former journeyman who led MLB in home runs in both 2010 and 2011. Yet unlike Bautista, Dickey enjoyed considerable success at the Major League level before his breakout season. The Blue Jays studied Dickey's past performances and previous knuckleballers to determine what they can expect from him going forward. Anthopoulos says he likes the way Dickey's trending, even at the age of 38.
"It took time, but the more work we started doing on him I started thinking he's going to get better," Anthopoulos said. "And I know it's crazy to say as good as he was last season, but he's gotten better each year."
Dickey says his numbers improved once he learned to throw the knuckleball for strikes — an accomplishment reflected by a walk rate that stayed well below league average during his tenure with the Mets (2.2 BB/9 from 2010-12). It's not uncommon for knuckleballers to continue pitching long after they turn 40, and Dickey says that's a goal of his.
"I'm hoping to play for ten more years. You never know. But this could also be my last contract."
Even after signing a $30MM contract, Dickey said he and his family will continue living modestly and traveling to help underprivileged people elsewhere. He also stressed the importance of giving back by donating to the Jays Care Foundation with the maximum amount allowed under baseball's Collective Bargaining Agreement.
Dickey, a client of agent Bo McKinnis, signed a two-year, $7.8MM deal with the Mets in January of 2011 following his first season in New York. Two winters later Dickey had a Cy Young Award on his resume, and the sides discussed a more lucrative contract without agreeing to terms. Dickey says he doesn't have lingering regrets about the fact that the Mets didn't match his asking price.
"No, in fact I've moved on from that point to being thankful that they didn't," he said. "It's important for me to say that I'm very thankful to the Mets for the opportunity to cultivate a pitch. But it's also important to not live in the past."
When it became clear that the Mets were willing to consider trade offers for Dickey, Anthopoulos called his counterpart, Mets GM Sandy Alderson, to discuss a deal. That led to an agreement and a 72-hour window for the Blue Jays to complete an extension with their new acquisition. Though he's pleased with the end result, Anthopoulos didn't enjoy process of negotiating publicly.
"I hated the fact that in 72 hours the world was going to know about it and we were going to be under the microscope the entire time," he said. "When we started the process, I made it real clear to R.A. and Bo McKinnis that we need to keep this as quiet as we could."
With five weeks remaining before pitchers and catchers report to Spring Training, most of Anthopoulos' offseason moves are now complete. Dickey, perhaps the highest profile addition of all, likes what he sees from his new GM.
"If we don't win it won't be because of him," Dickey said.
Photo courtesy of USA Today Sports Images.