After losing Josh Hamilton to free agency, the Rangers have turned to Lance Berkman to add some thunder to the lineup.  The team officially announced the signing of the Big Puma to a one-year deal with vesting option for 2014. The Moye Sports Associates client reportedly will receive a $10MM salary with, and his $13MM vesting option triggers at 550 plate appearances. If he fails to reach 550 plate appearances, the club can still exercise a $12MM option or elect a $1MM buyout.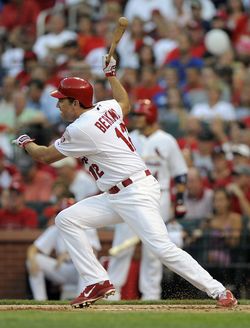 Berkman will bring offense to a Texas team that lost a good amount of pop this winter and missed out on some of its favorite targets.  After the departures of Hamilton, Mike Napoli, and Michael Young, Berkman will be expected to be more than a feel-good story in his return to the Lone Star State.
Last week it was reported that the Rangers along with the Orioles, Yankees, and Astros were all interested in the veteran's services.  Berkman wasn't sure if he wanted to play in 2013, but it would appear that a pitch spearheaded by team president Nolan Ryan was enough to lure him away from retirement.
Berkman, who turns 37 in February, played in just 32 games for the Cardinals last season thanks to a left calf injury and a torn meniscus in his right knee.  In his one season and change in St. Louis, Berkman posted a .295/.408/.533 slash line with 33 homers in 177 games.
The Rays and the Red Sox also had documented interest in Berkman this winter.
Ken Rosenthal of FOX Sports first first reported that an agreement was being finalized, with Jon Heyman of CBS Sports confirming the financial details of the contract (on Twitter). Jeff Wilson of the Fort Worth Star-Telegram (all Twitter links) and ESPN's Richard Durrett (via Twitter) added details surrounding Berkman's 2014 option.
Mike Axisa and Steve Adams contributed to this post. Photo courtesy of USA Today Sports Images.