When the Indians signed Michael Bourn this offseason, the move was a response to Bourn's free agent price dropping (to the tune of four years and $48MM) and to an overall desire to upgrade their outfield.  Acquiring Bourn didn't mean the Indians were at all dissatisfied with incumbent center fielder Michael Brantley — in fact, the Tribe aims to keep Brantley in the fold for a whi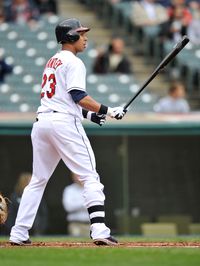 le, as evidenced by the fact that the team is interested in a multiyear extension with the 25-year-old.
Brantley played in a career-high 149 games in 2012, hitting .288/.348/.402 with six homers, 60 RBI, 12 steals and 63 runs scored.  He swung at 7.9% more pitches inside the strike zone than he did in 2011 and cut his strikeout rate to a career-low 9.2%, so there is plenty of indication that Brantley is entering his prime as a hitter.  The UZR/150 metric doesn't like his defense in center field (-12.2 for his career as a CF) though he has a +3.3 UZR/150 as a left fielder, which will be his new position now that Bourn is in Cleveland.
As noted by FOX Sports' Ken Rosenthal in his original report, the Indians are looking to lock up Brantley and Jason Kipnis to contracts that cover their arbitration years and more than one of their free agent years.  In Brantley's case, that would be a minimum of a five-year commitment, as Brantley is arb-eligible for the first time this coming offseason and is scheduled to reach free agency after the 2016 season.
Brantley has two years and 131 days of Major League service time under his belt.  When looking at the deals signed by other outfielders with between two and three years of service time on the MLBTR Extension Tracker, the two comparables that jump out are Curtis Granderson's five-year, $30.25MM extension with the Tigers in February 2008 and Cameron Maybin's five-year, $25MM extension with the Padres from last March (both deals included an option year).  It's worth noting that both players were center fielders at the time of their extensions, so Brantley's shift from a premium defensive position will cost him and his representatives at the Legacy Agency a negotiating chip.
Maybin's deal covered a free agent year, three arb years and one year of pre-arbitration eligibility, so a five-year Brantley extension would be more expensive due to the extra free agent year.  I would guess that Brantley's deal would've been larger anyway given his superior offensive numbers to Maybin, though in Maybin's defense, he delivered 40 steals and a strong CF glove in 2011 and had his batting output dampened by Petco Park.  (Brantley, interestingly, also had trouble hitting at his home ballpark, posting a .682 OPS at Progressive Field and an .815 OPS on the road in 2012.)
Like Brantley, Granderson was also entering his first year of arbitration eligibility and signed a deal that covered his three arb years and first two free agent years, plus a 2013 option year that was picked up by the Yankees for $15MM after last season.  The difference was that Granderson was entering his age-27 season at the time of his extension (Brantley turns 26 in May) and Granderson was a much more proven hitter, coming off a 23-homer, .913 OPS season in 2007.  Though Granderson has been criticized for his strikeouts and declining glove, he still posted a .832 OPS and 160 homers over the five guaranteed years of that contract, making it a nice bargain for the Tigers and Yankees.
With all this in mind, I'll split the difference between the Maybin and Granderson extensions and predict that the Tribe will sign Brantley to a five-year, $27.5MM deal.  The contract will almost surely include at least one option year given that Cleveland GM Chris Antonetti had added club or vesting options to almost all of the team's recent major signings, save for Asdrubal Cabrera's two-year extension.  The deal gives Brantley a nice payday and cements another young building block in place for the Tribe as they look to be regular contenders in the AL Central.
Photo courtesy of David Richard/USA Today Sports Images