The Red Sox turned to the free agent market to address their various needs this winter, spending well over $100MM. 
Major League Signings
David Ortiz, DH: two years, $26MM.
David Ross, C: two years, $6.2MM.
Jonny Gomes, OF: two years, $10MM.
Shane Victorino, OF: three years, $39MM.
Koji Uehara, RP: one year, $4.25MM.
Ryan Dempster, SP: two years, $26.5MM.
Stephen Drew, SS: one year, $9.5MM.
Mike Napoli, C: one year, $5MM.
Total Spend: $126.45MM.
Notable Minor League Signings
Trades and Claims
Extensions
Notable Losses
Needs Addressed
The Red Sox chose to acquire useful players at a number of positions instead of spending on a single superstar, an understandable decision considering the value of draft picks and the team's many needs. GM Ben Cherington distributed contracts to a variety of players, with no individual player signing for as much as $40MM. The result: a team that could rebound from a forgettable 2012 season to compete in the AL East.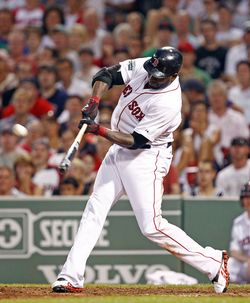 The Red Sox started by dismissing manager Bobby Valentine and acquiring John Farrell from the Blue Jays. It was evident toward the end of the 2012 season that Valentine was no longer the answer in Boston, and it's reasonable to expect fewer distractions with the return of the more diplomatic Farrell.
Only two American League teams allowed more runs than the 2012 Red Sox, so Cherington entered the offseason seeking pitching. The Red Sox managed to add Ryan Dempster, an aging but perhaps underrated starter, plus relievers Koji Uehara and Joel Hanrahan. 
Dempster has been an above-average pitcher well after his 30th birthday, and should continue adding value for the duration of the team's two-year commitment. While homer-prone, Uehara brings an extremely impressive strikeout to walk ratio to Boston. In Hanrahan the Red Sox acquire a pitcher who had trouble limiting walks last year, sending a modest return to Pittsburgh in the process.
On offense, the Red Sox started by re-signing Ortiz, easily the top designated hitter available in free agency. They also added backup catcher David Ross, lefty mashing outfielder Jonny Gomes, shortstop Stephen Drew, and former Mariner Mike Carp, fortifying an offense that ranked fifth in the American League in scoring a year ago. 
Mike Napoli initially agreed to a $39MM contract with the Red Sox, but a hip issue led to a re-negotiation and a $5MM guarantee. This deal has the potential to be a bargain for the Red Sox, assuming that avascular necrosis doesn't prevent Napoli from playing.
Victorino's $39MM contract went through, and it qualifies as the largest deal of the offseason for the Red Sox. While he's an imperfect player who struggles to hit right-handers, Victorino should make the Red Sox better in 2013.
Questions Remaining
The rotation includes Jon Lester, Clay Buchholz and Felix Doubront, who all posted ERAs above 4.50 in 2012. Each pitcher can be better, but counting on bounce-back performances from so many players seems risky. There's also John Lackey, who's returning from Tommy John surgery and an awful 2011 season. Even with the addition of Dempster, this group looks vulnerable compared to other American League rotations.
Health is a concern for every team this time of year. Jacoby Ellsbury, Napoli, Ortiz and Drew have faced significant, recent injuries. The depth of the organization could be tested if any of these players need more time on the disabled list.
Deal of Note
An ankle injury sidelined Drew for much of the 2011 and 2012 seasons, limiting him to 165 total games and an OPS+ of just 86. In other words, he hasn't been a $10MM player. Yet Ben Cherington's decision to sign Drew to a one-year, $9.5MM pillow contract makes sense.
The free agent market for shortstops tends to be weak, and teams have high asking prices for trade candidates at the position. In Drew the Red Sox acquired a high-upside shortstop for cash without having to trade from prospect depth or surrender a compensatory draft pick. Drew, who turns 30 this month, had been a league average hitter before injuring his ankle in 2011. A league average bat at shortstop is a valuable commodity, and looks like a major upgrade over Jose Iglesias, at least on offense. That said, Drew's contract doesn't block Iglesias or top prospect Xander Bogaerts long-term. He's here for 2013 alone with the chance to prove that he's worth $10MM and then some. It looks like a deal that could benefit the team and a player.
Overview
The Red Sox will be an improved team in 2013. But after falling to the bottom of the American League East standings a year ago, this club can no longer be considered prohibitive co-favorites, as they were for most of the last decade. Instead, they're a fringe contender that could just as easily end up with another sub-.500 record.
Photo courtesy of USA Today Sports Images.