The White Sox retained their starting pitching and signed Jeff Keppinger after an 85-win season in 2012. 
Major League Signings
Notable Minor League Signings
Trades and Claims
Extensions
Jake Peavy, SP: two years, $29MM. Club Option for 2015.
Chris Sale, SP: five years, $32.5MM. Club Options for 2018 and 2019.
Notable Losses
Needs Addressed
Rick Hahn kept Chicago's pitching staff together in his first season as the general manager of the White Sox. With Hahn in place and longtime general manager Kenny Williams promoted to the role of executive VP, the White Sox had a relatively cautious offseason.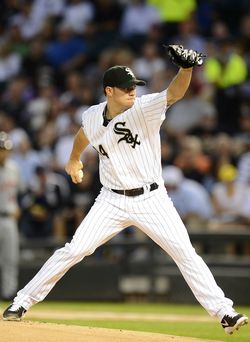 It began when Hahn re-signed Jake Peavy to a two-year, $29MM contract. The deal kept Peavy off of the free agent market following a tremendous 2012 season. The right-hander would have had a case for a three-year deal or a higher average annual value in free agency, so the White Sox did well to retain him on these terms. Making a two-year commitment to a 31-year-old pitcher of this caliber would make sense for most mid or large market teams.
The club also exercised Gavin Floyd's option, preferring another year of production from the right-hander to the prospect of replacing him via trade or free agency. Floyd isn't a bargain at $9.5MM, but he's a solid mid-rotation starter who just turned 30. He has been worth two-plus wins above replacement for five consecutive seasons — good luck finding that kind of pitcher for less than $10MM in free agency.
The White Sox extended Chris Sale with a five-year, $32.5MM contract that buys out at least one of Sale's free agent seasons. This contract makes sense for both sides, like most five-year deals in the $30MM range for players with two-plus years of service. The deal could become a big win for the White Sox if Sale, the sixth place finisher in 2012 AL Cy Young voting, continues pitching at last year's level.
Shortly after the World Series the White Sox declined Kevin Youkilis' 2013 option and turned to free agency to find a third baseman. They ended up signing Jeff Keppinger to a three-year, $12MM contract that looks like a scaled down version of Marco Scutaro's three-year, $20MM deal. Like Scutaro, Keppinger makes consistent contact and can play multiple positions. He's four years younger than Scutaro and cost significantly less. However, Keppinger broke his leg during the offseason, and he's not regarded as a valuable defensive player.
Hahn didn't overhaul his club's bench or bullpen, electing instead to add Matt Lindstrom and Dewayne Wise with a pair of low-risk moves.
Questions Remaining
A.J. Pierzynski was a fixture on the White Sox for the past eight years, averaging 134 games played with a respectable .279/.318/.424 batting line. The White Sox let the veteran catcher go after he established a career high with 27 home runs. While it was understandable for Hahn to avoid overpaying a 36-year-old coming off of a career year, the decision does leave the White Sox with reduced catching depth. 
Tyler Flowers now gets the chance to show that he can be a regular catcher at the MLB level. Given his limited offensive output at the MLB level it's somewhat surprising the White Sox weren't more aggressive in seeking catching this past winter. Few teams enter the season with inexperienced backstops if they expect to contend (though there are exceptions, such as the 2013 Yankees).
Replacing Pierzynski on the field for 130 games per season won't be easy, and the club will also miss his left-handed bat. Other than Adam Dunn and Alejandro de Aza, the White Sox have a righty-heavy offense. It won't be surprising if the need for a left-handed hitter re-surfaces midseason.
It would have been encouraging to see the White Sox add a left-handed hitting outfielder to complement Dayan Viciedo and limit his struggles against right-handers. They did add Wise, but there's a reason he has been bouncing on and off of 40-man rosters for the past few years: he doesn't hit. I expect the 35-year-old Wise to return to his career norms on offense instead of matching last year's career high total of eight home runs. Players such as Nate Schierholtz and Nate McLouth were available in free agency for modest prices and would have been worthy targets for Hahn in my view.
Deal of Note
More often than not managers are looking for increased job security. Few field bosses get long-term contracts and even those that do are just a long losing streak away from increased scrutiny. It was a surprise, then, to read that Robin Ventura turned down a one-year contract extension offer from the White Sox.
Ventura, who's now entering the second year of a three-year contract, said he prefers to focus on one season at a time. It worked for him last year, when he led the White Sox to 85 wins as a rookie manager. By the time he negotiates his next deal, Ventura will have a longer resume as an MLB manager and, perhaps, enough accomplishments to increase his leverage with the team.
Overview
The White Sox showed last year that they can contend. But they didn't add much at a time that many of their division rivals improved — at least on paper.  The AL Central is still the Tigers' division to lose, and the White Sox don't look like a probable 2013 playoff team.
Photo courtesy of USA Today Sports Images.