The Tigers signed two significant free agents to bolster a roster that already included its share of impact players.
Major League Signings
Notable Minor League Signings
Trades and Claims
Notable Losses
Needs Addressed
When the offseason began, the Tigers needed a starting pitcher and a corner outfielder. Within two months, Dave Dombrowski had addressed those needs, ensuring that the defending AL Central Champions will enter the 2013 season as favorites to defend their division title.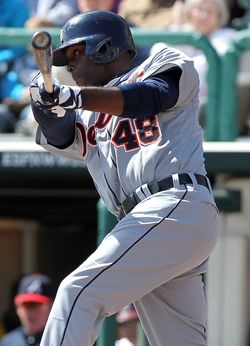 Before the Tigers made any significant player moves, they brought back manager Jim Leyland. The longtime manager obtains another chance to lead the Tigers to their first World Series title since 1984.
The Tigers signed Torii Hunter to a two-year, $26MM contract after the Angels made it clear that the 37-year-old wasn't in their plans. Hunter didn't receive a qualifying offer from the Angels, which made it possible for the Tigers to sign him without surrendering a draft pick.
Victor Martinez isn't a newcomer, but he seems like one after missing the entire 2012 season with a torn ACL. He should provide more offense at designated hitter than Delmon Young did.
Other than Zack Greinke, Sanchez was the top starting pitcher available in free agency. After teams such as the Cubs showed serious interest, the Tigers retained Sanchez with a five-year, $80MM contract. While Sanchez isn't an ace starter, he just turned 29 and has pitched at least 195 innings for three consecutive seasons. He rounds out the Tigers' rotation nicely without costing the team prospects or draft picks.
Questions Remaining
The Tigers are entering the season without a clear sense of how they'll handle high-leverage, late-game innings. Their interest in potential upgrades makes sense, yet this doesn't seem to be an urgent situation for Dombrowski. The Tigers won the American League pennant last year with Jose Valverde, a closer who was average at best (all MLB relievers in 2012: 3.66 ERA, 8.4 K/9, 3.4 BB/9; Valverde in 2012: 3.78 ERA, 6.3 K/9, 3.5 BB/9). Plus, quality relievers are always available at the trade deadline, so the Tigers will have the chance to upgrade their bullpen by June or July. In the meantime, Leyland will face innumerable questions about his closer unless an internal candidate such as Bruce Rondon emerges as a viable stopper.
Justin Verlander's contract won't expire for another two seasons, but it's not too early to start talking about an extension for the 30-year-old right-hander. Verlander would like to become baseball's $200MM pitcher, and why not? His representatives can convincingly argue he's the top pitcher in the game following a four-year stretch during which he leads all MLB pitchers in wins, wins above replacement, and many categories in between. Yet a nine-figure commitment for any pitcher — even one as durable as Verlander — must be carefully considered. Even though the Tigers might minimize financial risk by letting Verlander walk following his age-31 season in 2014, owner Mike Ilitch has shown many times that he's willing to spend to retain and acquire elite talent. There's hope for Tigers fans that Verlander will stay in Detroit.
While the Tigers lack elite relievers, they have depth in other areas. Rival teams have inquired on Rick Porcello in the event that the Tigers are comfortable going forward with Drew Smyly in the rotation. A trade seems possible, though there's no indication the Tigers are hoping to make a move.
Deal of Note
Torii Hunter posted a .313/.365/.451 batting line with 16 home runs in 584 plate appearances as the Angels' right fielder last year. It's an impressive line, and advanced metrics valued Hunter's overall performance around five wins above replacement last year. However, it seems highly unlikely that he will replicate his league-best .389 batting average on balls in play in 2013, especially considering his career mark of .307.
In other words Hunter projects as a good player rather than an elite one going forward. That's fine for the Tigers, who aren't paying him like an elite performer and didn't have to surrender a draft pick to sign him. Even as he enters his 21st professional season, Hunter represents an upgrade over Detroit's other options, so this two-year, $26MM contract made sense for the Tigers.
Overview
After adding Hunter and re-signing Sanchez, the Tigers are built for another run at a World Series title. Like every team in baseball, they're vulnerable in some areas, and it'd be easier to envision the Tigers playing deep into October if they had an ace reliever. But with a strong lineup including some of the game's best hitters and a deep rotation featuring arguably the sport's top pitcher, the Tigers are the closest thing to a playoff lock you'll find in the American League.
Photo courtesy of USA Today Sports Images.