The Twins added pitching, but they still don't project as a contender in the AL Central.
Major League Signings
Notable Minor League Signings
Trades and Claims
Extensions
Jared Burton, RP: two years, $5.5MM. $3.6MM Club option for 2015.
Notable Losses
Needs Addressed
The Twins needed pitching badly after a season in which they allowed more runs than all but two MLB teams. GM Terry Ryan added to his pitching staff by trading from enviable outfield depth and spending on free agents.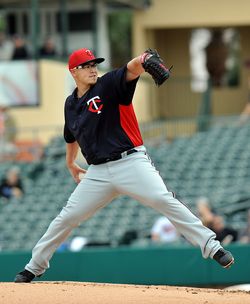 The Twins sent Denard Span to Washington to acquire Alex Meyer then traded Ben Revere to Philadelphia for Vance Worley (pictured). It's not surprising that the Twins decided to listen to offers for Span, but it is surprising that they didn't get an MLB pitcher back for an above-average outfielder playing on a team friendly contract. At least Meyer and Worley address the organization's most apparent need.
Free agents Mike Pelfrey and Kevin Correia signed with Minnesota, adding depth to the team's rotation (more on Correia in the Deal of Note section). It made sense for the Twins to target free agent arms after seeing the contracts of Scott Baker and Carl Pavano expire. Even with prospects advancing through the minor leagues, the club needed outside help.
The Twins also acquired relievers such as Rafael Perez, Josh Roenicke and Rich Harden in a series of low-risk moves. Ryan successfully picked up Jared Burton and Casey Fien in similar moves a year ago, an indication that the Twins can find relief in unexpected places. Minnesota's rotation completed fewer innings than any American League team in 2012, and unless there's significant improvement from the 2013 group, the bullpen will again be absorbing lots of innings.
Questions Remaining
The Twins didn't make major additions to their existing group of position players this offseason, which leaves them exposed at some positions. For example, the Twins will rely on Pedro Florimon, Jr. at shortstop and Chris Parmelee in right field.
It's hard not to wonder if the Twins missed out on the chance to sell high on Josh Willingham, who had a tremendous offensive season in 2012. Teams would presumably have had interest in the outfielder given his strong 2012 numbers and reasonable contract. Expect Willingham and Justin Morneau to surface in midseason trades, assuming the Twins aren't in contention.
Deal of Note
I still haven't heard a convincing explanation for the Twins' decision to spend $10MM on Kevin Correia (Phil Mackey of 1500 ESPN relays the most compelling arguments I've seen). No disrespect to Correia — in fact, credit to his representatives at Lapa/Leventhal — but he's not a $10MM pitcher in this market. Not when Freddy Garcia, Chris Young and Erik Bedard signed minor league deals after pitching 100-plus innings in 2012. Not when Joe Saunders and Shaun Marcum combined to sign for $10.5MM.
The Twins' push for rotation depth is understandable. Every team needs enough arms to get through the 162-game schedule without over-exposing developing players. Outside reinforcements are vital, even to a team in transition such as the Twins.
In Mike Pelfrey the Twins obtained a pitcher who could have trade value at the non-waiver deadline, health permitting. In Vance Worley they got an affordable player under long-term control. These moves make sense for a team in the Twins' position. But the Correia deal won't net the Twins a key trade chip and it doesn't provide them with a low-cost piece for the future. Simply put, Ryan invested in a high-cost, low-reward pitcher when other more appealing options were available.
Overview
The Twins needed pitching, and they got some. But the fulfillment of offseason goals doesn't always lead to competitive teams. In the Twins' case, contention seems like an unrealistic goal for 2013. Instead, they can hope that the continued development of an exceptionally strong minor league system has them back in the playoff mix relatively soon.
Photo courtesy of USA Today Sports Images.