MLBTR is launching a new series entitled "Transaction Retrospection" in which we'll take a look back on trades that have taken place to see how the players involved — including low-level minor leaguers — have fared in new settings and how the involved teams have been impacted. Last week looked at the Josh Reddick trade, but remember that you can look back on other trades using MLBTR's Transaction Tracker.
Matt Garza has been involved in his share of high-profile moves. Since being drafted 25th overall by the Twins out of Fresno State in 2005, Garza has switched organizations in two marquee deals, and he once again finds himself as a trade candidate. He's been with the Cubs for a little more than two calendar years, but it seems like longer given the amount of trade rumors which constantly contain his name.
On January 8, 2011, the Rays traded Garza to the Cubs along with Fernando Perez and Zach Rosscup in exchange for prospects Chris Archer, Hak-Ju Lee, Robinson Chirinos and Brandon Guyer as well as outfielder Sam Fuld. Let's go player-by-player to see how it's all turned out…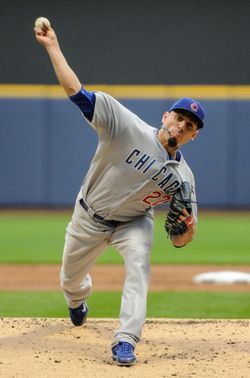 The Major League Side
Matt Garza: Garza immediately became one of the Cubs' best pitchers following the trade, and he showed it off with arguably the best season of his career. In 2011, Garza tallied 198 innings and established career-bests in ERA (3.32), K/9 (8.95) and HR/9 (0.64). He continued to display strong command and took a step toward establishing himself as an ace-caliber pitcher. Fangraphs pegged his value at a lofty 4.9 wins above replacement. His 2012 effort was derailed by a stress reaction in his pitching elbow after just 103 2/3 innings, however, which is likely the main reason that he wasn't traded at the deadline last July. While his elbow appears to be healed, Garza recently suffered a lat strain while facing live hitters and now stands to miss the first month of the 2013 season. Needless to say, that jeopardizes his No. 9 ranking on Tim Dierkes' free agent power rankings, but if he returns healthy and pitches well he's a midseason trade candidate.
Sam Fuld: Fuld's time in Tampa Bay got off to an incredible start, hitting .289/.358/.433 in the month of April. His defensive play, clutch hitting and surprising production spawned the Twitter hashtag "#LegendOfSamFuld," and the 29-year-old developed a cult following. He hit just .218/.292/.327 the rest of the way, however, and didn't improve in 107 plate appearances last season. He's competing for a roster spot with Tampa Bay once again this Spring.
The Minor League Side
Chris Archer: Archer came to the Rays as an erratic 22-year-old with an electric fastball. He still battles command issues, but he's progressed enough to rank as the game's No. 36 prospect according to Baseball America and No. 46 according to MLB.com's Jonathan Mayo. BA writes that his fastball sits 92-96 mph and is one of two "well above-average" pitches, the other being a devastating hard slider with "hard, cutting tilt and impressive depth." Mayo prefers Archer's fastball but echoes that both pitches can be plus at the MLB level. The two outlets agree that Archer's change-up development will be what determines if he's able to pan out as a top- or middle-of-the-rotation starter. Archer did make his MLB debut in 2012, firing 29 1/3 innings and whiffing 36 batters.
Hak-Ju Lee: Lee is ranked 90th in the game by BA and 56th by Mayo, good for fourth and fifth in the Rays' system, respectively. Mayo writes that defensively, the Korean-born shortstop is more than MLB-ready right now, but he needs more time to develop his line-drive swing. His plus speed is an asset which both Mayo and BA agree upon. Both think he'll be a legitimate base-stealing threat, even if his lack of home-run power limits his overall upside a bit. Lee offers an opposite-field approach at the plate but needs to develop a more patient approach. He stole 37 bases in 46 tries as part of a .261/.336/.360 season at Double-A in 2012.
Robinson Chirinos: A catcher by trade, Chirinos came to the Rays having ranked as the Cubs' No. 10 prospect according to BA. He regressed in 2011, however, hitting just .259/.343/.376 in 319 plate appearances — a vast departure from 2010's .326/.416/.583 line. Chirinos had a chance to make the Rays last Spring, but suffered a concussion that prevented him from playing a single game in the minors or Majors. He's with the team again in Spring Training this season, but his stock has obviously fallen.
Brandon Guyer: Guyer entered the 2012 season as the Rays' No. 11 prospect according to BA, thanks largely to the .312/.384/.521 triple slash line the outfielder posted at Triple-A in 2011. BA praised his combination of speed and power as well as his throwing arm, noting that he profiled nicely in right field but could handle center field as well. Guyer earned a call-up in early May, but disaster struck after just three games; he suffered a labrum tear that would end his season before he was able to back up his minor league promise.
Fernando Perez: Perez wasn't thought of as much of a prospect at the time of the trade, and indeed he never cracked the Cubs' big league roster. After hitting just .238/.312/.337 through 76 games for the Cubs' Triple-A affiliate, he was released. Perez latched on with the Mets, but fared even worse in 40 games for Triple-A Buffalo, hitting .188/.298/.250. He didn't play in affiliated ball last season.
Zach Rosscup: Rosscup hasn't cracked one of BA's Top 30 prospect lists for either team, nor has he appeared on one of Mayo's Top 20 lists. Now 24 years old, the southpaw suffered an arm injury midway through a promising 2011 season (2.54 ERA, 9.1 K/9). Upon returning in late 2012, he worked his way to Double-A and showed mixed results. Rosscup whiffed 29 batters in 22 1/3 innings at Double-A but also walked 19 and posted a 4.84 ERA. His 3.87 FIP showed more promise, and he'll likely open the 2013 season at that level.
The Rays have made a habit out of competing in one of baseball's toughest divisions despite having one of baseball's lowest payrolls, and trades like this are a large factor in that success. Executive VP of Baseball Operations Andrew Friedman dealt from a position of strength to acquire a host of prospects — two of which have developed into Top 100 prospects and two of which had their promising offensive potential limited by unforeseeable injuries. The Garza trade also paved the way for Jeremy Hellickson to join Tampa Bay's rotation and win 2011 AL Rookie of the Year honors.
The Cubs, meanwhile, got just the pitcher they were hoping for in Garza, but he too has been slowed by the injury bug. Garza would fit nicely atop Chicago's rebuilt rotation if he can return quickly, and he could net the team prospects this July if pitching well. Garza could also yield a first-round pick in 2014 if he turns down a qualifying offer, but his recent rash of injuries makes that a dicey proposition, as even the healthy Kyle Lohse has struggled to find a home due to his ties to draft pick compensation.
It's too early to say if one side got the better of this trade at this point, as Tampa Bay has yet to receive much value at the Major League level. However, the Rays seem to have positioned themselves for future success by moving a player when his value was near its peak.
Baseball America's 2013 Prospect Handbook was used in the creation of this post. Photo courtesy of USA Today Sports Images.