The Reds were one of baseball's most complete teams in 2012 — as evidenced by their first-place finish in the NL Central — but they entered the offseason needing to address some holes in the outfield.
Major League Signings
Jonathan Broxton, RP: three years, $21MM.
Jack Hannahan, IF: two years, $4MM. Club option for 2015.
Manny Parra, RP: one year, $1MM.
Ryan Ludwick, OF: two years, $15MM.
Todd Redmond, SP: one year, $490K.
Total Spend: $41.49MM.
International Signings
Jacob Constante, P: $730K.
Notable Minor League Signings
Trades and Claims
Notable Losses
Needs Addressed
With Ryan Ludwick hitting free agency and Drew Stubbs was coming off a season in which he batted just .213/.277/.333 with a 30.5 percent strikeout rate, Cincinnati needed to bolster its outfield. They did just that by re-signing Ludwick to a two-year deal and swinging a trade to acquire Shin-Soo Choo from Ohio's other team — the Indians.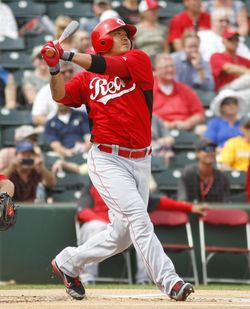 General manager Walt Jocketty gave up Stubbs and shortstop prospect Didi Gregorius in a three-team deal with the Tribe and the D-backs to land Choo, who will man center field and hit leadoff for the Reds. Cincinnati also received infielder Jason Donald in the trade, though he's since been designated for assignment.
Scott Rolen's departure cleared the way for Todd Frazier to take over as the team's everyday third baseman. Frazier finished third in last year's Rookie of the Year voting and posted a solid .273/.331/.498 batting line with 19 homers. He's unlikely to match Rolen's defensive value, but he's an upgrade at the plate.
The offensive upgrade shouldn't be understated. The Reds finished with 669 runs in 2012 — just ninth in the National League and 21st in Major League Baseball. A full season of Frazier, the addition of Choo and a full, healthy season Joey Votto should help the team top last season's mark handily.
The Reds had little work to do on the pitching front. The team only had one game that wasn't started by Johnny Cueto, Mat Latos, Homer Bailey, Bronson Arroyo or Mike Leake in 2012. That honor went to Todd Redmond, whom they signed to a one-year Major League contract worth just over the league minimum. Cincinnati would ultimately designate Redmond for assignment to make room for Manny Parra, who landed a one-year deal of his own to bolster the bullpen.
Jack Hannahan was brought in on a two-year, $4MM contract. While he should provide solid corner defense for the Reds, I'm not sure a multiyear deal for a player of his ilk was necessary. The price is admittedly fairly insignificant, but Cincinnati has never been a deep-pocketed team and comparable defensive specialists like Brandon Inge signed minor league deals.
Questions Remaining
While Choo and his robust on-base percentage are more than capable of handling the leadoff position, there's less certainty about his ability to play center field at this point in his career. Choo entered 2013 with just 83 career innings in center field, and all but eight of those came in 2006 or earlier. The Fielding Bible rated his right-field defense at -12 runs last season, and UZR/150 thought he was worse, giving him a -15.8 mark. Choo's glove will have to show improvement while playing a tougher position to keep Cincinnati's outfield from being labeled a defensive liability.
The Reds have another question mark in the outfield thanks to the cartilage tear found in Ludwick's shoulder that forced him to go under the knife earlier today.  Cincinnati gave the veteran a two-year, $15MM deal – the first multi-year pact of his career – and will now have to get by without his bat for an indefinite period of time.  The 34-year-old posted a .275/.346/.531 batting line with 26 home runs in 472 plate appearances for the Reds in 2012.
Shortstop remains a potential area of weakness as well. Zack Cozart filled the spot last year but posted just a .246/.288/.399 batting line. Cozart held his own defensively (9.3 UZR/150; +12 runs per The Fielding Bible), but the team could seek an upgrade if Cozart's bat doesn't or defense takes a step back. With Gregorius now in Arizona, Cesar Izturis is likely the team's primary backup plan in the event of an injury.
Deal of Note
It seemed all offseason long that the Reds' plan was to use Aroldis Chapman in the starting rotation. That line of thinking was punctuated by a three-year, $21MM contract for Jonathan Broxton, who would presumably inherit the ninth inning.
Instead, Chapman has been placed back in the ninth inning, making Broxton one of baseball's highest-paid setup men. His $4MM salary in 2013 isn't prohibitive, but he'll earn $7MM in 2014 and $9MM in 2015 — a sizeable commitment to a team that prior to 2013 had never had an Opening Day payroll greater than $87.8MM. By the year 2015, Cincinnati will be spending a combined $15.5MM on setup men, between Broxton and Sean Marshall (assuming Chapman is still closing).
Overview
The Reds will once again enter the season with a strong rotation led by Cueto, Latos, Bailey, Arroyo and Leake. The Broxton signing, while questionable, shortens the bridge to one of the game's truly elite closers. Votto, Choo, Jay Bruce and Brandon Phillips will anchor what should be an improved lineup, health permitting. Jocketty and his staff have added to a strong offensive core and should be among the favorites in the National League Central once again in 2013.
Photo courtesy of USA Today Sports Images.