The Cubs finally pulled the plug on longtime reliever Carlos Marmol today, announcing they've designated him for assigment.  The team also announced the suspension of third baseman Ian Stewart was settled and upheld, and he was granted his unconditional release.  The team selected the contract of outfielder Brian Bogusevic to replace Marmol.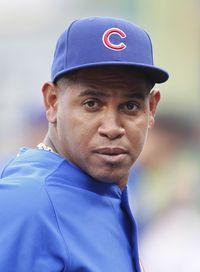 Marmol had become a symbol for the Cubs' struggles this year, with a 5.86 ERA, 6.8 BB/9, and 1.95 HR/9 in 27 2/3 innings.  He began the season as the team's closer, apparently as a way of building trade value, but lost the job after allowing five runs in his first three outings.  Marmol, a converted catcher/outfielder, joined the team's bullpen in 2007, snagged an All-Star nod in '08, and ascended to the Cubs' closing job late in 2009.  He peaked in 2010, striking out nearly 42% of batters faced while racking up 38 saves.  That season earned him a three-year, $20MM extension in February 2011.  Marmol had always had major problems with walks, and now the team will eat the remaining $5MM+ on that ill-advised contract.  During November of last year, it seemed like Marmol was headed to the Angels for Dan Haren before the Cubs pulled the plug and the Halos declined Haren's club option.
Stewart's departure was inevitable after a June 11th Twitter rant criticizing the team for letting him "rot" in Triple-A, where he's authored a .168/.286/.372 line since returning from a quad injury.  The Cubs handed him a ten-game suspension without pay for the comments for violating the loyalty clause in his contract.  The Cubs had non-tendered Stewart in December and re-signed him for $2MM later that month.  Given that he cleared outright waivers in May, teams were not anxious to take on his salary, nor was Stewart willing to abandon the money and elect free agency at that time.  The Cubs ultimately recoup about $110K of Stewart's salary, writes Gordon Wittenmyer of the Chicago Sun-Times.
Bogusevic, 29, was born in Oak Lawn, Illinois, as was this post's author.  The Cubs signed him to a minor league deal in November, and the former first-round pick posted a .319/.418/.512 line with 10 home runs in 304 Triple-A plate appearances this year.
Photo courtesy of USA Today Sports Images.