The Mariners and first round pick D.J. Peterson have reached agreement on a deal, sources tell Larry Stone of the Seattle Times (on Twitter).  Peterson, who is being advised by Excel Sports Management, will get $2.759MM, according to Jim Callis of Baseball America (via Twitter).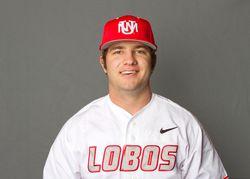 That amount matches the suggested value for the No. 12 pick. 
The M's previously drafted the third baseman in the 33rd round of the 2010 draft but couldn't come to terms with him on a contract.  Seattle reportedly gave him a very generous offer to sign at the time, but it cost them considerably more this time around.
Peterson played a good amount of first base this season out of necessity for New Mexico but was adamant in a conference call with reporters, including Stone, that he wants to remain at third base.  The youngster says that his improved range should help him stick in the hot corner.
The third baseman was ranked No. 11 in this year's class by Jonathan Mayo of MLB.com and No. 12 on BA's top 500.  Keith Law of ESPN.com had him ranked No. 34 on his top 100 list.
Photo courtesy of the University of New Mexico communications department.