The White Sox have fallen 9.5 games back in the AL Central after losing their last four games, and unless they can pull off the unlikely feat of battling their way into the playoff picture in the next few weeks, their veterans will likely be part of trade rumors as late July approaches.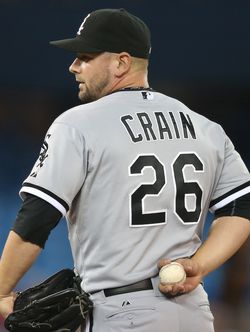 Jeff Todd recently discussed the possible fate of one of those veterans, Alex Rios. Another is righty reliever Jesse Crain, who the Boston Globe's Nick Cafardo discussed in his latest rumor roundup. "As bullpens become depleted teams are looking for solid, dependable guys who can be used from the seventh inning on. [Crain] is becoming a top name on wish lists around baseball," Cafardo says.
Crain has never been a closer, and thus doesn't have the "proven closer" label that occasionally causes teams to overpay for relievers at the trade deadline. The White Sox's closer, Addison Reed, has also pitched well this year, though he's unlikely to be traded due to his youth and the fact that he isn't even arbitration-eligible yet.
But Crain, 31, should be a valuable piece nonetheless. His strikeout rate has improved in every season since 2005, and this year he's taken a step forward with his control as well. He's posted an 0.60 ERA this season, with 11.7 K/9 and 2.7 BB/9, and he hasn't allowed a run in 26 straight appearances. The 0.60 ERA isn't sustainable, clearly, but Crain's strikeout rate and walk rate are both very strong. He's capable of getting outs with either his mid-90s fastball or his plus slider. He's also effective against both righties and lefties, which makes him an excellent fit in his current role as a setup man. A creative team in need of a closer could also do worse than to trade for Crain and use him in that position.
Assuming they can't fight their way back into the playoff race, the White Sox would be well-served to deal Crain. He'll be a free agent after the season, and the White Sox's farm system is poor — before the season, Keith Law and John Sickels both ranked it the third-worst farm system in baseball. Trading a non-closing reliever in his 30s, even an excellent one with a cheap $4.5MM salary, isn't the easiest way to build a farm system. But given their place in the standings and Crain's impending free agency, the White Sox have little to lose, and there are occasional trades where a contender will pay premium prices for a very good setup man. (The Padres' 2011 trade of Mike Adams to the Rangers for Robbie Erlin and Joe Wieland comes to mind, although, unlike Crain, Adams had a year and a half left before he was eligible for free agency.)
There are few contenders that couldn't use Crain, although a team with question marks at the back of its bullpen would be an ideal fit. The Reds and Red Sox could well be on the hunt for bullpen help at the trade deadline. The Tigers would also make sense if Detroit and Chicago are willing to make a trade within the AL Central.
Photo courtesy of USA Today Sports Images.