Major League Baseball has suspended Ryan Braun for the rest of the season due to his involvement in the Biogenesis PED scandal, and he has accepted the deal, according to Tom Haudricourt of the Milwaukee Journal-Sentinel. ESPN's T.J. Quinn tweets that MLB confronted Braun with "volumes" of evidence from Biogenesis founder Tony Bosch, including text messages. Braun's suspension is effective immediately, meaning that the total penalty is 65 games. He will not be paid during that time.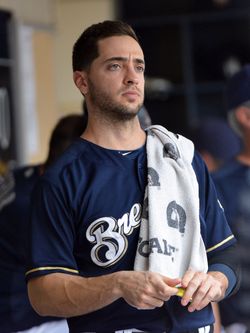 The 29-year-old Braun won 2011 NL MVP honors when he batted .332/.397/.597 with 33 homers. Reports that he failed a drug test surfaced shortly afterward, but he denied the allegations and won an appeal to overturn his suspension as a result of improper handling of his urine sample. Since that time, Braun has adamantly denied using PEDs, but acception of a 65-game suspension seems to indicate otherwise.
Recent reports surrounding the Biogenesis investigation have suggested that players would be able to negotiate shorter suspensions if they were to agree not to appeal the punishment, which appears to be the road that Braun elected to take. Braun issued the following statement regarding his suspension:
"As I have acknowledged in the past, I am not perfect. I realize now that I have made some mistakes. I am willing to accept the consequences of those actions. This situation has taken a toll on me and my entire family, and it has been a distraction to my teammates and the Brewers organization. I am very grateful for the support I have received from players, ownership and the fans in Milwaukee and around the country. Finally, I wish to apologize to anyone I may have disappointed — all of the baseball fans especially those in Milwaukee, the great Brewers organization, and my teammates. I am glad to have this matter behind me once and for all, and I cannot wait to get back to the game I love."
Meanwhile, MLBPA executive director Michael Weiner issued the following statement regarding Braun:
"I am deeply gratified to see Ryan taking this bold step. It vindicates the rights of all players under the Joint Drug Program. It is good for the game that Ryan will return soon to continue his great work both on and off the field."
As Ken Rosenthal of FOX Sports points out on Twitter, Braun is earning $8.5MM this season, meaning that his suspension will cost him $3.4MM.