One of the most popular names in trade rumors this summer is finally on the move, as the Phillies announced that they have traded Michael Young to the Dodgers in exchange for minor-league pitcher Rob Rasmussen. Philadelphia will also pay the Dodgers about $1.7MM – the amount the Phillies were still due to receive from the Rangers as part of their original trade for Young in December. Young reportedly waived his no-trade clause to make the deal a reality.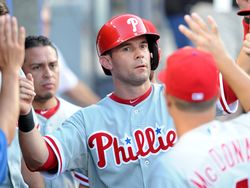 A widely discussed trade target this summer, Young's name appeared regularly on MLBTR throughout July, but the Phillies opted to hold on to him as the deadline passed. The infielder reportedly sought to return to the Rangers, though we heard that the Red Sox were his second choice. Young was also connected with clubs such as the Yankees and the Orioles.
Though Young has spent the majority of his time in the field this year at third base, the Dodgers' incumbent third baseman, Juan Uribe, would appear to offer similar production to Young's .272/.333/.389 line in 2013. However, Young has long experience at every infield position excepting first base, so the Dodgers may opt to use him in a utility role.
Rasmussen, 24, was drafted in the second round by the Marlins in 2010. An undersized lefty with a tendency for wildness, he was promoted to Triple-A earlier in the season but was rocked to a 6.46 ERA in 54 1/3 innings, posting a 6.1 K/9 and 5.3 BB/9. However, he's been much better in his 81 1/3 innings this year at Double-A, where he owns a 2.55 ERA. Rasmussen was ranked as the 19th best prospect in the Astros system by Baseball America after the 2012 season before being traded to the Dodgers last December.
Ken Rosenthal of FOX Sports first reported the deal on Twitter and was the first to report that Young waived his no-trade clause (Twitter link). Bill Shaikin of the Los Angeles Times was the first to report that the Phillies received Rasmussen in the deal (Twitter link). ESPNLosAngeles' Mark Saxon first reported the amount of cash the Dodgers received (Twitter link).