Chase Utley is the face of the Phillies franchise, and that's no longer in jeopardy of changing at the end of this year. The Phillies have officially announced a two-year extension for Utley that contains three vesting options. The contract is reportedly worth $27MM and could be worth as much as $75MM over five years if all of the options vest and Utley stays healthy.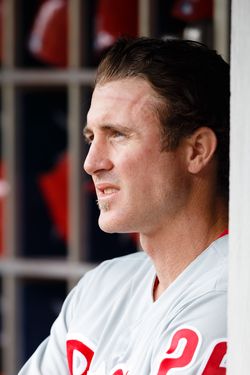 Utley is guaranteed $15MM in 2014 and $10MM in 2015 and has a $2MM buyout on his first option. His 2015 salary will rise to $15MM if he spends no more than 15 days on the disabled list due to a specific knee condition. Each option is valued at $15MM and is triggered if Utley reaches 500 plate appearances in the previous season.
Should Utley fail to reach 500 plate appearances in any season from 2015-17, the following year's vesting option will become a club option worth between $5MM and $11MM. The specific value of those conditional club options would be based on the number of days he spent on the disabled list the previous season. The deal contains a full no-trade clause, though that is essentially a moot point because he will receive 10-and-5 rights later this month.
A fresh multi-year deal for the Phillies and the 34-year-old seemed unlikely just a few months ago as he suffered yet another setback with a strained oblique that kept him sidelined to start the season.  He's bounced back, however, and has appeared in 84 of the club's 113 games. 
Phillies GM Ruben Amaro said repeatedly in the weeks leading up to the trade deadline that he planned to hold on to all of the club's veterans, but that didn't stop the baseball world from speculating on potential deals for players, including Utley.  The second baseman figured to bring in a decent return from clubs looking for a quality rental and the Royals were among the teams that were linked. Ultimately, Amaro kept his word and will now keep one of his club's cornerstones for the foreseeable future.
The Phillies and Utley's representation were first reported to be discussing something with an average annual value of about $13MM, modeled after Carlos Beltran's two-year pact with the Cardinals, late last month.  While both play different positions, both have displayed significant value in the face of injuries.
In 342 plate appearances this season, Utley owns a .275/.336/.505 slash line with 15 homers.  For his career, the second baseman has hit .287/.373/.500 across eleven seasons for the Phillies. A variety of knee problems and right thumb surgery in 2010 have caused Utley to average 100 games in the three seasons prior to 2013.
Utley is represented by the Wasserman Media Group, the same agency that previously ironed out a seven-year, $85MM deal for the second baseman.
Jim Salisbury of CSN Philadelphia first reported that an agreement had been reached (on Twitter). Ken Rosenthal of FOX Sports reported that the contract would contain multiple vesting options and provided the financial breakdown after Jon Heyman of CBS Sports reported the deal was worth $27MM (Twitter link).
Steve Adams contriubted to this post. Photo courtesy of USA Today Sports Images.