2:51pm: The Nats will choose a PTBNL from a list with fewer than five names, according to Marc Topkin of the Tampa Bay Times (via Twitter).
12:11pm: David DeJesus' stay in Washington was brief, to say the least. After acquiring him from the Cubs on Monday, the Nationals  and Rays have both announced that DeJesus has been traded to Tampa Bay in exchange for a player to be named later or cash considerations.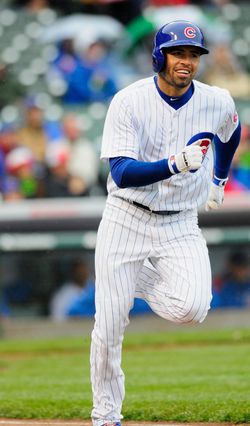 DeJesus went 0-for-3 with a walk in his brief tenure with the Nationals.
DeJesus was placed on waivers immediately following his acquisition by the Nationals, who many speculated may never have been keen on acquiring him in the first place. Yesterday, Jesse Rogers of ESPN Chicago reported that he'd been claimed off waivers by the Rays.
In 322 plate appearances this season, the 33-year-old DeJesus is batting .247/.327/.397. Nearly all of his damage has come against right-handed pitching, as evidenced by his .264/.346/.438 batting line against opposite-handed pitching. Ultimate Zone Rating has graded his center field defense as a positive this season (The Fielding Bible has not), which is a rarity, considering his -0.6 career UZR/150 in center. Both metrics suggest that he's a plus corner defender.
DeJesus is in the final season of a two-year, $10MM contract that he signed with the Cubs prior to the 2012 campaign, though the Rays will hold a $6.5MM club option on him with a $1.5MM buyout. Essentially, they'll make a $5MM decision on DeJesus this offseason. In terms of 2013 salary, he is owed roughly $883K, bringing Tampa Bay's total commitment to him to $2.383MM. From the Nationals' point of view, it's an odd sequence of events, though it'd be worth it if the player they acquire from the Rays is superior (in their opinion) to the player they will ultimately send to the Cubs.
Marc Topkin of the Tampa Bay Times first reported that the two sides had agreed to a trade to send DeJesus to the Rays (on Twitter).
Photo courtesy of USA Today Sports Images.