Signed to be a setup man for All-Star closer Jose Valverde, Joaquin Benoit found himself assuming his former teammate's role in 2013 after the Tigers endured significant ninth inning problems early in the season. The 36-year-old didn't miss a beat in his new role, turning in the second best ERA+ of his career (209) and racking up 24 saves. Benoit will head into free agency coming off a season in which he posted a 2.01 ERA with 9.8 K/9 and 3.0 BB/9 in 67 innings.
Strengths/Pros
Like many of today's late-inning specialists, Benoit makes his money by racking up strikeouts. He's fanned 295 batters against just 72 walks over his past 259 2/3 innings at the big league level.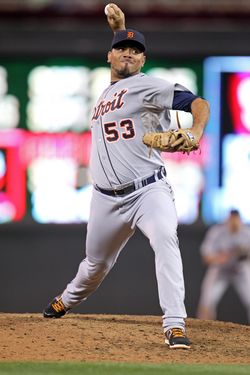 Benoit maybe 36 years old, but his velocity is as strong as ever. His 94.1 mph average fastball trails only Joel Hanrahan, Fernando Rodney, Matt Lindstrom, Joba Chamberlain and Jesse Crain among free agent right-handed relievers. Unlike Hanrahan and Crain, Benoit isn't coming off a serious injury. Unlike Chamberlain, he's enjoyed a dominant season.
In addition to strong velocity, Benoit's swinging-strike rate is the best in among free agent relievers. Opposing batters swing through 13.6 percent of his pitches; his changeup is his best pitch, with hitters whiffing at the pitch 24.7 percent of the time he threw it in 2013 (a mark that best's Rodney's 23.5 percent mark).
Over the past four seasons, the only potential free agents who have appeared in more games than Benoit are Matt Belisle and Chad Qualls. Belisle has a $4.25MM club option, making it more likely that Benoit hits the market as one of the two most durable relief arms since 2010. Despite his dominance, it's highly unlikely that the Tigers make a qualifying offer and risk his salary jumping from $5.5MM to $14MM. He won't be tied to draft pick compensation.
Weaknesses/Cons
Benoit's been durable for the past four seasons, but he was out of baseball entirely in 2009 thanks to surgery on his right rotator cuff. From 2003-09, Benoit had four separate DL stints for shoulder-related ailments and two DL stints for right elbow issues. Neither joint has been an issue for Benoit since 2009, but it's tough to completely look past that type of injury history when looking at a multiyear deal for a 36-year-old reliever.
Benoit's walk rates have been great since returning from that shoulder surgery, but his BB/9 has risen each season since posting a stellar 1.6 BB/9 in 2010. He jumped to 2.5 in 2011, 2.8 in 2012 and 3.0 in 2013.
Benoit posted a 4.38 ERA in September, and he's allowed four runs in 5 2/3 innings of postseason work thus far. He won't have the benefit a strong finish heading into free agency.
Personal
Benoit resides in his hometown of Santiago in the Dominican Republic each offseason. He has a daughter and is active in the Detroit community, participating in campaigns such as Tigers Dreams Come True and the Tigers Autographed Memoribilia Program.
Market
The Tigers deployed Benoit as their closer for much of the season with great success, and his departure means they'll have a void in the ninth inning. Internal candidates Jose Veras and Bruce Rondon could be looked at as cheaper alternatives, but it stands to reason that the Tigers will show interest in re-upping Benoit after three strong years with the club.
Benoit will see serious competition in the form of Joe Nathan, Grant Balfour and Rodney. Like Benoit, all three right-handers are strikeout machines with ninth inning experience that will pitch next season at 36 years of age or older. Unfortunately for Benoit, his ninth inning experience is more limited than that group of peers, and right or wrong, some teams will still pay for saves on the open market. Agent Jamie Appel of ACES can, however, point to the fact that Benoit is younger than Rodney and Nathan and offers better command than Balfour.
Expected Contract
In a recent edition of MLBTR's Free Agent Faceoff series, I compared Benoit and Balfour side-by-side, and more than 69 percent of the 5,600 respondents said they would prefer to sign Balfour. Whether or not that matches the perception among teams remains to be seen.
Benoit was in a better position before it was learned that Nathan is able to void the $9.5MM option on his contract and before Brian Wilson came back strong with the Dodgers. Despite the fact that he has more competition than originally anticipated, however, his dominant performance over the past four seasons should leave him with no problem in securing a multiyear deal.
Tim Dierkes predicted that Nathan, one of Benoit's chief competitors on the open market, will receive a two-year, $26MM pact. Benoit doesn't have near the same track record that Nathan possesses, but he figures to command a two-year deal of his own at a lesser rate, and something in the vicinity of two years and $16MM sounds right for Benoit.
Photo courtesy of USA Today Sports Images.