Jhonny Peralta was enjoying one of the finest seasons of his career when he was connected to the Biogenesis clinic this summer. Soon after, MLB slammed 12 players, including Peralta, with 50-game suspensions. Peralta's strong season at the plate is now tainted, and he'll have to try to overcome the negative impact of that suspension in free agency this offseason.
Strengths/Pros
Peralta is a career .268/.330/.425 hitter, translating to a 101 OPS+ and 102 wRC+. In other words, he's one to two percent better than a league-average hitter, which is an incredibly valuable trait to have as a shortstop. Over the past five seasons, shortstops have collectively posted wRC+ ratings between 83 and 88. Peralta's robust .303/.358/.457 line from 2013 translated to a mark of 123.
His glove was shaky early on in his career, but both Ultimate Zone Rating and The Fielding Bible's Defensive Runs Saved metric agree that Peralta has improved tremendously in recent years. Peralta has a +9.1 UZR/150 dating back to 2009, and DRS has him at +4 runs in that stretch.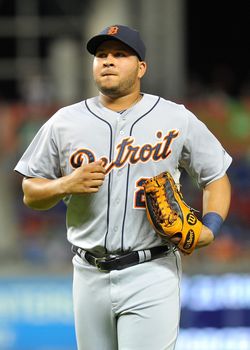 Peralta offers positional flexibility, having totaled 1742 big league innings at third base as well, though neither defensive metric likes him as much at the hot corner.
Peralta shows a slight platoon split, but he's been able to hold his own against right-handed pitching throughout his career, slashing .270/.326/.416. In 2013, he hit righties at a .282/.338/.412 clip. He has enough bat against both right-handers and left-handers to be an everyday player.
Peralta broke into the league as a full-time player at the age of 23, so while it seems like he's been around for a long time, he's still just 31 years old and won't turn 32 until late May of 2014. Peralta will be younger than every notable free agent third baseman and every notable free agent shortstop outside of Stephen Drew.
He's been highly durable throughout his career, averaging 149 games per season and, incredibly, never landing on the disabled list at any point in his Major League tenure.
Given the Tigers' acquisition of Jose Iglesias, the team elected not to extend a qualifying offer to Peralta and risk having to deploy him in left field or at second base. Unlike his main competition — Drew — signing Peralta will not require draft pick forfeiture.
Weaknesses/Cons
Peralta's career numbers at the plate look solid, but he's been wildly inconsistent on a year-to-year basis. Peralta has five seasons of an OPS+/wRC+ greater than 100 (i.e. better than league average), one in the low 90s and three in the mid-80s. In particular, his power seems to fluctuate, as he owns four 20+ homer seasons but has hit between 11 and 15 long balls in every other big league season he's played. He'd be compensated much more handsomely if he could show consistent 20-homer pop.
Peralta may have posted a .303 batting aveage in 2013, but that mark was clearly boosted by a career-high .374 batting average on balls in play. He won't repeat that number in 2013, and it's reasonable to expect his average to drop accordingly, perhaps even lower than his career .268 mark, as Peralta's strikeout rate jumped to 21.9 percent this season.
If Peralta's average comes down, he could post an OBP below the league average, as he did in 2009, 2010 and 2012, due to the fact that he's walked at just an 8.3 percent clip for his career. Unlike his average and power totals, that number has remained pretty constant, and he was at 7.8 percent this year.
Peralta's connection to PEDs brings into question just how much of his 2013 performance was natural. A player with such a sterling medical history can hardly make the claim that he was using banned substances to help speed up his timetable for recovery from an injury.
Personal
Peralta and his wife, Molly, have three daughters and make their home in the Cleveland suburb of Westlake, per the Tigers media guide. His teammates defended him after the suspension, with Hunter in particular offering praise (via MLive.com's Chris Iott): "If you know Jhonny — and a lot of people don't know Jhonny — but if you know Jhonny, awesome guy. Awesome guy. He just made a mistake." Verlander called Peralta his "brother," noting that he could hold no grudge against a man who admitted to making a mistake and serving the penalty for it.
Market
Peralta has made it clear that he'd like to return to the Tigers, but with Iglesias installed at shortstop and top prospect Nick Castellanos serving as an in-house possibility for left field, the Tigers simply don't have much room on the roster to keep Peralta around.
If and when the Tigers move on, Peralta and agent Fern Cuza of SFX shouldn't have any problem finding interested contenders willing to offer a multiyear deal. Shortstops are always in demand, and in spite of his inconsistencies, Peralta has averaged 2.8 fWAR and 2.6 rWAR over the past six seasons.
Even in his worst seasons, Peralta has been a considerable upgrade over what the Cardinals received from Pete Kozma this season. The Pirates could look to upgrade over Jordy Mercer's shaky glove if they feel he can't repeat this year's .368 second-half BABIP (which, obviously, is quite unlikely). Given uncertainty surrounding Ruben Tejada's status and a stated desire to spend on free agency, the Mets could be a logical landing place as well. Oakland could use Peralta at shortstop and slide Jed Lowrie over to second base, but they may be hesitant to meet his asking price and may not want to block Addison Russell's path to the Majors.
Peralta could also appeal to teams that need help at third base. In that regard, a return to Cleveland could make sense, and Angels could also use an upgrade at the position. Signing Peralta would give them the luxury to aggressively shop Erick Aybar as well. The Dodgers could also look to upgrade at third if they don't retain Juan Uribe.
Expected Contract
Suspension aside, Peralta is a typically solid bat at a premium position who can boast being youthful enough that he's not yet entering his decline phase. Peralta is a league-average bat with upside for much more and whose floor would only drop him to roughly league-average for his position. Players like that are scarce on the free agent market.
Cuza seems likely to target four years for Peralta on the open market, and his best bet may very well be to try to start a bidding war between two teams with a clear need such as the Cardinals and Mets. Marco Scutaro's three-year, $20MM contract with the Giants seems too light, given Peralta's offensive track record, so I expect Peralta to sign a three-year, $36MM contract.
Photo courtesy of USA Today Sports Images.