Robinson Cano made headlines early in the regular season by leaving super-agent Scott Boras to become the first client to be represented by rapper and entrepreneur Jay-Z's startup sports agency — Roc Nation Sports. Jay-Z is partnering with CAA in the Roc Nation Sports effort, and CAA's Brodie Van Wagenen will be handling much of the negotiation process this offseason, though Jay-Z himself is now officially an MLBPA-certified player representative as well. While his agency news may have gotten the headlines in April, now that we're into the offseason, it'll be his historic contract that garners attention.
Strengths/Pros
Cano is one of the game's best all-around players, plain and simple. He led all free agent position players in wins above replacement (6.9 fWAR, 7.6 rWAR) due to his combination of offense and strong defensive contributions at a premium, up-the-middle position.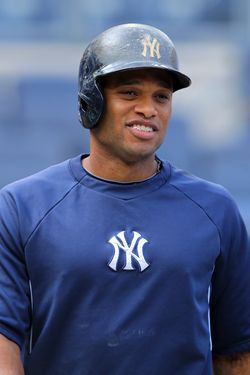 Cano batted .314/.383/.516 this season, earning his fourth consecutive All-Star bid and fourth consecutive Silver Slugger award. His fifth-place finish in the AL MVP voting marked his fifth consecutive season receiving votes for the award and fourth straight season of finishing sixth or better.
Cano's 142 wRC+ dating back to 2010 is the fourth-highest in Major League Baseball, and his 25.4 fWAR in that time trails only Miguel Cabrera. In terms of more traditional numbers, he's averaged 107 RBIs and 98 runs scored per season over that same time. He hits for power, averaging 28 homers per season since 2009, and has hit below .300 just twice in his Major League career (including a .297 effort in his rookie season).
Cano's defense slipped a bit in 2013, but his glove is generally regarded as a positive. UZR/150 pegged him for +1.3 runs above average this season, while The Fielding Bible's Defensive Runs Saved metric pegged him at +6. Those are solid numbers, but consider that he was at +10.7 (UZR/150) and +15 (DRS) in 2012. DRS, in particular, raves about Cano, crediting him for +38 runs dating back to 2010.
One of the biggest concerns over the course of a mega-contract like the one Cano figures to sign is health, but that hasn't been an issue for the Bronx Bombers' keystone man. Cano hasn't been on the disabled list since missing six weeks with a hamstring strain all the way back in 2006, and since that time he's averaged a whopping 160 games per season.
Cano is better against right-handed pitchers than lefties, but his .290/.340/.450 career line against southpaws shows that he's more than capable of handling his own against same-handed pitching. Those who think he's a product of Yankee Stadium's short right-field porch need only look at his .862 career OPS on the road alongside his .858 mark at home to realize that Cano can hit anywhere.
Weaknesses/Cons
Cano will play next season at age 31, making him just one year younger than Alex Rodriguez, Albert Pujols and Josh Hamilton were when each signed their massive contracts that have all quickly become albatrosses. Cano figures to sign for much closer to the 10 years that Rodriguez and Pujols received than the five years that Hamilton received. His contract will be a colossal risk, and there's little hope that he'll still be playing anywhere close to his current level by the time it completes.
If there's one element of Cano's game that's lacking, it's probably his speed. He's never stolen more than eight bases in a season, has an ugly 57.6 percent success rate in his career and has added significant value on the basepaths just twice in his nine-year career. It's an underrated part of the game that many fans don't look at, but Fangraphs pegged Cano's baserunning at -2 runs this season. That only figures to get worse as he ages.
In 2013, Cano posted his lowest isolated power (slugging percentage minus batting average) since 2009. His mark of .202 is still excellent for any hitter, let alone a second baseman, but if it's a portent for the decline of his power as he exits his prime years, his value would take a hit going forward. The very fact that a .202 ISO is listed in the "Weaknesses/Cons" section of this post speaks to the elite level of Cano's game.
In one of the least-surprising decisions in recent history, the Yankees made a qualifying offer to Cano, and he promptly rejected it. He'd come at the cost of a draft pick for a new team.
Personal
Cano's father, Jose, was signed by the Yankees in 1980 and briefly pitched in the Majors with the Astros in 1989. Cano's parents named him Robinson after the legendary Jackie Robinson, and he wears No. 24 (Jackie's No. 42 flipped) to this day as a means of honoring that namesake. The Yankees' media guide has nearly a full page dedicated to Cano's philanthropic efforts both in New York and his native Dominican Republic. Cano and his parents established the RC24 Foundation in 2011 — a charity intended to provide hope to sick and underprivileged children in New York and the Dominican Republic. He has also donated nine ambulances and four school buses to his hometown of San Pedro de Macoris. The ambulances were donated in memory of a close friend who died after he was unable to receive immediate medical attention following a motorcycle accident.
Cano was famously benched for a lack of hustle in 2008, but those problems are a thing of the past, hitting coach Kevin Long told Mark Feinsand of the New York Daily News earlier this year. Long praised Cano's work ethic and offseason training regimen to Feinsand, who also spoke with Cano's World Baseball Classic GM, Moises Alou: "Robby, what a guy. He's a five, six-tool player. I mean, I knew he was good, but he made my job so easy, with his performance and leadership."
Market
Cano's market could be more limited than any other free agent this season due to his contract demands. In early October, it was reported that Cano and Roc Nation were targeting $305-310MM in guaranteed money, in order to top the maximum value that A-Rod could reach were he to hit all of his incentives. Let me start by stating that I see zero chance of Cano signing the largest contract in history. Those comments were almost certainly a pure negotiation ploy; coming out and saying, "We want $200MM" would have started the discussion far too low.
So what teams could possibly afford Cano? A return to the Yankees still seems the most probable outcome, but in order to extract maximum dollars, Roc Nation/CAA will have to drum up some competition. The Dodgers were a natural landing spot, but they said prior to season's end that they weren't going to pursue Cano, and their four-year, $28MM contract with Cuban second baseman Alexander Guerrero seems indicative that they plan on sticking to that mentality.
Tigers owner Mike Ilitch has spent liberally in the past, proclaiming that he wants to see his team win a World Series in his lifetime. The Tigers have Omar Infante hitting free agency and have issued $200MM guarantees to Prince Fielder and Justin Verlander already. However, with Miguel Cabrera needing an extension in a few seasons, would they risk another annual salary north of $20MM?
The Nationals could be on the periphery, as could the Angels, though their days of dabbling in mega-contracts are likely over for the time being with Pujols and Hamilton on the books. Could the Mets shock the baseball world by using their newfound cash to force a jersey change but keep Cano in New York? They took one meeting with him already, but most media outlets have downplayed them as a serious suitor even in light of that news.
The Rangers are always aggressive spenders, but they already have a logjam of middle infielders with Elvis Andrus, Ian Kinsler and Jurickson Profar. Still, a trade of Andrus or Profar plus a move to first base or left field for Kinsler to open second base is at least conceivable. Could Jack Zduriencik be so desperate to bring some offense to Seattle that he breaks the $200MM threshold for Cano? The Cubs have the deep pockets and no clear solution at second base, but they've stated that they're not planning on pursuing big fish this winter. The Blue Jays have a need at second base and are clearly in win-now mode. Another big offseason splash would likely rejuvenate their fanbase after a disappointing 2013, but signing Cano would be counterintuitive to GM Alex Anthopoulos' free agent philosophy.
In addition to other free agents, teams in need of help at second base could look to acquire Brandon Phillips as an alternative. Phillips appears to have fallen out of favor in Cincinnati, and while the four years and $50MM remaining on his contract are sizable, that seems like a pittance in comparison to Cano's eventual contract.
Expected Contract
There's little doubt that Cano will sign the richest contract of the offseason, and it seems likely that his representation will set out seeking 10 years. If Cano's price tag were to drop to seven years, I imagine that numerous suitors would emerge. More realistically, the middle ground between teams' comfort levels and Van Wagenen/Jay-Z's demands will probably be met in the form of eight or nine years.
Cano finds himself in a similar situation to that of Prince Fielder heading into the 2012 season — everyone expects a historic contract, but there appears to be a lack of logical suitors. Ultimately, the market came to Fielder and Scott Boras, and Fielder was able to land a nine-year, $214MM contract.
I expect Fielder's contract to be the floor for the Cano camp. Cano figures to shatter the records for longest contract, largest guarantee and largest average annual value for a second baseman. How much will he sign for though? Dating back to 2007, the mean AAV for hitter contracts of at least eight years is $24.44MM. That grouping includes a select quartet of then-elite bats: Alex Rodriguez, Albert Pujols, Fielder and Mark Teixeira.
That mean AAV would come out to an even $220MM over the course of a nine-year contract or $244.4MM over the course of 10 years. It makes sense to try to top that AAV, and I believe they'll do just that, though not over the course of a 10-year deal. However, a nine-year, $234MM contract would give Cano's camp a nice round number ($26MM annually) and blow Fielder's contract out of the water. It would also top the mean AAV for baseball's most recent mega-deals and establish the second-highest AAV of any such deal as well. As such, that's my prediction for Cano's eventual contract, even if the market has yet to seriously take shape.
Photo courtesy of USA Today Sports Images.