The Phillies had a hole to fill at catcher, and they've filled it with the most familiar face possible. The Phillies and GM Ruben Amaro Jr. officially announced today that Carlos Ruiz has re-signed with the team on a three-year, $26MM contract that contains a club option for a fourth season.
Ruiz will reportedly earn $8.5MM annually, and the club option was reported to be worth $4.5MM with a $500K buyout. The longtime Phillie can also earn an additional $500K each season by appearing in more than 125 games behind the plate. He is able to block trades to four teams.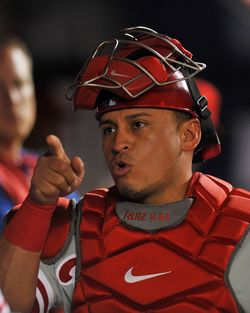 Ruiz, also known as "Chooch," is represented by agent Marc Kligman. The 34-year-old began the season with a 25-game suspension for amphetamine usage and was limited by a hamstring injury upon his return. As such, the .268/.320/.368 batting line produced by Ruiz doesn't tell the whole story of his season. Over the season's final two months, the Panamanian backstop slashed .288/.343/.444.
Ruiz caught just 25 percent of runners attempting to steal against him last season — an area in which he's been unable to consistently post an above-average mark throughout his career. Fangraphs estimates that he saved 1.8 runs blocking pitches in the dirt, though there have been studies done on pitch framing by catchers that indicate he is below-average in that department.
Ruiz's $26MM guarantee eclipses the two-year deal that MLBTR's Tim Dierkes projected in his free agent profile. Ruiz reportedly had offers in the two-year $15-20MM range, and Kligman looks wise to have waited for a three-year offer to trump those proposals.
At season's end, Ruiz told the Philadelphia Inquirer's Ryan Lawrence that he hoped to spend his entire career with the Phillies, and he may have the opportunity to do just that with this deal, as it will run through his age-37 season with an option for his age-38 campaign. In parts of eight big league seasons with the Phils, Ruiz is a .274/.358/.412 hitter with 57 home runs.
With Ruiz off the market, the top remaining free agent catchers are Brian McCann, Jarrod Saltalamacchia and A.J. Pierzynski. Ruiz's surprising guarantee is good news for Saltalamacchia and Pierzynski in particular, as they, like Ruiz, are in a lower tier than McCann.
Ken Rosenthal of FOX Sports first reported that Ruiz would re-sign with the Phillies (on Twitter). Matt Gelb of the Philadelphia Inquirer reported that the deal was for three years and $26MM with a club option (Twitter links). ESPN's Jayson Stark provided the financial details and reported the limited no-trade clause (on Twitter), and Jim Salisbury of CSNPhilly.com tweeted the incentives.
Photo courtesy of USA Today Sports Images.