The Cubs caught lightning in a bottle with a revitalized Kevin Gregg for much of the 2013 season, but they'll have a more consistent option in place next season in the form of Jose Veras. Chicago officially announced the signing of Veras to a one-year deal with a club option for the 2015 season today. The Praver/Shapiro client will reportedly earn $3.85MM and has a $150K buyout on a $5.5MM option, making a total guarantee of $4MM. Veras, who will serve as Chicago's closer, can also earn $750K worth of incentives based on games finished.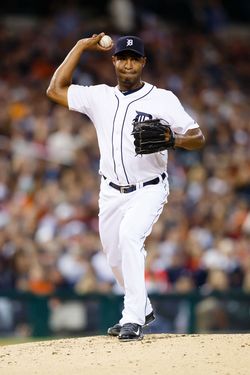 The 33-year-old posted a 3.02 ERA with 8.6 K/9 and 3.2 BB/9 with a 41.8 percent ground-ball rate in 62 2/3 innings between the Astros and Tigers, collecting a career-high 21 saves along the way.  The right-hander drew interest from multiple clubs this offseason including the Rockies and Astros.
Veras spent the first four months of the season as Houston's closer before being shipped to the Tigers in July for outfield prospect Danry Vasquez and a player to be named later who turned out to be right-hander David Paulino.  Detroit turned down a $4MM option on the veteran, but he would up getting the same guaranteed money out of the Cubs, plus a $150K buyout from Detroit, $750K of incentives from Chicago and a chance at a healthy raise in 2015.
Though Gregg served as Chicago's closer for much of the season, the team relied on a number of late-inning options that did not fare well. Carlos Marmol struggled once again, Shawn Camp was unable to replicate his 2012 magic and found himself released and Japanese acquisition Kyuji Fujikawa wound up requiring Tommy John surgery after just 12 innings with the Cubs. Veras will join Pedro Strop, James Russell, Blake Parker, Wesley Wright and presumably Carlos Villanueva in the Cubs' bullpen. Other internal options include Arodys Vizcaino, Hector Rondon, Brooks Raley and Justin Grimm. Fujikawa should return at some point this season as well.
The Astros were said to be pushing hard to get Veras back in the organization and the fondness seemed mutual.  "It feels like family there," Veras said of Houston.  "It's a young team and they're hungry to win. I feel part of the team. I doesn't mater to me if we won or lose. When you play as a team and everybody cares, that's the best part for me."  Alas, Veras will be moving on to a new club, his eighth team in the past six seasons.
Enrique Rojas of ESPNDeportes.com first reported the $4MM guarantee and the $5.5MM club option (via Twitter). Jon Heyman of CBSSports.com reported Veras' exact 2014 salary, the additional incentives and his 2015 buyout. Heyman also reported that Veras will serve as Chicago's closer (All Twitter links).
Steve Adams contributed to this post. Photo courtesy of USA Today Sports Images.