3:59pm: Dan Connolly of the Baltimore Sun tweets that McLouth will earn $5MM in each year of the deal, and his club option contains a $750K buyout.
3:20pm: The Nationals were in the market for a left-handed hitting outfielder to strengthen their bench, and they addressed that need by bringing Nate McLouth into the fold. Washington officially announced a two-year deal for McLouth today — a contract that is reportedly worth $10.75MM and contains a club option for a third season valued at $6.5MM. McLouth is represented by The Sparta Group.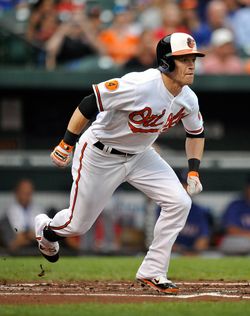 Rosenthal goes on to note that while McLouth will technically be the Nats' fourth outfielder behind Bryce Harper, Denard Span and Jayson Werth, but he will get "significant" at-bats. McLouth will serve as insurance for all three outfield positions, but he could also see a more regular role if recent rumors that Span could be available prove to be true.
The 32-year-old McLouth batted .258/.329/.399 with 12 homers and a career-best 30 stolen bases for the Orioles last season. Curiously, McLouth swiped 24 bases in 28 attempts in the season's first half but only attempted nine steals in the entire second half. He's significantly better against right-handed pitching, as he batted just .209/.283/.357 against fellow lefties in 2013.
McLouth's career looked to be on a downward trajectory after he struggled in Atlanta and was released midseason upon his return to the Pirates organization. However, he latched on with the Orioles, and over a span of 201 games with Baltimore, he slashed .261/.333/.409. MLBTR's Tim Dierkes correctly projected that McLouth would sign a two-year deal this offseason in his free agent profile, pegging him for a $10MM guarantee.
Ken Rosenthal of FOX Sports first reported the two-year agreement (on Twitter). The $10.75MM value and club option were first reported by Dan Connolly of the Baltimore Sun (Twitter link). ESPN's Jerry Crasnick reported the option's $6.5MM value.
Photo courtesy of USA Today Sports Images.