Logan Forsythe's name has been on the trading block in the past week or so, and it didn't take the Rays long to make a deal happen. The Rays and Padres have both announced a seven-player deal that sends lefty reliever Alex Torres and right-hander Jesse Hahn to the Padres in exchange for Forsythe, right-hander Brad Boxberger, minor league right-handers Matt Andriese and Matt Lollis, and minor league second baseman Maxx Tissenbaum.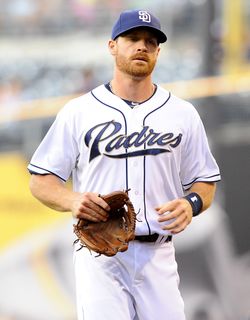 We heard yesterday that San Diego was receiving interest in the 27-year-old. With several other utility options, led by Alexi Amarista, the Padres presumably felt Forsythe was expendable. The versatile defender had a nice 2012 campaign (107 OPS+), but struggled last year with a .214/.281/.332 triple-slash in 243 plate appearances last year. Swinging from the right side, Forsythe has had much better success against southpaws over his career than against same-handed hurlers (.793 vs .594 OPS).
The Rays will control Forsythe for four seasons, though only the coming year will be at the league minimum. Having spent time at second, short, third, and the corner outfield, Forsythe certainly fits Tampa's liking for flexible players. He will battle for a roster spot and playing time with players like Sean Rodriguez, Vince Belnome, and Jayson Nix. With prospects Hak-Ju Lee and (more recently) Tim Beckham suffering significant knee injuries, the Rays have seen their middle infield depth tested.
As I noted yesterday, a left-handed reliever would make sense in a deal for Forsythe, and it appears that could be just what the Padres will receive. Torres, 26, emerged last year for Tampa after converting to relief. He tossed 58 innings of 1.71 ERA ball, posting 9.6 K/9 against 3.1 BB/9 and a miniscule 0.897 WHIP. Torres did, however, benefit from a low BABIP (.221), high strand rate (80.2% LOB), and low home run tally (.16 HR/9), making him a candidate for regression. Torres will not be eligible for free agency until 2020. Though the Rays got an extra option year to use on Torres, it appears they used it last year, leaving him without options.
Hahn, 24, entered the 2013 season ranked as the Rays' No. 14 prospect (per Baseball America) and enjoyed a strong year, though he split the season between Class-A Advanced and Rookie Ball — two levels at which he's older than the league average. Still, he posted a 2.09 ERA with 8.7 K/9 and 2.3 BB/9 in 69 innings of work across the two levels. BA notes that at one point heading into the 2010 draft, Hahn looked to be a first-round talent, but an arm injury caused him to fall to the sixth round and ultimately resulted in Tommy John surgery. Though all 20 of his appearances in 2013 were starts, he never pitched more than five innings, and he only hit that total one time. He did not rank among the Rays' Top 10 prospects heading into 2014, per BA.
Boxberger, 25, has a career 2.72 ERA with 10.3 K/9, 5.6 BB/9 and a 41.2 percent ground-ball rate in 49 2/3 innings with the Padres from 2012-13. The former supplemental-round draft pick was one of four players received by the Padres in the trade that sent Mat Latos to the Reds. Boxberger is a power arm that as a prospect was said to have closer upside but needs to limit his walks more effectively to reach that potential. He's averaged just 3.7 BB/9 in his Triple-A career, so there's reason to believe he can improve. He's controllable for six years but projects as a likely Super Two player due to the fact that he has 129 days of service time already under his belt.
The 24-year-old Andriese reached Triple-A for the first time in 2013 and enjoyed a strong season overall, compiling a 3.27 ERA with 7.0 K/9 and 1.9 BB/9 in 134 2/3 innings between Double-A and Triple-A. MLB.com ranked him 19th among Padres prospects following the season, noting that he could profile as a middle-of-the-rotation starter. BA ranked him 20th heading into 2013 and agreed with the mid-rotation upside, praising his power curveball and noting that if he didn't make it as a starter, his arm should translate to the bullpen.
Lollis, 23, transitioned to the bullpen full-time in 2013 and posted a 4.62 ERA with 7.7 K/9 and 4.7 BB/9 across three levels, including Triple-A. However, most of his success came at Class-A Advanced (2.32 ERA), as he posted ERAs north of 6.00 in Double-A and Triple-A. Lollis once ranked among the Padres' Top 5 prospects (per BA) but has seen his stock fall dramatically over the past three years.
Tissenbaum, 22, was an 11th-round pick by the Padres in 2012. In his first full season of pro ball, the lefty swinger that shares an alma mater with Joe Nathan (Stony Brook University) batted .277/.365/.359 with a pair of homers and four stolen bases in 490 plate appearances for Class-A Fort Wayne.
Chris Cotillo of MLB Daily Dish first reported that Forsythe was headed to the Rays and Torres was likely on his way to Tampa. Marc Topkin of the Tampa Bay Times confirmed Torres' involvement (via Twitter), and ESPN's Keith Law reported that Hahn, Andriese, Lollis and Boxberger were changing hands (All Twitter links). Topkin then reported that a fifth player could be headed to Tampa as well (via Twitter), which was confirmed when the Padres announced the deal.
Steve Adams contributed to this post. Photo courtesy of USA Today Sports Images.