The Indians have announced a four-year extension with outfielder Michael Brantley via press release. First reported on Monday, the deal will guarantee Brantley $25MM over its four years, and comes with an $11MM club option for 2018. The 26-year-old is a client of the Legacy Agency.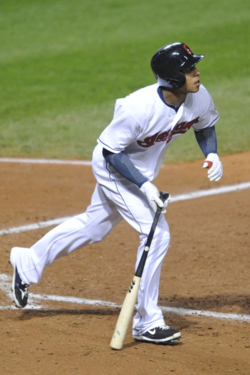 Brantley has established himself as a solid ballplayer over his early career, though he has yet to post a true breakout campaign. Since becoming a full-time player in 2011, Brantley has posted a cumulative .280/.334/.394 triple-slash, with 23 home runs and 42 stolen bases over 1,716 plate appearances in that three-season period. Last year, he checked in with a .284/.332/.396 line, but did post a career-best 10 home runs and 17 swipes (he was caught only four times).
Making way for Michael Bourn, Brantley switched from center to left field last season and figures to remain there for the foreseeable future. Advanced defensive metrics view Brantley as an approximately average outfielder over the last few years, whether playing up the middle or in the corner. (In 2012, at center, Brantley posted a UZR of -0.7 and DRS of -1; in left last year, he notched a -4.1 UZR but was +2 per DRS.)
Brantley had been preparing to go to an arbitration hearing in his first year of eligibility, and was set up to qualify for free agency after the 2016 season. Instead, he will now be under team control through 2018. If Cleveland exercises that final-year option, Brantley will hit the open market after his age-31 season.
Brantley's contract calls for him to receive a $3.5MM signing bonus. His annual salary breakdown is as follows: $1.5MM (2014), $5MM (2015), $6.5MM (2016), and $7.5MM (2017). The 2018 club option is for $11MM and comes with a $1MM buyout. The structure of the deal gives Brantley a big payday up front, but spreads the $3.5MM signing bonus over the life of the deal for purposes of the CBA. That also means that Brantley's 2014 salary will not set a high bar for arbitration purposes: it lands at just $2.375MM, well under the respective $3.8MM and $2.7MM filing figures.
The most obvious comparable for Brantley's deal is the five-year, $25MM extension inked by Cameron Maybin with the Padres before the 2012 season. Though that deal covered an additional guaranteed year, Maybin was also a year further from free agency. Though featuring a Brantley-esque .264/.323/.393 triple-slash, Maybin's pre-extension season was better than anything that Brantley has put together: he also swiped 40 bags and played a stellar center that left him credited with better than four wins above replacement. Though Brantley has a longer track record, he has maxed out at about three WAR and is somewhat older than was Maybin.
But Maybin's deal is now two years out of date, a hugely significant factor given the observed increase in spending in the interim. (The four-year, $20.5MM Franklin Gutierrez extension signed in 2010 is even further out of date.) Viewed thusly, the Indians seem to have done fairly well to land Brantley for a term of years and amount of money that fits comfortably in the mold of earlier extensions.
Indeed, Brantley's extension is the first of three-or-more years signed by a player with less than six years of service since the massive extension signed by Freddie Freeman (and that of Clayton Kershaw, for that matter). As I wrote recently, though Freeman's deal potentially set the stage for less solid but non-premium young players to command somewhat greater extension guarantees, prior extension models remain valid until proven otherwise. The Brantley deal confirms that, as it seems to reflect mostly measured growth in the market.
Paul Hoynes of the Cleveland Plain Dealer first reported the deal, as well as its length and guaranteed money, via Twitter, and was also first to report that the sides were close. Jon Heyman of CBSSports.com was first to report the annual breakdown (on Twitter).
Photo courtesy of USA Today Sports Images.