The World Series champions will use some of their well-regarded young prospects to fill holes left by a pair of notable departed free agents.
Major League Signings
Mike Napoli, 1B: Two years, $32MM.
Edward Mujica, RHP: Two years, $9.5MM.
Jon Lester, LHP: One year, $13MM (club option exercised).
A.J. Pierzynski, C: One year, $8.25MM.
Chris Capuano, LHP: One year, $2.25MM.
Grady Sizemore, OF: One year, $750K.
Total spend: $86MM
Notable Minor League Signings
Dalier Hinojosa ($4.25MM signing bonus), Francisco Cordero, Rich Hill, Brandon Snyder, Tommy Layne, Scott Cousins, Chris Resop, Mike McCoy, Jose Valdez, John Ely, Corey Brown
Trades And Claims
Extensions
Notable Losses
Jacoby Ellsbury, Jarrod Saltalamacchia, Stephen Drew, Ryan Dempster (restricted list), Matt Thornton, Franklin Morales, Andrew Bailey, Joel Hanrahan, John McDonald, Quintin Berry, Pedro Beato, Ryan Kalish, Michael Almanzar (Rule 5 draft)
Needs Addressed
The heralded 2012-13 Red Sox offseason not only gave the Sox the depth they needed to capture last year's World Series, but also left the team with relatively little to do this winter besides discuss extensions with two long-time franchise stars and address four major free agents.
The one of the four free agents who did re-sign was the one perhaps most vocal about his desire to return to Boston.  Mike Napoli received at least one three-year offer from another team, but instead accepted a two-year, $32MM deal to remain as the Sox first baseman.  The Red Sox did explore other first base options, most notably chasing Jose Dariel Abreu before Abreu ultimately signed with the White Sox.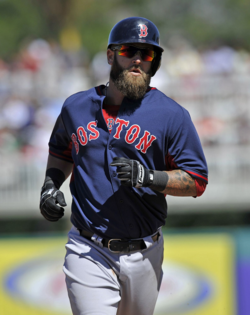 It's worth noting that, of the positions played by the free agent quartet, first base was the only one that didn't have a Major League-ready prospect on the horizon or ready for 2014.  The Sox likely would've found a right-handed hitter to platoon with Mike Carp at first had Napoli gone elsewhere, but still, it could be argued that Napoli was the free agent that was most necessary to re-sign for the short term.
Speaking of prospects, with Blake Swihart and Christian Vazquez scheduled to arrive within the next couple of seasons, the Red Sox were only comfortable bringing back catcher Jarrod Saltalamacchia for two years at the most.  As such, Saltalamacchia took more security in the form of a three-year, $21MM deal from the Marlins, leaving Boston in need of a short-term starter behind the plate.  The solution ended up being a one-year, $8.25MM contract for A.J. Pierzynski.  The veteran pairing of Pierzynski and David Ross will handle the catching duties for 2014; Vazquez had an impressive Spring Training and could have the early lead on the 2015 job if he performs well at Triple-A Pawtucket this season.
There were rumors that Boston could look to trade from its starting pitching depth given that the club entered the offseason with six starters for five rotation spots, plus swingman Brandon Workman and top prospects who have already gotten a taste of the bigs like Rubby De La Rosa and Allen Webster.  Ryan Dempster's decision not to pitch in 2014, however, ended those rumors.  Rather than dip into their younger depth options, the Sox acquired another veteran in left-hander Chris Capuano, who will serve as a reliever and spot starter.
Capuano also adds a southpaw bullpen arm to replace Matt Thornton, whose $6MM team option was declined by the Sox in November.  Boston addressed the pen by trading for groundball specialist Burke Badenhop and signing righty Edward Mujica, who performed well for a time as the Cardinals' closer last year but will return to his usual setup role in backing up Koji Uehara.
While the Red Sox will go young to replace Jacoby Ellsbury and (the likely departed) Stephen Drew, that didn't stop them from adding some veteran depth in Grady Sizemore and Jonathan Herrera.  While Herrera seems clearly tabbed for a utility infield role, Sizemore's strong Spring Training may have earned him at least a share of the starting center field job.  If Sizemore stays healthy and performs at even a fraction of his 2005-08 form, the Sox will have found another incredible bargain given that Sizemore is only guaranteed $750K for the season (though with $5.25MM in incentives).
David Ortiz has been vocal about the lack of long-term security in his last couple of contracts (a one-year deal for 2012 and a two-year deal covering 2013-14) but the franchise icon could now remain in Boston through his age-41 season thanks to a new extension.  The deal is officially a one-year extension through 2015 but an $11MM option for 2016 will vest if Ortiz reaches at least 425 PA in 2015, plus there's a team option for 2017 as well.  While it wouldn't be a shock if a 38-year-old slugger suddenly declined, Ortiz still looks as dangerous as ever, as his .959 OPS and World Series MVP trophy would indicate.
Questions Remaining
The Red Sox at least explored re-signing Ellsbury, but since they weren't keen on going beyond five years or more than $100MM, the club didn't come close to the seven-year, $153MM contract that Ellsbury received from the Yankees.  While it remains to be seen if Ellsbury will stay productive over the life of that deal, his loss is a double short-term blow for Boston.  Not only did the Sox lose one of their best players to their AL East arch-rivals, their planned replacement (Jackie Bradley Jr.) hasn't lived up to expectations in Spring Training.
Bradley, who turns 24 in April, has a .297/.404/.471 line over 989 minor league PA and is regarded as an excellent defender.  While he only had a .617 OPS in 107 PA in his Major League debut last season, Bradley is still considered one of the game's top 100 prospects (ranked 33rd by MLB.com, 50th by Baseball America, 51st by ESPN's Keith Law) and he was expected to get the lion's share of playing time as Boston's new center fielder this season. 
Instead, however, Bradley's struggles during the spring have allowed Sizemore a chance at the job — center field becomes a question mark either way, given that Bradley is unproven and Sizemore hasn't played a professional game since 2011.  Shane Victorino could potentially play center in a pinch with Mike Carp taking over in right, or the Daniel Nava/Jonny Gomes platoon could shift from LF to RF with Carp playing left field, or Nava could play center while Carp replaces him in the platoon with Gomes.  Such a shakeup seems unlikely, however, as it would weaken the outfield defense.
The left side of the Red Sox infield will be manned by Xander Bogaerts at shortstop and Will Middlebrooks at third, as the club hopes that the former will live up his high prospect pedigree and the latter will find consistency in his third Major League season.  Baseball America, Law and MLB.com all rank Bogaerts as the sport's #2 prospect and the 21-year-old has already made an impact with the Sox, posting an .893 OPS in 34 postseason PA and taking over as the starting third baseman for the World Series.
That third base job, of course, belonged to Middlebrooks heading into the playoffs but a mediocre postseason just added to his frustrating 2013 season.  Middlebrooks hit only .227/.271/.425 in 374 PA, though he did show off some pop by hitting 17 homers.  At age 25 and only two years removed from being a highly-touted prospect himself, it's far too soon for the Sox to give up on Middlebrooks, though they're exploring creative backup options like Carp at third.
Exercising Jon Lester's 2014 option was the easiest move the Red Sox made all winter, but signing the southpaw to an extension has been a bit tricker.  Lester has expressed his preference to remain in Boston for the rest of his career and even said he'd be willing to give the Sox a bit of a discount on a new contract, so this may not be a "question remaining" as much as it just a matter of time before a deal is reached.  The club hopes to have an extension worked out by Opening Day, though Lester has said he's willing to keep negotiations going into the season if the two sides are close.
If Lester is retained, the Sox will have both removed one of next winter's top free agents arms from the board and kept its longtime ace in the fold for several years to come.  Lester could end up being the mound equivalent of Ortiz as a staple player who bridges a few different generations of Red Sox championship contenders.
Deal Of Note
It might seem odd to dub merely extending a qualifying offer as one of the most notable moves of an offseason, yet Boston giving such a one-year, $14.1MM to Stephen Drew ended up having far-reaching consequences.  When Drew rejected the offer, it meant a team with a non-protected pick would have to surrender its first-round draft pick to sign him, and a protected-pick club would have to give up its next-highest draft choice (be it in the compensation round or second round).
With draft compensation attached, Drew's market has been drastically limited.  The veteran shortstop is one of several qualifying-offer free agents who were available for much longer than expected this winter, and of that group, only Drew and Kendrys Morales still remain unsigned.  Scott Boras, who represents both men, says his clients are willing to wait until June to sign if need be, as they'll get around the draft pick compensation simply by sitting out until the draft has passed.
How would this impact the Red Sox?  As MLBTR's Tim Dierkes and FOX Sports' Ken Rosenthal point out, such a maneuver could put more pressure on Boston to re-sign Drew since otherwise, they'd lose out on a first round pick.  You'd think that certainly, some team would develop a need at shortstop and sign Drew before June, but then again, you also wouldn't have thought that Drew would still be available less than a week from Opening Day.
Until Drew is officially in another team's uniform, there's at least a chance he could return to Boston.  GM Ben Cherington has been in contact with Boras about the shortstop this winter, though the two sides haven't spoken in weeks and the Sox reportedly offered Drew only a one-year deal.  It's also possible that the Red Sox themselves could be that team who needs some shortstop help, in case Bogaerts and/or Middlebrooks can't handle their jobs.
That said, Boston's confidence in these two promising young stars is why the Sox felt comfortable in letting Drew leave in the first place.  Transitioning top prospects into regulars is a key aspect of the team's operations, as Cherington tells MLB.com's Anthony Castrovince: "We recognize that our goal is to be as good as we possibly can be in 2014 but also 2015 and 2016 and beyond.  To do what we want to do, year in and year out, there has to be integration of young players. We're not going to force that unless we're reasonably confident those guys can contribute right away." 
Overview
After rebuilding the roster by adding several mid-tier free agents last winter, the Red Sox had the flexibility to focus on short-term, middle-term and long-term moves this offseason.  For the coming season, they shored up their roster holes by replacing Saltalamacchia with Pierzynski, Dempster with Capuano and Thornton/Andrew Bailey/Franklin Morales with Mujica and Badenhop.  In the near term, the club virtually ensured that Ortiz will retire in a Red Sox jersey.  As for the future, in issuing qualifying offers to Ellsbury and Drew, the Sox ensured at least one extra compensation draft pick (currently 33rd overall) and likely another once Drew finally signs elsewhere.
The biggest long-term move, of course, is entrusting Bogaerts, Middlebrooks and (potentially) Bradley with three positions that combined for 9.9 fWAR in 2013.  Though obviously the Red Sox fully expect to be contenders, it's possible this season could be the so-called "bridge year" that the club expected to have in 2013 should the young trio have growing pains.  Boston also enjoyed relatively good health and above-average performances from almost the entire roster last season, so a bit of regression is probably in store.  (Plus, losing some of the facial hair could be bad karma.)
That said, with Boston's track record of developing homegrown talent, it's also easy to believe that any or all of these three prospects could immediately become solid contributors.  With the bulk of the championship core returning, the Red Sox are still deep and talented enough to challenge for another title.
Photo courtesy of Steve Mitchell/USA Today Sports Images