The Brewers are hoping that a pair of late free agent signings and the return of two key bats will help them improve upon their fourth-place finish in a stacked NL Central division.
Major League Signings
Notable Minor League Signings
Trades and Claims
Extensions
Notable Losses
Needs Addressed
Though Milwaukee's starters finished the season well, the team's first-half struggles were pronounced. Even after the addition of Kyle Lohse — who pitched well in his debut season with the team — the Brewers' rotation combined for a 4.86 ERA prior to the All-Star break (third-worst in all of baseball). That mark dropped to a stellar 3.36 in the second half thanks to turnarounds from Yovani Gallardo, Wily Peralta and Marco Estrada.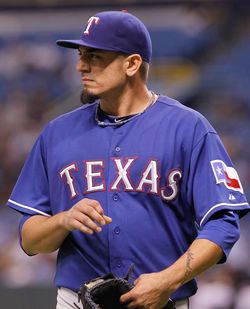 However, Milwaukee lacked a clear fifth starter, as 12 different pitchers started games for the team in 2013. That's no longer an issue, as the addition of Garza not only improves the team's chances of sustaining its second-half surge, it gives manager Ron Roenicke no questions about which five pitchers will be taking the hill on a regular basis. Garza, Lohse, Gallardo, Estrada and Peralta form a solid quintet that could be one of the better rotations in the National League.
The Brewers also entered the offseason with a good deal of uncertainty in the bullpen, which made the decision to trade Badenhop for a low-level minor league arm a bit puzzling. Nonetheless, the additions of Smith and Rodriguez give Roenicke two arms to bolster his relief corps. Smith broke out in Kansas City last season, posting a strong 3.24 ERA with 11.6 K/9 and 1.9 BB/9 in 33 2/3 innings (he was even better as a reliever, as he yielded four runs in four innings in his lone start of 2013). Smith held opposing lefties to a .557 OPS, and even righties managed just a .684 OPS against him. He could also be deployed as a starting pitcher should the club see some injuries in the rotation. Or, the club could prefer to Smith him in his best role to date and turn to Tyler Thornburg or Mike Fiers should a starter go down.
Rodriguez, the club's only other Major League signing besides Garza, signed his third separate one-year deal with the Brewers this offseason and provides a nice fallback option should Jim Henderson falter as the club's closer. K-Rod was outstanding for the Brewers in 24 2/3 innings before being traded to Baltimore for Nick Delmonico last year. Milwaukee now gets to keep Delmonico and deploy Rodriguez from its bullpen once again.
Questions Remaining
The biggest need for Milwaukee may simply have been to make sure the starters are able to take the field. Aramis Ramirez missed much of 2013 with injury, Ryan Braun was suspended for the season's second half and Corey Hart never played a game at first base after undergoing a pair of knee surgeries.
The club now is faced with questions surrounding those players. Will Ramirez, who turns 36 in June, be able to stay healthy? How will Braun respond to the media attention that he will undoubtedly receive all season and the negative reactions in visiting parks (and potentially his own home park as well)?
Perhaps the biggest question facing Milwaukee, though, is its first base situation. The Brewers were very interested in a reunion with Hart, but they neglected to match Seattle's price. The Mariners guaranteed Hart $6MM with the chance to earn up to $13MM total after incentives. Milwaukee's best offer to Hart, reportedly, allowed him to max out at $8MM. The Brewers were also connected to James Loney, though they balked at his asking price as well, and Loney returned to the Rays on a three-year, $21MM deal. Another possibility would have been Ike Davis, but GM Doug Melvin was unwilling to part with right-hander Tyler Thornburg to make a trade happen.
In the end, Reynolds was signed with the promise that he was a virtual lock to make the club out of Spring Training. The 30-year-old possesses light-tower power but also strikes out at a prolific rate and found himself released by the Indians last year. Reynolds got off to one of the hottest starts in recent memory but fell into what could be the worst slump of his career prior to being let go. He could platoon with Overbay or Juan Francisco, but each member of that trio comes with more red flags and question marks than guarantees.
The Brewers will soon learn if Khris Davis can be their everyday left fielder, or if that will be something they need to address in future offseasons. Davis posted a whopping .279/.353/.596 batting line with 11 homers in just 153 plate appearances last season, indicating that he has the potential to hit 25 or maybe even 30-plus homers in the Major Leagues. However, he's also never been too highly regarded as a prospect and comes with some defensive limitations. Already 26 years old, this will be somewhat of a make-or-break year for Davis.
Lastly, Jean Segura is penciled in as the everyday shortstop, but he will need to prove that he's capable of producing over a full season. The one-time Rookie of the Year candidate finished with strong overall numbers but batted a mere .241/.268/.315 in the season's second half.
Deal Of Note
Brewers GM Doug Melvin had drawn plenty of ire from fans and media alike for his lack of activity on the free agent market prior to signing Garza in late January. Milwaukee was the only club not to have signed a Major League free agent at that point, but Melvin's patience paid off, as he was able to get Garza for roughly the same price that netted the Twins Ricky Nolasco more than two months earlier.
There was some uncertainty regarding Garza's status, as after initial reports that the agreement was reached, pending a physical, the Brewers issued a statement to say that no deal was in place. While teams often refuse to comment on signings that are reported prior to completion of the physical, it's highly uncommon for a club to actually deny the deal and say the two sides are still in discussion.
Eventually, the deal was announced with a unique and complex fifth-year option that 1) was likely the cause for the delay and 2) demonstrates just how wary teams were of Garza's health issues. The Brewers have a very cheap $5MM option on Garza for the 2018 season that drops to just $1MM if he is on the DL for 130 days during any of the previous four seasons. However, it can vest at $13MM if he pitches 110 games over the first four years of the deal, is not on the disabled list at the end of the 2017 season and throws at least 115 innings in 2017. With $1MM available in incentives each season, Garza can earn up to $67MM over five years. His $50MM guarantee marks the largest free-agent expenditure in team history.
Overview
Melvin continued a trend we've seen from his team in recent years by waiting out the market in order to secure a couple of solid values on late-signing free agents. Milwaukee's rotation should be improved and will be a strength for this team. Full seasons of Ramirez and Braun will go a long way toward improving the offense, but the production of Davis and Segura loom as uncertainties. If even one of those two performs at a high level, it may be enough to overshadow what seems likely to be a first-base deficiency. Milwaukee plays in an exceptionally difficult division, with three teams coming off a season of 90 or more wins. Despite that, there's enough talent on the team to contend for a Wild Card spot if everything breaks their way.
Photo courtesy of USA Today Sports Images.