The Twins spent more money on free agency this offseason than they ever have in the past, but they received a devastating blow by losing a top prospect for the season as well.
Major League Signings
Notable Minor League Signings
Extensions
Trades and Claims
Notable Losses
Needs Addressed
Manager Ron Gardenhire's job security has rarely been in question since he took over the team in the early 2000s, but that was the case — at least among media members — this offseason prior to his signing of a two-year extension. General manager Terry Ryan said there was never any real doubt in his mind that Gardenhire would be back, and while some can speculate that the veteran skipper's connection with players has diminished in recent years, it's impossible to pin the team's struggles on his head. Minnesota has experienced a lack of quality big league talent on the Major League roster for the past few years, and it's shown up with three straight seasons at or near the bottom of the AL Central.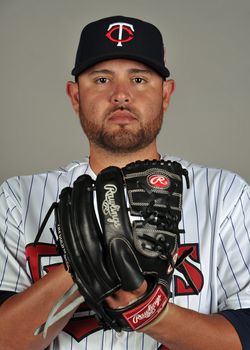 The primary weakness has been pitching, and Ryan and his staff set out to address that issue in a manner never before seen by Twins fans. Owner Jim Pohlad blasted the club's on-field performance in September, calling the product "embarrassing" and plainly stating that he had no problem issuing franchise-record contracts to pitchers in free agency.
While the names the Twins brought in — Ricky Nolasco (pictured), Phil Hughes and Mike Pelfrey — may not be the flashiest that were on the market, the trio should represent an improvement upon last year's group. While Pelfrey, of course, was a part of that woeful rotation, he's also two full years removed from Tommy John surgery.
However, though Pelfrey saw his average velocity increase over the course of the season, and stats such as FIP and xFIP show that he experienced some poor luck with his 5.19 ERA, I do have to wonder how great an upgrade he'd be over internal options. His addition could push Kyle Gibson to Triple-A in favor of one of Minnesota's three out-of-options starters — Vance Worley, Scott Diamond or Sam Deduno — making the decision to re-sign Pelfrey a questionable one. Could Gibson and Deduno or a healthy Worley have been just as effective as Pelfrey and whoever wins the fifth starter role? It's a definite possibility, but depth is something Minnesota has lacked, and the average annual value of Pelfrey's deal is hardly difficult to justify in terms of performance (Fangraphs' Dave Cameron noted that this offseason, one win on the free agent market is valued right around $6MM).
Minnesota lured in Hughes by gambling on his age with an unexpected three-year deal. Always one to post better numbers on the road, the Twins are hoping a move to a bigger ballpark (really, a division full of bigger ballparks) will aid his overall production. Hughes is still just 27 years of age, so while a $24MM guarantee was surprising based on his recent history, the $8MM annual value will look reasonable if he can provide league-average innings and look like a bargain if he can provide anything more. On the other hand, should his struggles continue, it will be easy to point to the deal as an unnecessary gamble.
Some depth was added via trade as well, as the Twins pulled in former first-rounder Gilmartin in exchange for one year of Doumit. Gilmartin battled injuries in 2013 and was largely ineffective as a result, but he was solid  in 2012. Even though some feel he was a reach in the 2011 first round, he could be a back-end starter at some point, which would be a nice return for one year of the defensively challeneged Doumit.
Ryan and his staff brought in a number of former Twins on minor league deals, but if things had gone their way, they could've had a fourth former Twin on a Major League deal that would have been their second-largest of the offseason. Mike Berardino of the St. Paul Pioneer Press reported last month that the Twins made Matt Garza a three-year, $42MM offer with a vesting $14MM option at one point this offseason. That $14MM annual value certainly trumps Garza's $12.5MM AAV with Milwaukee, but Garza elected for the fourth guaranteed year and a complex option that could result in him earning as much as $67MM.
The Twins also chased a pair of Santanas — former ace Johan Santana and former AL Central division rival Ervin Santana. Minnesota wasn't willing to top Baltimore's rich $3MM base salary on the minor league deal for Johan, and though they made a late three-year, $30-33MM offer to Ervin, his preference was for a one-year deal, which he got earlier this morning with the Braves. The Twins weren't keen on forfeiting a draft pick for a one-year upgrade in what isn't likely to be a contending season.
Joe Mauer's move to first base opened a need at catcher that assistant GM Rob Antony told Berardino last week they hoped would be filled by A.J. Pierzynski. He signed with the Red Sox, however, causing the Twins to turn their attention to the man he replaced — Jarrod Saltalamacchia. Salty ultimately signed with his hometown Marlins, whose interest put the Twins into an uphill battle for the 28-year-old's services.
The Twins once again moved on, and they were able to reel in their next target in veteran Kurt Suzuki. He should help to take some pressure off impressive prospect Josmil Pinto. The latter's glove has drawn question marks, but his robust production from Double-A to Triple-A to his September call-up in 2013 suggest he's not far from forcing his way into everyday at-bats.
Questions Remaining
The Twins missed on Garza and Santana but still added a trio of free-agent pitchers to help round out a rotation that finished dead last in the Majors with a 5.26 ERA last year. Nolasco, Hughes and a healthier Pelfrey should all be able to help lower that mark, but the rotation still looks to be below average. In 2013, the Cubs finished 15th in the Majors in rotation ERA with a 3.97 mark, and the league average among starting pitchers was a 4.01 ERA. Can Nolasco, Hughes, Pelfrey, Kevin Correia and one of the team's internal options top those numbers? If everything breaks right, perhaps, but even then it wouldn't be by much. Perhaps Alex Meyer, a consensus Top 40 prospect, can force the Twins to clear room for him by making a trade this summer. Pelfrey and Kevin Correia — a free agent at season's end — both strike me as possible trade candidates if pitching well.
The Twins infield is rife with question marks as well. Trevor Plouffe was thought to be a placeholder for top prospect Miguel Sano this season, but the Twins received crushing news in learning that Sano, the minor leagues' premier slugger, would miss the 2014 campaign to undergo Tommy John surgery. Now the defensively challenged Plouffe, whose power dramatically dropped from 2012 (.220 ISO) to 2013 (.138 ISO), will likely see the lion's share of playing time.
Pedro Florimon's strong glove will once again man shortstop, but he provides little to no offense. Stephen Drew seemed to make sense for the Twins on a multi-year deal, but perhaps they feel that Florimon can provide at least one to two wins per year with his glove, making Drew too expensive for the upgrade he would provide.
Brian Dozier's power, speed and defense from second base outweighed his so-so on-base skills in 2013; can he continue to improve in 2014? Even Mauer's future production is no guarantee, as ESPN's Jayson Stark wrote while examining the shockingly low number of players to transition away from catcher and enjoy lengthy careers at a new position.
Josh Willingham will need to prove his knee is healthy and could be moved with a big first half. The Twins are hopeful that two outfield spots will be manned by Aaron Hicks and Oswaldo Arcia in the long-term; however, both former Top 50 prospects (Hicks in particular) will need to show improvement from their 2013 production to cement themselves as regulars going forward. Of course, Byron Buxton, the crown jewel of Minnesota's minor league system and consensus No. 1 overall prospect, is expected to take the reins in center field eventually. That seems unlikely in 2014, as he's yet to even play a game at Double-A.
Deal of Note
Because Minnesota lacked the necessary resources to spend on free agents for much of the 90s and 2000s, Nolasco's deal represents a franchise-record investment, and in fact more than doubles the previous record (Josh Willingham's three-year, $21MM deal). In Nolasco, the Twins add a durable innings eater with some upside. Nolasco's ERA has historically underperformed his FIP and xFIP due to an inability to strand runners at a league-average rate. If the Twins can improve his performance with runners on base, he could give them some seasons with an ERA closer to his 2013 mark than his career mark.
However, the deal now looks questionable in light of the fact that both Garza and Ubaldo Jimenez signed four-year deals worth just $1MM more in guaranteed money. Conventional wisdom says that both Garza and Jimenez have considerably more upside (though they also come with risk) and could have made a bigger impact on a Twins rotation that is starved for quality innings.
While that's true, this offseason was also unique in the way the pitching market played out. Masahiro Tanaka's seemingly ceaseless saga put much of the pitching market on hold and likely played a part on Garza, Jimenez and Ervin Santana all being available in late February. The Twins made an effort to wait out the starting pitching market in 2012-13 and had to settle for modest deals for Correia and Pelfrey. Ryan at one point said that he couldn't give his money away if the targets weren't willing to take it.
As such, Minnesota likely felt a need to be more aggressive on the free agent market this year and paid market value early on for Nolasco, then made the aggressive decision to add Hughes as well. Had they known the market would have collapsed the way it did and that Ervin Santana would be available in mid-March, perhaps they'd have passed on one of the three pitchers they did sign in order to secure his services instead.
Overview
The Twins possesses the game's third-best farm system, according to Baseball America (though Sano's injury is a clear hit), and those minor leaguers are the key to the club's future. This offseason's additions will help to bridge gaps and stop the bleeding, but they're not likely to bring the Twins back to prominence in the American League Central division. The coming year will be critical for names like Arcia, Hicks, Pinto and Gibson as they look to prove that themselves capable of being regular Major Leaguers.
If that can happen, the Twins' 2015 outlook would be brighter. A rotation featuring Meyer, Nolasco, Gibson and Hughes would be an improvement (though not elite), as would an eventual outfield of Arcia, Buxton and Hicks with Mauer and Sano at the infield corners. That sounds promising on paper, but a lot has to go right for such a scenario to become reality. And while it gives Twins fans plenty to dream on for years to come, it does little to assuage the unpleasant likelihood that another difficult season is on the horizon in 2014.
Photo courtesy of USA Today Sports Images.