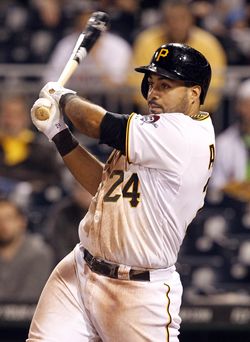 In May 2013, Pedro Alvarez's agent, Scott Boras, declared that he and his client would be "open" to the possibility of a long-term contract with the Pirates. Since then, and particularly since the Bucs inked Starling Marte to a long-term deal last month, the Pittsburgh media has chattered about the Pirates' chances of signing Alvarez.
That Boras was open to an Alvarez extension wasn't that surprising. Boras' antipathy to pre-free agent deals, or perhaps the impact of his antipathy to pre-free agent deals upon actual negotiations, is sometimes overstated — a number of Boras clients, including Carlos Gonzalez, Carlos Gomez, Carlos Pena, Elvis Andrus, Jered Weaver and Ryan Madson, have signed them. (Besides, Alvarez was hitting just .200/.257/.406 at the time of Boras' comments.)
Nonetheless, that Boras is Alvarez's agent is still an issue. Alvarez himself would probably have to be strongly in favor of a deal for Boras to sign off on it. The squabbles between Boras and the Pirates after the Bucs drafted Alvarez in 2008 might be anecdotal evidence that neither Boras nor Alvarez will cede much ground on an extension (although 2008 was also long enough ago that it might not matter). And Boras recently criticized "donut contracts" for pre-free agency players that feature options at the end. It probably would not be easy at all for the Pirates to work out a long-term deal for Alvarez.
Alvarez is set to make $4.25MM this year, his first year of arbitration eligibility, and to become eligible for free agency following the 2016 season. Pittsburgh Tribune-Review beat writer Travis Sawchik has frequently compared Alvarez's career to that of Chris Davis, and if Alvarez's age-27 season were to go as well as Davis' did, Alvarez would get enormous raises in his last two arbitration seasons — Davis, for example, got a raise from $3.3MM to $10.35MM after hitting 53 home runs last year. Still, a 50-homer season isn't likely for Alvarez, and arbitration salaries are broadly predictable, so let's guess that Alvarez will make about $22-25MM from 2014 through 2016 if the Pirates don't sign him long-term. (A $22MM-$25MM projection suggests he will still get fairly steep raises, given that power tends to be rewarded in arbitration.)
A long-term deal for Alvarez would likely start there. Where it would end up is another matter, and Freddie Freeman's enormous eight-year, $135MM contract with the Braves would be a very tough precedent for the Pirates to get around, given that both Freeman and Alvarez are both corner sluggers with between three and four years of service time. The Pirates might argue that Freeman is two-and-a-half years younger than Alvarez, and has a much better track record hitting for average. But even if we lop the last two years off Freeman's contract to address the age difference, we're left with six years and $91MM, which would be a lot for the Pirates to pay Alvarez, given that his next three seasons will be relatively cheap. Dropping that $91MM total somewhat to reflect Freeman's broader base of offensive skills would only help so much.
And even that might concede too much for Boras' taste. While Freeman is a better player than Alvarez, Boras might not see it that way, perhaps arguing that Alvarez's superior power ought to make him every bit as valuable to the Pirates as Freeman was for the Braves.
At this point, we're left with the question of just what a pre-free agency extension for Alvarez would be for. Alvarez is already 27, and the Pirates control him through his age-29 season. The only point in signing Alvarez long-term would be to control seasons beyond that, and Alvarez and Boras would surely want to be paid quite well to give up those seasons.
The problem is that it's not clear how valuable Alvarez will be in his thirties. His raw power is outstanding, on par with Davis', but only so much of Alvarez's raw power is usable, because of his struggles with strikeouts (he whiffed at least 180 times in both 2012 and 2013) and hitting for average. The track records of sluggers with serious strikeout issues are spotty — Mark Reynolds, for example, was productive while striking out prodigiously in his mid-twenties, but he hasn't had a truly strong offensive season since age 27. Ryan Howard's career and contract provide more cautionary tales. Alvarez's low averages (he's only hit above .244 once in his career) are already a concern. His plate appearances so far in 2014 have looked much better than in years past, so perhaps there's a faint possibility that Alvarez can master his strikeout issues. Unless he can prove himself over a longer time frame, however, it makes little sense to bet on that.
Then there are Alvarez's other skills. He's become an average third baseman and baserunner, but it's questionable whether he'll be able to maintain his current defensive and baserunning abilities as he heads into his thirties, given his bulky physique and lack of raw speed.
Given the likelihood that Alvarez won't age well, then, the Pirates' best course of action may simply be to enjoy the three years of him they have left. Signing a big, strikeout-prone slugger into his thirties doesn't make sense, even accounting for the slim possibility that he'll break out and become the next Chris Davis. Long-term contracts are calculated risks, and other things being equal, it's better to take the risk on a younger, more athletic player like Marte.
Photo courtesy of USA Today Sports Images.