The Phillies brought in more veterans to supplement an already-aging core, and it is fair to wonder if the club is chasing good money after bad.
Major League Signings
Carlos Ruiz, C. Three years, $26MM.
A.J. Burnett, RHP. One year, $16MM. Mutual/player option for 2015.
Marlon Byrd, OF. Two years, $16MM.
Roberto Hernandez, RHP. One year, $4.5MM.
Wil Nieves, C. One year, $1.125MM.
Total spend: $63.625MM
Notable Minor League Signings
Bobby Abreu (since released), Brian Bixler, Andres Blanco, Reid Brignac, Shawn Camp, Ronny Cedeno, Chad Gaudin (since released), Tony Gwynn, Jr., Cesar Jimenez, Jeff Manship, Lou Marson (since released), Sean O'Sullivan, Dave Sappelt, Clete Thomas
Before addressing its roster, the Phillies set about formalizing what had already been expected: namely, that Hall of Famer Ryne Sandberg would
take over
as the skipper after serving as interim manager for the tail end of 2013. Guaranteeing Sandberg three years, the club made a clear commitment to his efforts to increase the hustle of a veteran-laden ballclub.
In off-the-field matters, the organization wrapped up a substantial new
TV deal
that figures to provide it $2.5B (and more) in revenue over the next 25 years. As I
explained
 shortly thereafter, that deal should allow the club to maintain its place among the game's highest-revenue clubs, though it does not promise to advance the Phils beyond the other upper-echelon clubs.
Turning to the club's player assets, as I
wrote
back in October, Philadelphia GM Ruben Amaro Jr. faced a clear set of priorities, in the sense of roster areas where an MLB-ready player was needed. The club entered the offseason in the market for a corner outfielder, catcher, a couple of starters, and perhaps an arm for the bullpen.
Amaro tackled that list head on. He acted quickly to lock up a rejuvenated Byrd to play right field and to re-sign the longtime backstop Ruiz, plugging the two glaring holes in the everyday lineup. Having already decided to tender a contract to starter
Kyle Kendrick
, Amaro then rounded out the rotation by picking up a bounceback candidate in Hernandez and jumping on the opportunity to sign the aging-but-excellent Burnett. With several minor league signings to build out the team's bench options, the club wrapped up a straightforward offseason that — on its face — addressed most of the team's needs.
According to the 
thinking of Amaro
, the big question facing this ballclub is simply the health of key players like
Ryan Howard
,
Jimmy Rollins
, and
Chase Utley
.
 "If the club we believe is going to break camp is able to stay on the field, we're a contending team,"
 Amaro said.
 "My job is for us to try to be a contending team every year. Our payroll should allow us to do that. We had a couple of crappy years because we couldn't get guys on the field and couldn't get the performances we're accustomed to. Doc Halladay not being healthy crushed us. It's not his fault. It's just part of the game. When it happens to guys you are counting on with huge contracts, you can't just buy your way out with mediocre players."
But is that really the case? Those three have been relatively healthy over the spring, with each getting at least 46 plate appearances in Grapefruit League action. Other expensive, older players like Ruiz, Byrd,
Cliff Lee
, and
Jonathan Papelbon
have not suffered any injury issues, while costly setup man
Mike Adams
seems to be progressing well in his return from injury.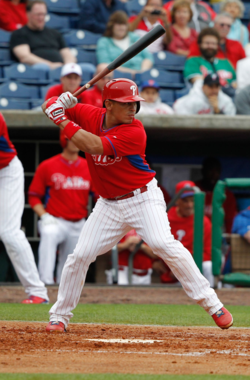 Nevertheless, questions persist. It remains difficult to see where the team will make up the production deficit that left it only about halfway to the WAR total posted by the lowest-level playoff teams in 2013.
To some extent, the continued uncertainty is due to bad luck, with injuries striking at the portion of the roster that was not considered most susceptible. One of the team's few seemingly sure things, co-ace
Cole Hamels
, has struggled to get off the ground in the spring. The so-far disappointing Cuban signee
Miguel Alfredo Gonzalez
, along with important younger arms like
Jonathan Pettibone
and
Ethan Martin
, have suffered shoulder problems as well. Various ailments have cropped up amongst some younger bench options like
Darin Ruf
and
Freddy Galvis
.
Of course, some share of the blame here must also go to the organization's general lack of depth. While the bullpen looks to be in decent shape, the paper-thin starting depth has left the club looking to O'Sullivan, Manship, and 
David Buchanan
as possible rotation candidates. The bullpen includes out-of-nowhere youngster
Mario Hollands
. And the team was looking at filling out its bench with names like Abreu (the 40-year-old version) and Brignac (lifetime .221/.262/.311 hitter) before settling on Gwynn and dealing for Nix for the final slots.
Even if the once-great core of Howard, Rollins, Utley, and Ruiz finds the fountain of youth, and even if Byrd and Burnett can somehow maintain their own late-career surges at 37 and 36 years of age, respectively, it still is not clear that this team has the pieces to be a contender. Even the more promising, younger big leaguers have unanswered questions, ranging from
Domonic Brown
's defense to
Ben Revere
's ability to get on base.
The real question entering the offseason was never just about the health of guys who once led Philly to a World Series. And it was never about what positions on the field needed additions, which was obvious enough. Instead, the offseason posed the question of how those open slots would be filled.
As I wrote at the outset, the organization appeared to face a tough choice between aggressively buying or aggressively selling. Choosing once again to supplement its veteran core without changing the team's trajectory, I suggested, carried a significant risk of fielding an expensive, injury-prone, low-ceiling ballclub.
The decisions that were ultimately made — adding mostly mid-level free agents in their mid-to-late thirties on relatively short-term deals — carry precisely the risk that I noted. The club is carrying a record payroll. It is already riddled with injuries (and, more importantly, largely lacks the upper-level minor league talent to cover for those injuries), all before those players most susceptible have entered the grind of the season.  And projection systems and scouts alike have been down on the Phillies all spring.
One could say that the biggest question for the Phillies in 2014 is whether they can somehow find the fountain of youth that seems necessary to get prime-level production from their many post-prime (albeit still-talented) players. But it may be that the true question facing Philadelphia is simply when it will begin to sell off pieces. 
Amaro seems to appreciate that the time may come for a teardown — he 
said recently
 that, if the team does not win, he will need to 
"figur[e] out what's the transition move."
 But it is eminently arguable both that the team should already have some plan in place, and that the point for action has already been reached. (When asked if he ha a "disaster plan" in place, Amaro said his 
"thought process is to stay positive," 
while acknowledging that, 
"we also can't be so blinded to the fact that if this doesn't work out we're going to have to make some tough decisions."
)
To be fair, the Phillies are already said to have tried and failed to move Papelbon and Rollins. The latter has once again become the subject of some trade speculation after apparently landing in Sandberg's just-constructed doghouse. And the trades of
Hunter Pence
and
Shane Victorino
show that Amaro is willing to deal away veteran talent. (Of course, those may or may not have been the right pieces to move. In the above-cited piece, Amaro said he would
"probably not" 
handle things differently in retrospect and explained that he believes 
"they were more solid complementary players than superstars."
)
But as things stand, several of the team's contracts seem completely immovable, others would require Philly to eat significant chunks of the future outlay, and virtually all are complicated by the generous no-trade protection that the team included. If Amaro finally comes around to what many observers have suggested — looking to offload some of the club's worst contracts for whatever prospects and/or salary relief he can find — it may be difficult for him to find much value at all in return.
It is difficult to choose a single deal to highlight, because essentially all of the Phillies' offseason moves seem predicated on roughly the same idea of adding support pieces to an existing core. But the Ruiz deal comes with the most risk (and, in some ways, the most upside). A brief scroll through MLBTR's list of
catcher contracts of three or more years
reveals that none of those players were anywhere near Ruiz's age (35) when they inked their deals. And Ruiz is coming off of a clear down year, with concerns ranging from health to performance.
But the real issue is not how this deal will look if it does not pan out, but how it will look even if it does. Will the 2016 Phillies have a need for a 37-year-old Ruiz? 
The Ruiz contract marries Amaro's commitment to the players most closely tied to the Phils' former glory and his recent tact of spending large but not monumental sums of money on aging complementary pieces.
Last year
, of course, Adams and
Michael Young
were the two key additions, along with the younger Revere, with Lannan,
Delmon Young
, and
Chad Durbin
all getting guaranteed deals as well. While Byrd and, especially, Burnett are much more significant upgrades, the rest of the roster is all a year older now.
It remains to be seen whether the club can make one or two more runs at glory, but it seems a near certainty that the longer it waits to reload — instead spending cash and adding players to try to field a winner — the more painful that process will be.
It is hard to argue with Amaro's core thesis: "My job is for us to try to be a contending team every year. Our payroll should allow us to do that." Whatever else one may say about the embattled GM, he (and, perhaps more importantly, team ownership) have shown every willingness to plunk down serious coin to deliver a winner. One result, of course, was a great run of division titles and a championship.
But the World Series win came in 2008, and the last division title was had in 2011. The NL East belongs now to the Nationals and Braves, with the Marlins and Mets both showing signs of future health. Philadelphia is caught in the middle, and seems to have ground to make up after only 
recently delving
 into modern analytics.
Fortunes can change quickly, of course, and the Phillies have the financial clout to effect a quick turnaround. But what model are they following? Last year's Red Sox had already taken a heavy dose of pain in dealing away their big contracts. This year's Yankees spent an immense amount of money in an effort to buy their way out of their own declining roster logjam, locking up nine players at an average annual value of $16.24MM. Philadelphia signed five players for eight total years at an AAV of just $7.95MM, with the average age of those player-seasons falling just shy of 36.
Until the Phils choose a strategy that offers a clear path forward, the organization faces the risk of a continued slide not only in the standings but also in the
attendance rankings
. The difficulty, of course, comes in deciding upon that strategy. The Cubs' recent experience shows that a full rebuild can be quite painful, even for a team with resources.
So, what
should
the Phillies have done this past offseasion and what 
is
the path forward? I won't claim to know the answers to either question. It could be that there is little value to be had in shipping out the team's most undesirable contracts and that the team's recent commitments won't hamstring future spending. But I can't help but feel that a more decisive direction would have better served the club. Trading Lee, Utley, and/or Rollins while foregoing Byrd, Ruiz, and/or Burnett might have brought back some young talent and built up the organizational war chest to be an opportunistic buyer of high-priced, somewhat younger players. Alternatively, adding a longer-term, impactful free agent or two (players like
Brian McCann
,
Shin-Soo Choo
, and
Matt Garza
would have been fits) might have made the team a likelier contender in the near-term. Either way, the club would be headed somewhere; as presently constituted, it seems stuck in neutral while carrying the league's
third-highest payroll
.
Photo courtesy of USA Today Sports Images.