After a very quiet offseason, the Blue Jays will rely on internal replacements and hope for better health in order to get back on track in 2014.
Major League Signings
Notable Minor League Signings
Trades And Claims
Notable Losses
Needs Addressed
After star prospect Travis d'Arnaud was traded to the Mets as part of the R.A. Dickey trade, it seemed like J.P. Arencibia had a clear path as the Blue Jays' regular catcher for years to come.  Instead, Arencibia wasn't even tendered a contract following a disastrous 2013 campaign that saw him hit only .194/.227/.365 with 148 strikeouts over 497 PA, not to mention below-average defensive statistics.
To fill the hole behind the plate, the Jays made Dioner Navarro their only notable free agent acquistion of the offseason, signing the veteran to a two-year, $8MM contract.  Navarro's last starting role came with the Rays from 2007-09, and he served as a backup from 2010-12 with the Rays, Dodgers and Reds before enjoying a solid season with the Cubs in a platoon with Welington Castillo last year.  The switch-hitting Navarro hit .300/.365/.492 with about three-quarters of his 266 plate appearances coming against right-handed pitching, even though he performed much better against southpaws (and over his career, has a .778 OPS against lefties and just a .650 OPS against righties).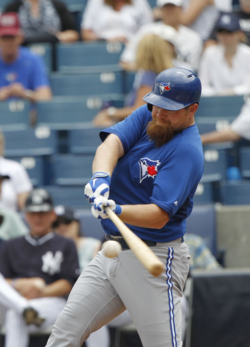 Navarro will get the bulk of playing time against both types of opposing pitchers as backup Josh Thole will largely be limited to games when Dickey is on the mound.  Thole's experience with the knuckleball helped him keep the backup job over new acquisition Erik Kratz, despite Kratz swinging a red-hot bat during Spring Training.  No matter how the catching situation ends up shaking out, it almost can't help being an area of improvement given that Toronto catchers combined for -1.2 fWAR last season.
As expected, the Blue Jays exercised their team options on Adam Lind ($7MM) and Casey Janssen ($4MM), bringing the club's primary DH and closer back for another season.  The Jays also picked up Mark DeRosa's $750K option, but the veteran instead decided to retire.  Toronto fan favorite Munenori Kawasaki was also re-signed on a minor league deal and he'll begin 2014 at Triple-A Buffalo.
Questions Remaining
Last September, Blue Jays GM Alex Anthopoulos cited his team's starting rotation as "the most glaring hole on this team and that's the most glaring area we need to address."  With Opening Day upon us, the Jays begin the 2014 season having added not a single notable starting pitching option to the roster.  The most notable arm Toronto signed this winter ended up being Roy Halladay, who inked a one-day ceremonial contract so he could officially retire as a Blue Jay.
Anthopoulos ultimately didn't find any rotation help despite exploring several avenues for pitching upgrades.  He almost finalized a trade with the Athletics that would've seen reliever Sergio Santos go to Oakland in exchange for left-hander Brett Anderson, but there was enough uncertainty over the oft-injured Anderson's health that the Jays eventually backed away (the A's later dealt Anderson to the Rockies).  The Jays explored trading for Cubs right-hander Jeff Samardzija, though the Cubs' demands for both Marcus Stroman and Aaron Sanchez ended negotiations.  There were talks between the Jays and Masahiro Tanaka's representatives, yet Toronto didn't submit a $20MM bid to officially negotiate with the Japanese ace.
Toronto holds both a protected top-10 draft pick (ninth overall) and a bonus selection (at 11th overall) for failing to sign top choice Phil Bickford last summer.  Owning a pair of top-11 picks could've made the club more open to giving up their second-rounder to sign a free agent starter with draft compensation attached, yet this perceived advantage in the free agent pitching market never materialized for the Jays.  They targeted available pitchers with draft compensation attached (Ervin Santana, Ubaldo Jimenez) or without (A.J. Burnett, Bronson Arroyo), but didn't make any deals.
As Anthopoulos explained to the media prior to Spring Training, the Jays simply weren't willing to pay a big price (either money-wise or player-wise in trades) since the club already felt it had quality rotation options in the organization:
"We wanted to add to the rotation, to add depth. But again, where some of the price points were, whether it was years or dollars or some of the acquisition costs in trades, I wouldn't have felt good standing in a scrum and saying 'We didn't believe in the acquisition cost, we just did it but we don't feel good about it.' You need to feel good about those moves."
"A guy like Drew [Hutchison] is not proven or established but you're ultimately weighing how much better will these other guys be? Certainly they're more established. But then you start talking about that many more years and that many more dollars. Does it make sense to do that? If we didn't have guys we felt were talented and could contend for those (rotation) spots and could end up putting together good seasons for us, we might have said we're going to go well beyond where we want to go (on free agents) because we have to."
Hutchison posted a 4.60 ERA (4.03 xFIP, 4.09 SIERA) with a 2.45 K/BB rate and a 7.5 K/9 in his 2012 rookie season before undergoing Tommy John surgery in August of that year.  He returned to pitch in 10 minor league games last season and, after an impressive Spring Training, earned himself a spot in Toronto's rotation.  J.A. Happ had been penciled into a rotation spot but suffered through a rough spring and is now on the DL, leaving long-time Blue Jay Dustin McGowan as the current fifth starter.
Given McGowan's lengthy injury history and Hutchison's short track record, this wasn't the rotation overhaul that the Toronto fanbase was hoping for back in October.  Anthopoulos' strategy seemed to be using the qualifying offer system to his advantage, waiting until the asking prices for pitchers like Jimenez and Santana had been drastically reduced, and then sign one (or even both) at a team-friendly cost.
The strategy seemingly almost worked in Santana's case.  The veteran righty had reportedly agreed to a contract with Toronto, but, before he took his physical with the Jays and officially signed his deal, the Braves made a late offer and Santana instead signed a one-year, $14.1MM contract to go to Atlanta.  (Anthopoulos hinted that this was the timeline of events in a recent interview with the Toronto Star.)  This scenario outlines the risk that Anthopoulos took in playing the waiting game, as the Braves weren't even in the market for pitching until Brandon Beachy and Kris Medlen both underwent season-ending Tommy John surgeries.
Beyond pitching, the Jays did nothing to address their hole at second base.  The team explored a big splash at the position in Ian Kinsler, though talks with the Rangers never turned into anything serious, especially since Texas asked for Edwin Encarnacion.  (As it happened, the Rangers indeed landed their desired slugging first baseman for Kinsler when they swapped him to the Tigers for Prince Fielder.)
With no notable new faces, the Jays look to be going with the unheralded Ryan Goins as the primary second baseman, with Maicer Izturis getting the bulk of starts against left-handed pitching.  Goins projects as a below-average hitter (a .679 OPS in 418 Triple-A plate appearances, and a .609 OPS in 121 PA with the Jays last season) but will provide value with his glove if he displays the same excellent defense he showed in 2013.  Izturis, meanwhile, is looking to rebound from a dreadful -0.9 rWAR season.  The second base situation looks to be below-average at best, and perhaps the weakest position on any contending team at worst.
For a team coming off two injury-plagued seasons in a row, the Jays have very little depth.  Valuable backup outfielder and stolen base threat Rajai Davis departed for a two-year contract with the Tigers, and the Jays' four current bench players are either coming off terrible seasons (Izturis, Thole) or are unproven commodities (Kratz, Moises Sierra).  This is an under-the-radar deficiency that leaves the Jays particularly reliant on good health, especially considering that their four AL East rivals are regularly able to find production from bench players and minor league signings.
It was also a quiet winter for the Blue Jays on the extension front.  Colby Rasmus is the team's most prominent extension candidate as he enters his last year under contract, yet Anthopoulos said the team is comfortable waiting until later in the season to decide about offering the center fielder a new deal.  Rasmus was reportedly on the trade market for pitching this offseason, so it seems like the Jays aren't totally sold on him as a long-term piece (or they don't think he'll re-sign).
Deal Of Note
Casey Janssen doesn't have the eye-popping fastball or strikeout numbers that usually mark a top closer, yet he has excelled in the role since taking over as closer during the 2012 season.  Janssen has quietly been one of baseball's best relievers over the last three seasons, posting a 2.46 ERA, 8.9 K/9 and 4.47 K/BB in 172 IP between 2011-13, and notching 56 saves in 2012-13.  With this track record, picking up a $4MM team option on Janssen's services for 2014 was a no-brainer for the Blue Jays. 
The righty's name didn't surface in any trade rumors this winter, as while a number of teams were looking for ninth-inning help, the closer market was rich with several experienced free agent names.  This isn't to say that Toronto would've wanted to trade Janssen anyway — it was Santos, after all, who was almost dealt twice (once for Anderson, and once as part of a three-team deal involving the Rangers).  The Jays' deep bullpen has a few potential closing options waiting in the wings, so if the team falls out of the race by midseason, Janssen could be a name to watch at the trade deadline.  Santos will get an early shot at saves since Janssen will begin the season on the DL with a back strain.
Overview
In a way, Anthopoulos took a lesser risk in swinging those major trades with the Marlins and Mets in the 2012-13 offseason than he did in making virtually no moves this past winter.  Nobody expected the Jays to generate as many headlines this offseason as they did with last year's blockbusters, yet it was a surprise to see the club do so little to address what are still major question marks at second base and in the rotation.
Anthopoulos denied speculation from the media (and agent Scott Boras) that Rogers Communications, the team's ownership group, was limiting payroll.  While nobody expected the Jays to have another $35.5MM payroll boost, only the Pirates spent less on free agents than the Jays did this winter.  Since Toronto also didn't add any big salaries in trades or via contract extensions, the team was significantly outpaced by all four of its division rivals in terms of winter spending, even the small-market Rays.
Rather than a lack of funds, it would seem that Anthopoulos simply couldn't connect on most of the moves he wanted to make this offseason.   Will the lack of transactions keep the team in the AL East basement?  As I wrote in my Toronto offseason outlook last October, "the Jays believe they already have the nucleus of a winning team….the Blue Jays may not be as far away from contention as they seem if they get some good health luck," so just getting the first-choice lineup on the field might be the biggest key to the season.
That, of course, is easier said that done.  The Jays had the second-most DL stints of every team in baseball last year, and the fourth-most player days lost to the disabled list altogether.  They have a veteran team with an overall checkered injury history, and the team plays its home games on an artificial surface.  While it's likely Toronto will cut down on injuries just by avoiding flukes (i.e. Melky Cabrera's spinal tumor), the lack of roster depth means that the Jays' season could essentially be ruined by one major injury.
The Blue Jays certainly aren't perceived to be World Series contenders as they were a year ago (though many of the same faces are returning), yet on paper they're also better than their 74-88 record from last season.  Even an average performance from the rotation will get the Jays back over the .500 mark, but challenging for a playoff spot in a stacked division will be a taller order.
Photo courtesy of Kim Klement/USA Today Sports Images