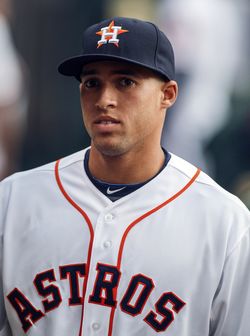 When the Astros promoted top prospect George Springer earlier this week, it ended a mini-drama that cut to the heart of Major League Baseball's rules concerning Super Two status and free-agency eligibility. MLB, of course, allows players to become free agents after six full years of service. By waiting two weeks after the start of the season to promote Springer, the Astros ensured that they could control his rights through 2020. But by promoting him before June, they also gave him the chance to become a Super Two player. That meant he could be eligible for arbitration following the 2016 season, and go to arbitration four times instead of three, potentially making several million more dollars than he would have made had the Astros waited just two more months to promote him.
The circumstances surrounding Springer's promotion are complex. The Astros offered Springer a seven-year, $23MM deal last September, a deal that would have allowed the Astros to have Springer break camp with the team this spring without concern about Super Two status or the timing of his free-agency eligibility. Springer turned the contract down, and the Astros decided to send him to Triple-A Oklahoma City to start the season, reportedly leading the MLBPA and Springer's agent, Greg Genske, to consider the possibility of a grievance against the Astros.
It isn't clear, of course, whether Springer's service time was the primary consideration in the Astros' decision to send Springer to the minors, or even whether it was a consideration, period. Springer began the season with only 266 (admittedly brilliant) career plate appearances in Triple-A, so it wouldn't have been outlandish for an organization to make the somewhat conservative decision to have him get more seasoning at that level before promoting him.
But many fans and commentators couldn't help wondering about how Springer's status had been affected by MLB's rules. "If Springer was good enough to be offered $23 million, why isn't he good enough to crack the 25-man roster of a team that has finished with the worst record in the majors in each of the past three seasons?" wrote FOX Sports' Ken Rosenthal. "Some on the players' side have long felt that clubs act in bad faith when they keep major-league-ready players in the minors for financial reasons."
The timing of Springer's promotion in mid-April thus feels like a compromise. By keeping Springer in the minors for two more weeks, the Astros received an extra year of control, preventing Springer from becoming eligible for free agency after the 2019 season. But they will likely pay Springer more through 2020 than they would have if they had waited a bit longer. Of course, the Astros were within their rights not to compromise — they could have just kept Springer in the minors until June. And again, there may have been developmental considerations at work, too.
The service-time issue is hard to ignore, however, as the Houston Chronicle's Evan Drellich explains in a good piece about why not everyone agrees with the Astros' timing. Drellich quotes analyst and former MLB pitcher C.J. Nitkowski (via Twitter): "It's about the culture & the message you're sending to players/fan[s]: We don't promote on merit, winning is secondary to FA status [seven years] away."
It also appears that the Astros' decision may have been at least somewhat spontaneous. As Drellich points out, the Astros had Springer travel to Colorado Springs for one game with Oklahoma City, only to then join the big-league team in Houston. A planned promotion might well have had Springer play his first big-league game on the road, in order to limit the pressure on Springer. Maybe, Drellich suggests, the Astros intended to wait until June to him, thus avoiding Super Two status, but the Astros offense's awful performance to that point made them change their minds.
From the perspectives of Springer and the Astros, the precise timing of Springer's promotion may not matter much in the long run. If Springer is upset right now (and aside from the talk of a grievance, there's no indication that he is), the Astros will have almost seven years to make it up to him. Regardless, there are likely to be episodes similar to Springer's until or unless MLB and the MLBPA address the service-time issue — and even if they do, it's hard to imagine what solution they might come up with that would allow teams to promote players as soon as they deem them ready, without fear of paying them piles of extra money or worrying about them leaving a year early.
Photo courtesy of USA Today Sports Images.