The Twins have officially acquired lefty Tommy Milone from the A's in exchange for outfielder Sam Fuld, the teams have announced.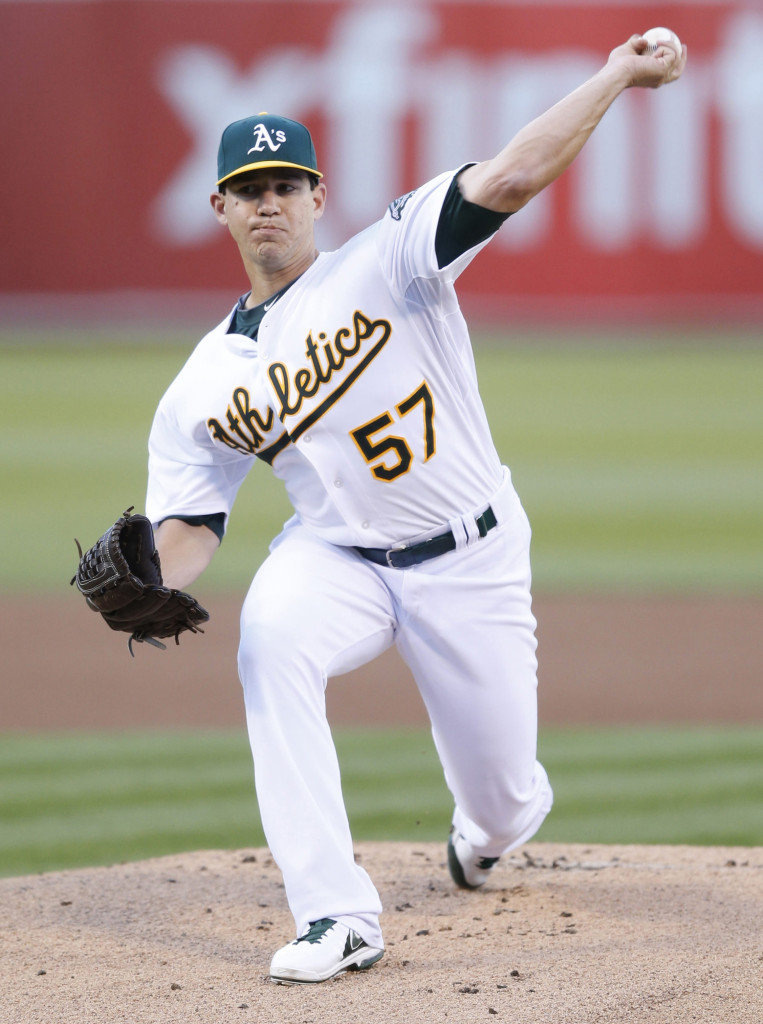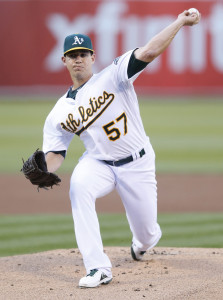 Milone (pictured) lost his rotation spot with the Athletics earlier this month when the team acquired Jeff Samardzija and Jason Hammel, and any hope of him regaining that spot likely faded with Oakland's morning acquisition of Jon Lester. The 27-year-old Milone had asked to be traded somewhere that he had a chance to start, and Minnesota certainly fits that bill. Specifically, the spacious Target Field seems a good fit for Milone's fly-ball arsenal.
Milone had pitched to a solid 3.55 ERA with 5.7 K/9, 2.4 BB/9 and a 38.4 percent fly-ball rate in 96 1/3 innings this season. He owns a 3.84 ERA with 6.5 K/9, 2.0 BB/9 and 36.8 percent ground-ball rate in 468 2/3 innings for the Nationals and Athletics. He is eligible for arbitration for the first time this offseason and can be controlled through the 2017 campaign. For the time being, Milone will report to Triple-A Rochester, per the Twins. However, 1500 ESPN's Darren Wolfson tweets that it may be a procedural move more than anything. Milone just pitched Tuesday and is expected to be with the Twins soon, Wolfson hears.
Milone will add to a growing crop of Major League ready arms for the Twins, who have Alex Meyer and Trevor May knocking on the door at Rochester. Though several current members of the Major League staff have underperformed, including Kevin Correia, Ricky Nolasco and Mike Pelfrey (the latter two are currently on the DL), Minnesota could have a wildly different rotation in 2015.
Interestingly, the Twins claimed Fuld off waivers from Oakland earlier this year when he was designated for assignment. Presumably, he can form some form of platoon with the newly acquired Jonny Gomes in order to fill in for the now-departed Yoenis Cespedes.
The 32-year-old Fuld has been excellent for the Twins in 2014, slashing .274/.370/.354 with a homer, a dozen steals (in 15 attempts) and standout defense in both left and center field. In addition to platooning with Gomes, he can serve as a center field option for the A's with Craig Gentry on the disabled list and Coco Crisp currently ailing. Fuld is a career .240/.323/.337 hitter and can be controlled via arbitration through the 2016 campaign.
Ken Rosenthal of FOX Sports first reported that Milone was headed to Minnesota (Twitter link), and ESPN's Jerry Crasnick reported that Fuld was going back to Oakland (on Twitter).
Photo courtesy of USA Today Sports Images.