The Indians have been active in locking up top young players where possible, with Jason Kipnis, Michael Brantley, and Yan Gomes all receiving lengthy guarantees this spring in exchange for cost savings to the club. But the organization has been much stingier with promising dollars to pitchers. Most recently, the team declined to act on the seemingly reasonable demands of Justin Masterson over the past offseason (before ultimately dealing him away this summer). According to MLBTR's Extension Tracker, the last time Cleveland promised future money to a big league hurler, Roberto Hernandez was still known as Fausto Carmona. Indeed, he was the last arm to receive an extension from the Indians, way back in April of 2008.
That track record suggests that, as aggressive as the Indians have been in making investments in position players, the club has been wary of doing so with inherently injury-prone pitchers. But whatever risk the team builds into its internal models, at some point it makes sense to pursue a deal. That is especially true when unique bargaining leverage might be had, as the player might be more inclined to take a relatively modest guarantee rather than rolling the dice on his own health.
The reason for that lengthy introduction? The team's current ace, Corey Kluber. Where does the righty stand on the year? 2.46 ERA over 171 2/3 innings. 9.8 K/9 against 1.9 BB/9, 49.7% groundball rate. 2.43 FIP, 2.69 xFIP, 2.70 SIERA. 5.2 fWAR, 5.2 rWAR. 28 years old. Expected service time at end of 2014 season: 2.074, good for a first run at arbitration in 2016.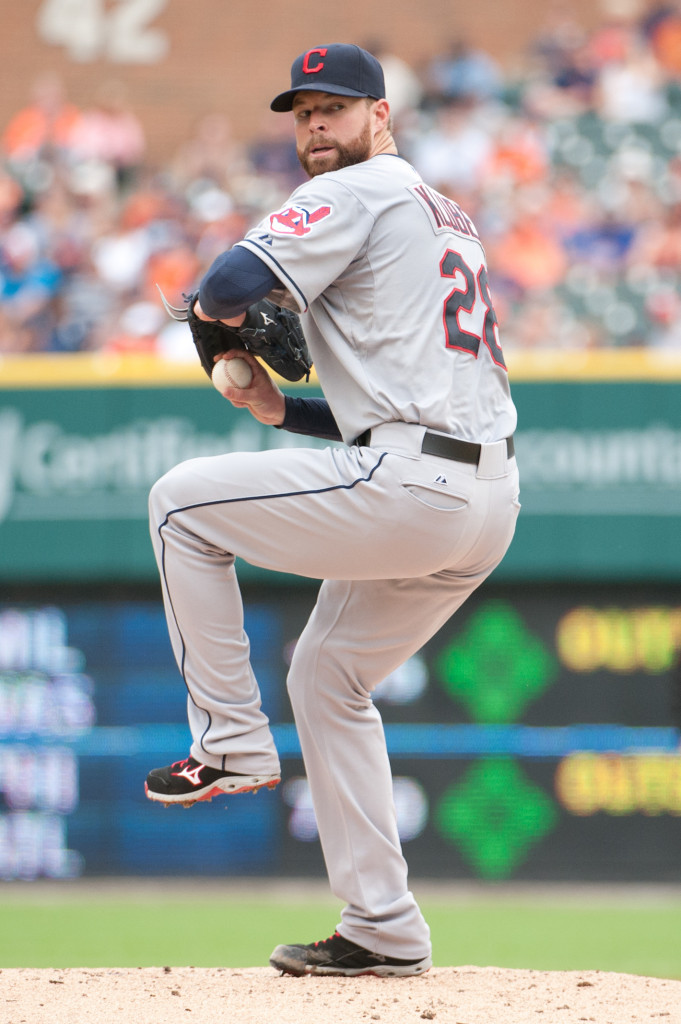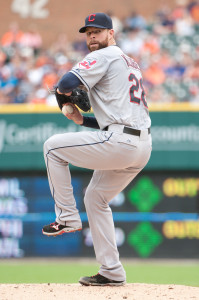 Put simply, these are the kinds of circumstances where an extension could make sense for both sides. Cleveland will no doubt be content letting Kluber go out and prove his worth year-to-year, comforted by the fact that he is controlled through his age-32 season. But arbitration can get expensive, and cost limits (as well as cost certainty) might be attractive. The club's future commitments drop off after 2016, when the Nick Swisher and Michael Bourn deals are up, leaving plenty of space to add some guaranteed dollars. (As things stand, Cleveland has promised just $18.742MM of salary for 2017.)
Meanwhile, for Kluber, a substantial future guarantee would seem to represent a major attraction. As good as he's been, he had thrown just over 200 MLB innings coming into the season. His strikeout and walk rates are each better now than they ever were over a full minor league season. As a fourth-rounder back in 2007, he was not a bonus baby. And he is still more than a full season away from being paid a fraction of his actual value through arbitration — let alone reaching the open market. And even then, his advanced age would be a major factor. (I looked at the situation of James Shields a few months back, concluding that he would struggle to reach five years at a $20MM AAV in free agency when he hits the market in advance of his age-33 season.) In many respects, Kluber's situation is not unlike that of the late-blooming Josh Donaldson, with the major difference that Kluber's earning capacity depends upon the health of a right arm that is subject to immense strain on a daily basis.
What kind of deal might make sense for team and player? It is difficult to find a direct comparable, given Kluber's rather unique, suddenly-emergent excellence. Kluber's value is undeniable: he landed at 42nd on Dave Cameron's list of the game's most valuable players. But even apart from his poor bargaining position, his age is a major limiting factor on his ability to command big dollars well into the future.
The most recent extension for a 2+ service time starting pitcher was given to Chris Sale of the White Sox before the 2013 season. Sale received a five-year, $32.5MM deal with two option years — the latest example of an oft-copied extension model. (Somewhat notably, Kluber is represented by Jet Sports Management, according to Baseball-Reference, the agency that negotiated Sale's contract as well as the recent Charlie Morton extension.) More recently, Julio Teheran was able to command $32.4MM over six years from the Braves, while giving up one option year, despite being a year behind on service time.
Those deals guaranteed at least one free agent year, and Cleveland may not be interested in promising any cash for Kluber's age-33 season. Might the Indians look to promise four years while obtaining two or even three options at a similar guarantee to those contracts? Could the team look to shave something off of the dollars in those packages, possibly in return for reduced future control? Presumably, the key motivation for the team would not be to extend control, but rather to achieve significant cost savings. There are plenty of possibilities, and creative strategies abound to create a fit.
As usual, a motivated club would be the key to striking a deal. Cleveland is in an enviable position with respect to Kluber, who is producing like an in-prime ace (with the peripherals to match) but doing so for a pittance. That situation also brings the temptation of reaching an even better bargain. And surely Kluber's camp would have to listen hard to any possibilities of signing up for a life-setting payday that might otherwise require plenty more hard work and good luck to achieve. Needless to say, it would be an intriguing storyline to track if either side looks to kick-start offseason negotiations.