Alex Rios' up-and-down career trend continued in 2014, with an ill-timed replacement-level performance.  The Rangers declined the outfielder's club option, putting the 11-year veteran on the free agent market for the first time in his career.
Strengths/Pros
Rios has had a productive career.  A first-round pick of the Blue Jays out of Puerto Rico in 1999, Rios finished fifth in the AL Rookie of the Year voting in '04.  A few seasons later he nabbed back-to-back All-Star appearances, and went on to post seasons worth three or more wins above replacement in 2010, '12, and '13.  When he's at his best, Rios has shown 20 home run power as a right-handed hitter and the ability to hit .280 or better.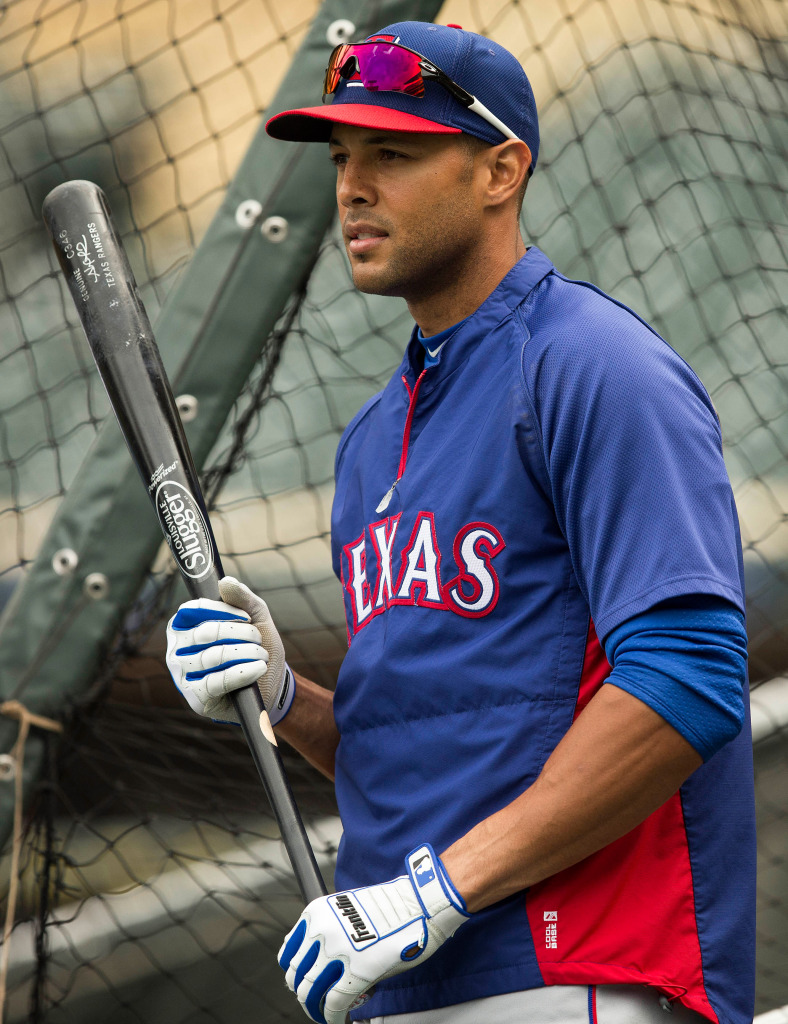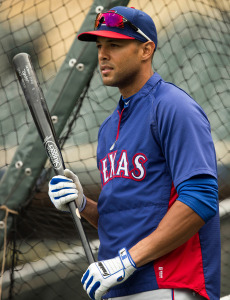 There were positives in his 2014 season.  Rios hit .304/.335/.430 through July, which was a little better than his successful 2013 campaign.  For all of 2014 Rios hit .325/.353/.545 against southpaws.  Over the 2012-14 seasons, Rios' .530 slugging percentage against lefties ranks 22nd in baseball.
Rios is also an asset on the basepaths.  He's posted a positive baserunning runs above average figure in every season of his career, and ranks 18th in baseball from 2012-14 with 13.9 BsR.  He's shown the ability to steal bases at a high success rate as recently as 2013, when he swiped 42 bags in 49 tries.
Though he missed most of the final month of the 2014 season, Rios has a track record of durability.  From 2007-13, Rios averaged 153 games per season, never dropping below 145.  This is a clear advantage over a few other corner outfield types he'll be competing with in free agency, Mike Morse and Michael Cuddyer.  Rios didn't technically go on the disabled list this year; he hasn't done so since 2006.
Weaknesses/Cons
Rios' season was seemingly spoiled by a pair of injuries.  He twisted his ankle on July 19th, and believes he developed a thumb injury as a result of compensating for the ankle.  With the bruised thumb at risk for infection, he was officially shut down on September 21st.  Explained agent Paul Kinzer to Gerry Fraley of the Dallas Morning News, "His numbers were down because of the injuries. He stayed in the lineup and tried to do all he could because of what was happening with the team."
There are concerns independent of Rios' 2014 injuries.  Just looking at the period prior to his ankle injury, Rios hit only three home runs in 297 plate appearances.  With 15 doubles and eight triples in that time he still managed to slug .462, but it's fair to wonder if he's more of a 10-15 home run guy moving forward.
There's also the issue of Rios' defense.  He was below average in UZR/150 this year, and has been below average in defensive runs saved in each of the last two campaigns.  A right fielder by trade, Rios' ceiling might now be slightly above-average in the outfield, as opposed to the defensive weapon he once was.
Rios' terrible performance in August this year still counts, and the result was a season with negative offensive value.  Throw in unimpressive defense and it was a replacement level campaign.  It's not the first time — Rios was worth less than one win above replacement in each of the '05, '09, and '11 seasons as well.  Rios' batting average on balls in play seems to lack stability, with low marks in '09 and '11.
Rios is not much for the free pass, drawing walks at a 5.9% clip in his career and 4.4% this year.  Among those with at least 500 plate appearances this year, only ten players drew walks at a lower rate than Rios.
Personal
Rios was born in Coffee, Alabama but grew up and resides with his wife and two children in Guaynabo, Puerto Rico.  What were Rios' parents doing in Coffee, Alabama, anyway?  "They must have been passing through," the outfielder told Mike Ulmer of the Toronto Sun a decade ago.
As Rios told Ulmer, as a child growing up in Puerto Rico, he wanted to quit baseball at age 13 to spend more time with his friends.  His father, Israel, pushed him to continue playing.
Rios participated in the World Baseball Classic for Puerto Rico in '06, '09, and '13.  He told Daryl Van Schouwen of the Chicago Sun-Times last year, "When you represent your country and the name of your country is across your chest, it really means a lot."
Market
With Adam Dunn expected to retire, Rios is now the active leader for most games played with no postseason experience.  Having earned almost $75MM in his career, it's possible Rios will prioritize finding a contending club, not that contenders are always easy to predict.
Rios' competition in the market for corner outfielders this winter includes Melky Cabrera, Nick Markakis, Mike Morse, Michael Cuddyer, Torii Hunter, and Nori Aoki.  For a team that misses out on Cabrera or can't fit him into their budget, Rios should be a palatable alternative.  The Orioles, Reds, Tigers, Astros, Royals, Twins, Mets, Yankees, Phillies, and Giants seem like potential fits.
Expected Contract
Rios could choose the security of a two-year deal this winter, as Justin Morneau and Garrett Jones did last offseason.  However, Rios already has financial security, and seems more likely to bet on himself and take a one-year deal as Corey Hart, Chris Young, and Mike Morse did last year.  I'm pegging Rios for one year and $8.5MM.
Photo courtesy of USA Today Sports Images.